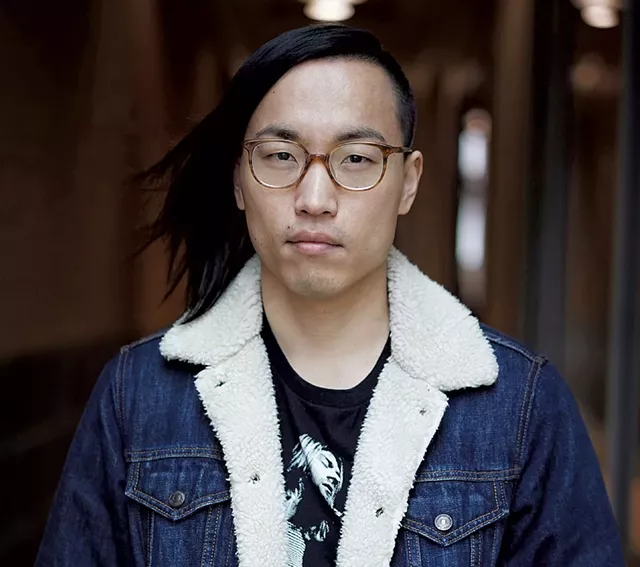 Courtesy Of Jeremy Holt
Jeremy Holt
When graphic novelist Jeremy Holt says, "Music is time travel," he means it metaphorically — or does he? The 35-year-old Middlebury resident is the author of Skip to the End, a new graphic novel, illustrated by Italian artist Alex Diotto, that takes the notion of music's transporting power to both fanciful and poignant places.
Originally published in four issues by Heavy Metal magazine's comics imprint, and recently reissued in book form by Insight Comics, Skip to the End traces the career of Samsara, a fictional band with obvious similarities to Nirvana. The story jumps around in time as former bassist Jonny, now a bartender struggling with heroin addiction, revisits the band's humble beginnings, brilliant trajectory and sudden flameout, which coincided with the suicide of its front man.
In Jonny's mind, at least, this revisitation is quite literal. When he breaks out his old guitar and plays the band's biggest hit, "Skip to the End," he feels himself transported into the past. If Jonny can stop his best friend and bandmate, Kirk, from meeting the woman who introduced him to heroin, can he create a better version of the present?
"I originally set out to write the book because I wanted to explore my own feelings about Kurt Cobain," Holt told Seven Days. "What if he had lived — what kind of music would he be making? If I were one of his best friends and had lost my best friend in such a public form, how does one move beyond that? And if I could go back and save my best friend, would I?"
Skip to the End, by Jeremy Holt (author) and Alex Diotto (illustrator), Insight Comics, 112 pages. $24.99.
While that scenario may sound Back to the Future-esque, the novel depicts Jonny's present with gritty realism, full of one-night stands, Narcotics Anonymous meetings and relapses. Holt keeps us guessing about whether the "time travel" is real or simply Jonny's last obsessive effort to find closure on his past.
Meanwhile, Jonny's new sponsor and confidant, Emily, urges him to move on with his life. But she has a secret that could make it even harder for him to distance himself from Samsara. Capitalizing on the intense feelings this particular rock legend evokes, Holt's story plays out compellingly in Diotto's cinematically composed panels, letting us draw our own conclusions about the power of music and memory.
The author of such previous graphic novels as Pulp, Skinned and Southern Dog (another collaboration with Diotto), Holt will appear at Antidote Books in Putney later this month. We asked him some questions about his own past, present and future.
SEVEN DAYS: Where did the idea for this book come from?
JEREMY HOLT: I think we all have songs that transport us to specific times and places in our lives. I've always believed that music is the closest that I'm going to get to feeling what time travel might feel like.
I didn't really know how to develop that into a story. About five years ago ... I guess I'd say I rediscovered the band Nirvana and became just full-on obsessed with the band, with Kurt Cobain, with the entire music scene. And it was basically the band Nirvana that was the missing piece to this overall narrative puzzle that I've been tinkering with for many, many years.
SD: What's your history with Nirvana?
JH: I was old enough to know about the band; I was too young to appreciate them in their prime. I was definitely too young to go to one of their shows.
I lived most of my life overseas, and ... in the early '90s I was living in England, and I was going to this international school, and all the cool kids listened to bands like Nirvana and Pearl Jam and the Offspring and Soundgarden, and I remember thinking, Well, I'm not part of that crowd, so I can't listen to this music. And so it was kind of fun, when I really dove deep into the band's history and kind of learned about who Kurt Cobain was, to realize that he was making music for the outsiders. He viewed himself as one of the outcasts.
SD: I've heard you're doing community outreach around the theme of drug addiction.
JH: The main theme of the book is addiction and the many forms that it comes in. When the book came out, I didn't really think much about that particular angle of the story. I figured most people were just going to latch on to the time-travel element.
A couple weeks after the book came out, a reader emailed me on Facebook and said that it really touched some key moments in his life, having survived addiction, and a friend of his was staying with him who was currently dealing with addiction, and he forced his friend to read it, and his friend was moved by it. And he asked me if I had copies to donate to the rehab clinic in Manchester, N.H., where he lives.
I would like to try to have sales proceeds of the book go to some kind of charity that deals with substance abuse, even mental health, depression. These are all things that I wanted to tackle in the book — regrets, isolation.
SD: What do you think the book has to offer people striving to recover from addiction?
JH: The hardest part is talking about it. I did quite a bit of research for this book, because I don't suffer from addiction. So I attended a few AA meetings for research; I went to some open discussion meetings. My oldest brother is a doctor through the Yale School of Medicine, and he deals specifically with opioid addiction, so he was giving me a lot of advice early on when I was developing the story.
I think, for readers, if they can identify with any aspect of it, they don't feel so alone. When it comes to depression, the key factor other than drug abuse is an overwhelming sense of isolation. And I think the people who have reached out to me feel less alone when they read it. If you can identify yourself in someone else, that just means maybe someone understands what you're going through.
SD: What is your next project?
JH: I have a two-book series through the same publisher. It's called After Houdini; it's a historical fiction series that'll be debuting at New York Comic Con [in October]. So the premise for that is that, other than being the world's most famous magician, Harry Houdini is also a covert spy for American intelligence, and during a reconnaissance mission in Russia, he goes missing. His estranged son is sent on this mission to find the father he's never known.
[Before Houdini, to be published in May 2019, is] the story of Erik Weisz before he becomes the famous Harry Houdini. Through his public acts of escapism, he attracts the government's attention, and he's linked up with three other gifted teenagers who are tasked with tracking down Jack the Ripper.