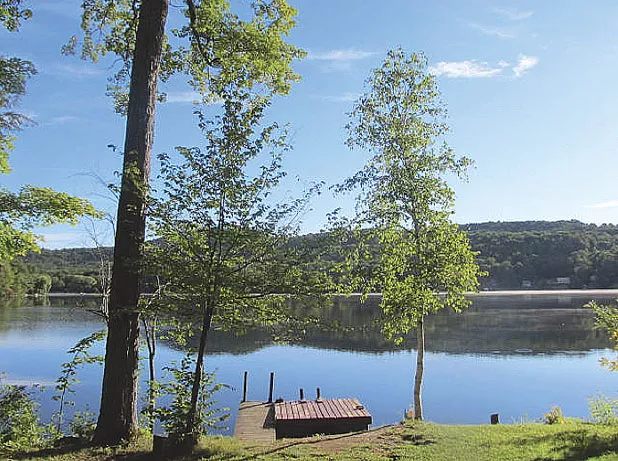 "It's like camp for adults," says director Yvonne Daley about the annual Green Mountain Writers Conference. But there's a difference: Participants who spend a week relaxing and writing on the shores of Chipman Lake — locals call it Tinmouth Pond — may find themselves getting familiar with literary heavy hitters. Daley recalls a particular late, great guest: "Here's Grace Paley wandering around, saying, 'Tell me about your writing!'"
Daley, a veteran journalist who founded GMWC 16 years ago, says she also "think[s] of it as the opposite of Bread Loaf." While the famous Middlebury College writers' conference puts prospective attendees through a selection process, Daley welcomes novice or "emerging" writers as well as those with experience. She prefers to cap attendance at 30, to give everyone a chance to read aloud from their work, but has been known to accept up to 40 writers: "I'm a softy," she says. "I want to accept people where they are."
That might mean bringing together the well-read literary novelist with professional aspirations and someone who simply wants to learn how to convey a family history. The result is a relaxed atmosphere of camaraderie. "For many years," Daley says, "we had a fellow who wrote kind of old Vermont poetry. As a literary example, it wasn't great. But it was thoroughly entertaining." Arriving each year with his harmonica, the poet "was part of the conference. We loved him."
While GMWC accommodates writers at various levels, its instructors have track records. This year, fiction writers can study with Nichole Bernier, Boston-based author of the acclaimed novel The Unfinished Work of Elizabeth D.; poets can get feedback from Elizabeth Powell, who co-edits Johnson State College's Green Mountains Review. Another Vermonter on staff is Guilford poet Verandah Porche, who will perform at this year's conference with Patty Carpenter of the Dysfunctional Family Jazz Band.
Porche's latest collection, Sudden Eden, was published by Verdant Books, a micropublishing company Daley founded in 2010. She says she intends it as an outlet for "well-published authors from Vermont who aren't able to get a publishing contract, or people who have a book that is good enough to support but no name recognition."
Many writers' conferences focus on practical aspects of publishing, giving authors opportunities to hobnob with agents and editors. GMWC has no agents on staff: "publishing is not our primary concern," its website explains.
While writers at the conference focus on learning the craft through daily exercises, workshops and readings, the practical side isn't ignored. Stuart Horwitz, founder of the editing firm Book Architecture and author of a popular book called Blueprint Your Bestseller, will "offer general help on preparing a manuscript for submission and publication," Daley says.
Daley splits her time between Rutland and California, where she's a journalism professor at San Francisco State University. GMWC, she says, grew from the seeds of a writing group for fellow journalists that she led while on a fellowship at Stanford University in 1995. Using the skills she'd learned at Vermont College — where she earned an MFA in 1993 — Daley began hosting a writing group at her Vermont home. "That kept growing," she recalls, "and people wanted more."
While researching her book Vermont Writers: A State of Mind, Daley met celebrated locals such as Paley, David Budbill and Chris Bohjalian. "I started talking to them about creating a conference where Vermont writers would open up their toolboxes and share their tricks of the trade with emerging writers," she says. Her interview subjects became GMWC staffers.
For her part, Daley is currently working on a novel called The Eye of the Beholder and a memoir of her journalism career called My First Murder, which begins in 1989 with "the first murder I covered," she says.
About 10 conference attendees have gone on to trade publication, Daley notes, but she doesn't want participants to see that as the sole benchmark of success. "I want people to understand that first of all, they're writing for themselves, for the joy of the creation of their stories, for the understanding that brings," she says. "The rest is gravy."
Green Mountain Writers Conference, July 29 to August 2 at Chipman Lake Pavilion, Wallingford. $650 (excludes accommodation). vermontwriters.com