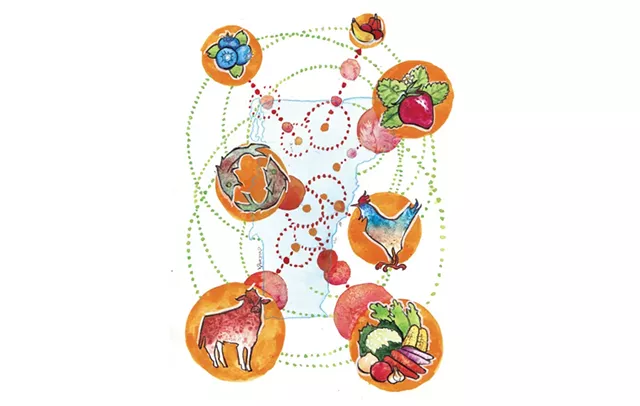 In 2010, Jeff Jones was giving out free samples of greenhouse produce at South Burlington's Healthy Living Market & Café.
"Would you like to try a beefsteak tomato?" Jones, then a partner at Vermont Hydroponic Produce, asked a passing shopper.
"Is it local?" the customer asked.
Jones explained that it was grown in Florence, Vt.
"Not in Burlington?" the customer pressed.
"No," Jones said, reiterating that the tomato had been grown about 60 miles south.
The shopper turned away without a word, Jones told Seven Days via phone last winter.
The shopper's reaction was rude. But more than that, it reflected a common tendency to hyper-localize food in a way that Jones sees as unrealistic and myopic. Now sales and marketing director at White River Junction-based UVP Group, he said, "I think we've made a huge mistake in how we're marketing local."
It's commonly understood that buying food from your neighbors supports the local economy. By reducing transport miles and emissions, it's also a boon for the environment. And it connects consumers to what they're eating in a very personal way. This system builds stronger communities, keeps working lands in production and helps preserve Vermont's lovely agricultural landscape.
But Jones is concerned that focusing on food production and distribution from a hyper-local standpoint prevents the vast majority of consumers from sourcing a significant amount of their diet locally.
That's because most Americans — including Vermonters — stock their kitchens predominantly from chain grocery stores, which source most of their perishable meats, produce and dairy from mega-farms west of the Mississippi. Such farms can supply pallets of consistent, shelf-stable product on a reliable delivery schedule. Most of Vermont's 7,300 farms don't operate on a scale that allows them to engage with the larger food system — and access to distribution networks is a perennial bee in the local-food bonnet.
"It's very difficult to engage any meaningful economic scale with this tiny local economy," he said.
"I think we got it backwards," Jones said, speaking to a reporter in White River in July. "Find the regional food first, [then] take it down to more local as we go along."
Jones sees retooling the local-food conversation in regional terms as critical to getting more fresh, nutrient-dense food onto the plates of folks who don't have community-supported-agriculture subscriptions or frequent farmers markets.
Because when it comes to getting fresh food into large markets, "Logistics and distribution are literally everything," Jones said. "If you can't get your stuff to the place, you're going to be out of business really quickly. Trucks and drivers and schedules are hugely important."
Power in Numbers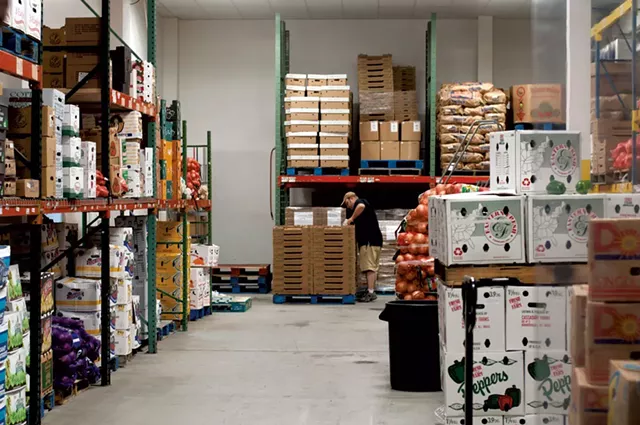 Hannah Palmer Egan
Inside the Upper Valley Produce warehouse
UVP Group is a collection of producers, distributors and logistics companies working throughout northeastern North America. The group's home base is at Upper Valley Produce, which distributes fresh fruits and vegetables, meats, dairy, and seafood to 300-odd retailers within 250 miles of its White River Junction warehouse. Other members include Québec-based perishables distributor Taste of the North and GrowersHub, a website that links northeastern farms with regional grocers such as the Price Chopper chain of supermarkets.
The group's endgame? To saturate its 785,000-square-mile region, which extends from central Québec to the New York metro area, west to Syracuse and east to the Maine seacoast, with as much food produced within that region as is physically possible.
To be clear, UVP works with producers from around the nation and world. But the company is throwing its weight into building markets for regional producers and believes that doing so will forge a path to total regional food security at a time when climate change threatens to upend prevailing global food networks.
To accomplish that, UVP is developing a "regionally responsible" protocol that connects regional farmers small and large with venues ranging from the University of Vermont Medical Center to the corner store. The former might order 5,000 pounds of potatoes at once, while the small market needs just a case or two of veggies and 10 pounds of beef at a time.
Every pound of food moving through the network is scanned and accounted for so that producers and buyers can track how much local food they're working with, what that food costs and how the regional collaboration is affecting their bottom line.
This model also addresses the grocery-store problem. In 2010, Jones worked to pilot the GrowersHub software, which helps get local food onto grocery-store delivery trucks.
Basically, the system streamlines produce pickup and delivery. Farmers drop their harvest at a warehouse hub within 100 miles of their farm. Grocery stores' own trucks swing by and scoop it up on their way back to the grocer's warehouse, where it enters the store's main distribution channel.
That gets more fresh, nutrient-dense, community-supporting, local-economy-building food onto supermarket shelves. And at a reduced price, since the cost associated with moving it from farm to market has been mitigated, since the trucks moving the food were already on the road anyway.
GrowersHub isn't formatted for tiny, diversified farms producing small quantities of several products, but UVP's range of accounts means it can provide flexible logistics for smaller producers. Maybe a tiny farm brings in a case of pricey heirloom beans, which necessarily commands a high price point. UVP can shuffle those beans down to that sweet, 10-seat corner restaurant, which in turn can offer the beans as a part of a dinner special for one night.
On a steamy midsummer afternoon, Jones guided a reporter through the expansive, climate-controlled chambers of UVP's warehouse in White River Junction.
Inside the "picking" room, a team of workers, led by head picker Michael Ferullo, packed boxes with fruits and vegetables bound for gas stations and general stores.
"Convenience stores have a hard time with produce — they can't work with whole cases [of one vegetable]." Ferullo explained. Few wholesalers are willing to fill orders of three peppers, five oranges, two bunches of bananas and one bag of onions or potatoes.
But UVP's ownership has seen surging demand for fresh food in convenience stores — particularly in "food deserts" that lack grocery stores or access to farmers markets — and the company developed a program to service those stores. When a store places an order, it prints out in the picker room. A picker grabs it, fills the box with the requested freshies and stacks it with the other outgoing orders.
Across the room, Jones pulled a pristine head of Québécois iceberg lettuce from a case and turned it in his hand. "It's absolutely beautiful," he said, adding that this head far outpaces the (much pricier) iceberg coming from California right now. "And [the farm] is only 150 miles from here."
In another room, cases of Aqua Vitea kombucha, fermented in Middlebury, kept company with bushels of organic cucumbers, broccoli and carrots from Westminster's Harlow Farm. Stacked cases of tofu from Vermont Soy towered next to boxes of bacon and summer sausage from Vermont Smoke & Cure and Green Mountain Smokehouse. Nearby, metal racks held cheeses from Vermont Creamery, Jasper Hill Farm and Vermont Farmstead Cheese.
Within a few days, everything would be on trucks to retailers, restaurants and institutions from here to Pennsylvania.
Endless Summer
By mid-July, most Vermont berry farms were nearing the end of their early-summer strawberry season. A couple of hours south, Massachusetts farms had ceased picking weeks prior. But when Seven Days toured UVP's warehouse, shelving near the loading docks held dozens of cases of the plump red berries. They had arrived earlier that day on an overnight truck from Québec, where the summer fruits had just begun to ripen.
UVP's Eric Frechette founded Taste of the North in the 1990s, after entering the produce business as a teenage door-to-door strawberry peddler a decade earlier. Later on, he paid his way through business school by ferrying Canadian fruit to four IGA grocery stores in northwestern Maine.
The money was good, so, even after graduation, he'd take summers off from his accounting job to sell berries. In 1994, Frechette linked up with a Québec tomato grower. "These stores were supporting me with strawberries," he recalled via phone last week, "and they immediately said yes to the greenhouse tomatoes." With adequate light and heat, tomatoes can grow in greenhouses year-round.
Frechette quit his CPA job to focus on selling fruits and vegetables. In 2008, he and James Gordon partnered to purchase UVP, which was then a small mom-and-pop wholesaler based in Lebanon, N.H.
Now, Taste of the North offers regional customers a direct line to Québécois farmers producing hydroponic, field-grown and organic berries and vegetables. The farms pack each order with food harvested that day, and a truck drops it in White River Junction the following morning. Then UVP's trucks carry it south throughout the region, effectively doubling the length of southern New England's summer strawberry season.
Massachusetts' berry farms have suffered from a lack of insulating winter snowpack in recent years. That's not an issue in the St. Lawrence Valley, where the impacts of climate change have been less dramatic. "We still have good winters that cover the strawberry fields properly, and we also have a good amount of fresh water, which is especially lacking in California," Frechette noted.
Focusing on production and distribution from a regional perspective, Frechette argued, will help the Northeast wean itself from drought-grown California produce. "Our goal should be to be self-sufficient," he said, adding that while total self-sufficiency is a lofty goal, "our percentage of [regional] self-sufficiency should be higher every year."
Back in the UVP warehouse, Jones explained regional food security from a sales and marketing angle. Standing in a conference room, he pointed to a UVP price sheet, which showed Québécois romaine on offer for $20 less per case than its California counterpart.
"Our stuff is blowing California away right now," he said, in both quality and price. "[California's] quality is super low right now, and their prices are super high," Jones said. "This is their off-season."
But introducing wholesale clients to regional growers is no easy task, since many customers simply resubmit identical orders each week. To justify switching to a new producer, the product must be of equal or better quality. And it must be the same price — or cheaper. "We're working on a margin to be able to say, 'Hey, here's a better product at a better price," Jones said. "It's not gonna work if you say, 'Here's a better product, and it costs more.'" Particularly when that product goes out of season in two months, and the buyer will have to revert back to the California grower.
But Jones sees the West Coast's winter-produce supremacy as a mandate: If the Northeast is to feed itself, its growers and distributors must work together to maximize the growing season on a regional level. Individual farms must invest in season-extending innovations and infrastructure, such as hydroponics or hot houses, which will keep plants growing for longer and reduce reliance on food shipped in from afar.
And consumers must justify that investment with a robust local market. When farmers are convinced there's a market for local winter produce, "they'll start working on these shoulder seasons," Jones said. "The [off-seasons] will keep getting closer together. And then we'll have total food security."