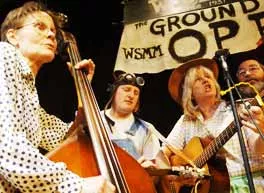 Jeb Wallace-Brodeur
Susan Stephenson, Jim Pitman, Marilyn Skoglund, Al Boright and George Woodard
It's standing room only at the Hyde Park Opera House. The locals may be starved for entertainment in this small burg in the Northeast Kingdom, but that's not the only reason they're piling into the historic theater on Saturday night. The popular Ground Hog Opry is in town and, by jeezum, it's been at least a freakin' year since it came around last. And never mind O Brother Where Art Thou? This turnout isn't about hick chic.
The brainchild of Waterbury farmer/actor/musician George Woodard, the Opry draws fans like flies to, well, cow plop. Since its debut as a fundraising event some 10 years ago, the show has been performed not-quite-annually — during mud season, when cabin fevers are high. For the past seven years Woodard has had a writing and performing partner, Al Boright, a Middlesex-based legislative counsel who thrives on comic relief.
The name of the show borrows from Nashville's Grand Ol' Opry, but in this case, it might help to think of "Hee Haw" and the Capitol Steps running ATVs over to "A Prairie Home Companion."
If you ain't seen it yet, the Ground Hog Opry is a sort of musical comedy and political satire show that imitates the format of radio programs popular in the 1930s. It is ostensibly broadcast from WSMM — "Well Shut My Mouth," a phrase veteran audience members dutifully shout out every time the station's call letters are mentioned. (Move over, Rocky Horror Picture Show.) That allows for a bare-bones set — just a slanty, handbuilt podium for the announcer and a bunch of mikes for the bands.
Well, it's really one band, but the players come out in a variety of thrift-shop duds and with different names, among them Head Cheese & the Casings, Ma Bandy Legs & the Chicken Pickers, and Auntie Q & the School Marms. The last is in drag, and if you think real Vermonters don't like men in dresses, well, think again.
Despite their bumpkin appearance, though, these players are damn good, dispensing countrified standards along with originals penned by Woodard and Boright. This year's lineup includes Woodard on guitar, banjo and vocals, John Drury on mandolin and guitar, Susan Stephenson on stand-up bass, and newcomers Jim Pitman on dobro and Marilyn Skoglund on guitar and vocals. Boright blows a mean jug and kazoo, and has a surprisingly smooth croon.
The show is centered around the fictitious, seedy village of Woodchuck, Vermont, plus a few others with colorful names like Peckerville, Most Peculiar and More or Less Ville. The jokes are decidedly small-town and often agricultural, but with a savvy twist that reveals someone's been listening to National Public Radio. Enron, Defense Secretary Donald Rumsfeld and HMOs, for example, share air time with the Men of Maple Corners, the Barnyard Olympics — including a "manure pit half-pipe" — and plenty of potty, er, outhouse humor. And the delivery's a lot faster than RFD.
If the band names are a frequent font of hilarity, so are the imaginary "sponsors" of the show, which provide monologue fodder for the announcer à la Garrison Keillor, but a heck of a lot funnier. Woodard, whose stage name is Roland Uphill, shares this role with Boright, a.k.a. Neal Down. And don't think working with legislators and lobbyists doesn't give Boright some material. "Farther north you do body parts and functions," he offers. "In Montpelier you do the body parts and functions of politicians."
Actually, he and Woodard mostly skewer bigwigs like Howard Dean and figures in the nation's capital. "I work for both parties, so I try not to go after minor players," Boright explains. "Nobody minds if you go after the governor." And incidentally, he faux-laments, the show's been a whole lot cleaner since Clinton left office.
Any complaints from parents about some of the PG-13 sexual innuendoes? Nah. "A lot of it goes over the heads of the kids," Boright reasons. "We never advertise it as a family show, but it's really pretty mild."
Most of the "f" — that is, farmin' — words in the Grand Hog Opry come from Woodard, who milks 25 cows every morning. In fact, what with it being a dry year and all, he's a little worried about running out of feed. So Saturday night, he steps out to the edge of the stage before the show and, squinting into the crowd, asks, "Anyone out there got some hay I can buy?"
The audience laughs, thinking maybe it's a joke, but seconds later a voice comes from the back: "Yeah." More laughter.
Woodard pauses a beat and pushes his luck: "Organic?" Even he cracks up when the voice says again, "Yeah."
This casual approach to performing appeals to Woodard as much as chemical-free crops. Hard to believe he's the same guy who convincingly portrayed an intense man with a short fuse in Vermont filmmaker Nora Jacobson's My Mother's Early Lovers a few years back. The Ground Hog Opry allows him to dress pretty much like he was doin' chores — except for the school-marm frock and old-lady wig, of course.
An important early influence was TV's "Andy Griffith Show" from the 1960s, which Woodard, now 50, calls "the most brilliant piece of honest humor there ever was." The program's outrageous rural characters included "people who came out of the woods just as dirty as could be, but they could really play music," he says. Woodard has been playing — favoring old-time tunes — since his dad gave him a "10-second guitar lesson" when he was a kid. He and his brother Steve performed on the radio and elsewhere in the '70s as Them Woodard Boys.
When he played in a talent contest 10 years ago at a national grange convention in Burlington, it was a character from an Andy Griffith episode who inspired Woodard's set. "I put on old clothes and hat, went out and did two old songs from the '30s, and in between did a little Vermont rural humor. It went over really well, and that was the biggest high I ever had. That whole thing about wearing your work clothes and performing seems to work for me."
That epiphany came a long time after he discovered acting as a senior in high school. He later performed in a "couple of plays" at Vermont Technical College, then auditioned for the Lamoille County Players in 1974. "I learned everything up there," he says.
Whatever Woodard picked up in Hyde Park he polished a decade later in Los Angeles. He spent three and a half years in Tinsel Town, paying his dues on stage and screen, in front of and behind the camera. Did he have movie-star dreams? "Yeah, but with a realistic outlook," Wood-ard demurs. Meanwhile, he hired people to work the farm back home, but the help kept quitting. "I had to keep coming back to hire someone else," he says. "I came back for good in 1989 and said, 'If I'm going to work in movies, it'll happen no matter where I am.'"
He was right. Woodard soon landed a role in Rutland filmmaker David Giancola's debut feature. He finally earned his SAG (Screen Actors Guild) card when he was cast in Ethan Frome, filmed in Vermont during the bitterly cold winter of 1992.
Fall and winter are prime theatrical time for Woodard. "From May 1st to September 1st," he says, "I don't do nothing but farm." He finished principal shooting on Jacobson's forthcoming film, Out of Her Mind, in January. Last November he adapted a Paul Sills' Story Theatre production for 11 local children. "I thought it would be good to teach kids some good theater habits," Woodard says. "I love directing plays, it's so much fun. I set it in the front yard of kids in 1939. They're playing with whatever props would be in the yard." Little Woodchucks ran for three weeks in Waterbury.
Woodard's own kid, 9-year-old Henry, makes an impressive foray on stage with the grownups in this year's Ground Hog Opry — he plays fiddle and sings "I Am a Man of Constant Sorrow," featured in O Brother. He's "filling in for Dan Tyminski" — the Vermont voice behind George Clooney's rendition in the movie.
Nephew Matthew Woodard, 14 — son of Steve, who's now a homeopathic veterinarian in Waterbury — also creates a strong character as Douglas Posthole, the nerdy apprentice on WSBB with an adenoidal voice and high-rise trousers.
Both boys help on the farm, but Woodard doesn't say whether they brainstorm ideas for the Opry, as he does, while he's milking cows.
That's about it for advance planning, though. Boright, who scripts his own material beforehand, says Woodard is brilliant at winging it, sometimes figuring out what he's going to do in the second act during intermission. "It's fun working with George, he's so good at physical humor," says Boright. "He's the real thing — a real farmer and a good actor."
The two met back in the '70s in a benefit for Copley Hospital; they were both in a "Goldilocks" skit in which Boright played the Big Bad Wolf. In the early '80s, they started doing bigger projects together — including two complete musical comedies.
Eight years older than Woodard, Boright grew up in Morrisville — his father was the superintendent of schools — and also honed his thespian chops at Hyde Park. Though he frequented farms as a boy, Boright pretty much relies on his partner for the ag jokes in Ground Hog Opry. Like in their Plug and Chug "Tractor Talk" routine, a parody of the "Car Talk" brothers on NPR.
"We try to make it technically accurate, actually," Boright informs. "We get all that poor humor in there around a real problem." Those "problems" are delivered via staged phone calls and "three-dimensional fax" — Woodard's idea — which illustrate mechanical failures with little toy tractors. "We did 'Spreader Talk' one year," Boright adds.
Aside from the comic stimulus that working in government surely provides, Boright says he gets some of his humor from stuff circulating on the Internet. In a particularly zany adaptation in this year's show, Boright and Woodard enumerate the good things God has created along with the Devil's less sanguine contraventions, e.g., vegetables and McDonald's, respectively. Things escalate from there, culminating with triple-bypass surgery and HMOs. And if that doesn't sound funny, well, you have to be there. In fact, you could be there, when the show concludes its 2002 run in a Waterbury elementary school this weekend.
It's hard to adequately convey how skits like the "National Entrails Preserving Cookout" and "Gullible Travels," or sports reports from "Les Competent" can make you want to pee your pants. But they just freakin' do.