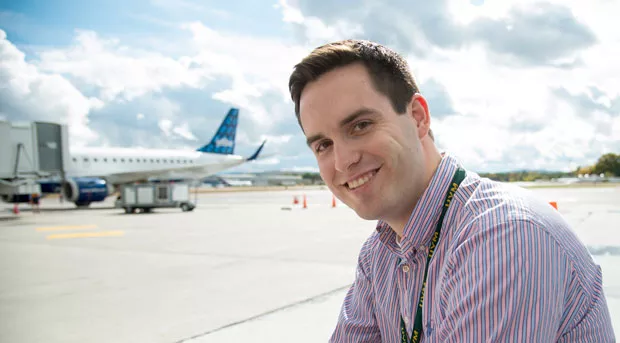 Ryan Betcher explains that, like just about everyone else at the Burlington International Airport, he does "a little bit of this, a little bit of that." But his primary tasks are to coordinate marketing and handle leases and contracts. One marketing focus, Betcher says, is Canadian travelers, a group that has serious "growth potential" among passengers as a whole.
From Fletcher, Vt., Betcher graduated from the University of Vermont in 2010. He now lives in South Burlington and has worked at the airport since May 2011. Turns out it was a lifelong dream. In an interview, Betcher explains why, and reveals more changes coming to BTV.
You're only 25 and have a degree in business and economics. How did you come to work at the airport?
I always wanted to work at an airport. I have loved airports, and traveling, since I was a child, and always thought about how they are run. I consider myself lucky — this is my first "real job."
Does anyone in your family share your passion for airports? No, I'm the only one. My sister is obsessed with horses.
Why didn't you go to an aviation school instead of UVM?
I thought about that — there's Embry-Riddle [Aeronautical University] in Florida. There's an aviation management program in New Hampshire. But this [job] is all business, so it's appropriate. One of the hardest things was learning all the jargon.
The airport has changed a lot over recent years and continues to do so. How do you see your job evolving?
Being more involved in marketing, improving the relationships between the airport and passengers, and with the community. We want to make the airport a better place to be.
There have been some well-publicized challenges with the community that lives near the airport. How are you handling that?
We're working on improving relationships with our neighbors, and making it easier for them to get hold of us. Gene [Richards, interim director] hands out his cellphone number to everyone. We need to be better property managers.
What are some of the changes passengers can look forward to?
We're very excited about the Skinny Pancake coming in this winter, installing cafés in the north and south concourses. They'll also offer their Chubby Muffin brand in the snack bar downstairs. We're trying to do more to help passengers — for example, with flight monitors all around the terminal building. We're also putting in a yoga room, sponsored by Evolution Yoga [of Burlington]. Sometimes people have to wait a long time.
A big percentage of passengers using BTV are Canadian. How are you reaching out to them?
A lot of marketing in Montréal and outside, direct advertising, boards with the airport logo. We're focusing on the airlines — that's what people want to know. BTV is small but really well served. All airports' business is a reflection of their airlines. We're also completely redoing the airport website, and are working on becoming a bilingual airport. Almost everything will be in English and French. This is everybody's airport.
Any French language classes for the staff?
We've talked about that. And also about bringing in bilingual volunteers — actual French speakers.
There are volunteers at the airport?
Yes. All around the country, at airports, the number of volunteers is huge. A big chunk of time, the information desk is run by volunteers. They help answer questions, bring the stress level down.
Traveling can be really stressful nowadays — is that why BTV and other airports are adding more amenities?
Airports aren't just where you run and get on your plane and leave. People are spending more time in them. They need more places to hang out and things to do.
Recontrez Ryan Belcher
Ryan Betcher raconte que, comme pratiquement tout le monde à l'Aéroport international de Burlington, il fait en réalité toutes sortes de choses dans son travail. Cela dit, ses principales tâches consistent à coordonner le marketing et à gérer les baux et les contrats. Les voyageurs canadiens constituent l'une des priorités sur le plan du marketing, car il s'agit d'un segment de clientèle qui présente un grand potentiel de croissance.
Originaire de Fletcher, au Vermont, Ryan Betcher a obtenu son diplôme de l'université du Vermont en 2010. Il vit maintenant à South Burlington et travaille à l'aéroport depuis mai 2011. Il en avait toujours rêvé, d'ailleurs. Dans une interview, il nous explique pourquoi et révèle certains des changements à venir à BTV.
Vous n'avez que 25 ans et vous êtes titulaire d'un diplôme en commerce et économie. Comment en êtes-vous venu à travailler à l'aéroport?
J'ai toujours voulu travailler dans un aéroport. Depuis que je suis enfant, j'aime les aéroports et les voyages, et j'ai souvent réfléchi à leur mode de gestion. J'ai de la chance, car c'est mon premier « véritable emploi ».
Y a-t-il quelqu'un dans votre famille qui partage votre passion pour les aéroports?
Non, je suis le seul. Ma sœur, elle, a l'obsession des chevaux.
Pourquoi n'avez-vous pas fait une école d'aviation au lieu d'aller à l'UVM?
J'y ai songé. Il y a l'école d'aéronautique Embry-Riddle, en Floride. Il y a aussi un programme de gestion de l'aviation au New Hampshire. Mais mon travail est entièrement axé sur les affaires, donc il me convient bien. L'une des choses les plus difficiles a été d'apprendre tout le jargon.
L'aéroport a beaucoup changé ces dernières années et il continue de se transformer. Comment voyez-vous l'avenir de votre poste?
Je serai plus impliqué dans le marketing, je travaillerai à l'amélioration des relations entre l'aéroport et les passagers, ainsi qu'avec la collectivité. Nous voulons que l'aéroport devienne un endroit encore plus agréable.
Les défis n'ont pas manqué en ce qui concerne les rapports avec la collectivité; ils ont fait couler beaucoup d'encre. Comment réagissez-vous à cela?
Nous travaillons à l'amélioration des relations avec nos voisins et faisons en sorte qu'ils puissent nous contacter plus aisément. Gene [Richards, directeur de l'aéroport par intérim] donne son numéro de cellulaire à tout le monde. Nous devons être de meilleurs gestionnaires immobiliers.
À quels changements les passagers peuvent-ils s'attendre? Nous sommes très contents que Skinny Pancake installe des cafés ici cet hiver, l'un dans le hall nord et l'autre dans le hall sud. Sa marque Chubby Muffin sera aussi offerte au casse-croûte en bas. Nous essayons d'en faire plus pour faciliter la vie aux voyageurs, en installant des écrans sur les vols partout dans le terminal, par exemple. Nous prévoyons aussi aménager une salle de yoga, commanditée par Evolution Yoga [de Burlington]. Parfois les passagers ont de longs temps d'attente.
Un pourcentage élevé de passagers à BTV sont canadiens. Comment parvenez-vous à les rejoindre?
Nous faisons beaucoup de marketing à Montréal et ailleurs, de la publicité directe, des panneaux avec le logo de l'aéroport. Nous nous focalisons sur les compagnies aériennes; c'est ce qui intéresse les voyageurs. BTV est un petit aéroport, mais plusieurs transporteurs y sont présents. Les affaires d'un aéroport sont le reflet des compagnies aériennes qui y ont des vols. Nous refaisons également notre site Web et sommes en passe de devenir un aéroport bilingue. Presque tout sera en anglais et en français. C'est l'aéroport de tout le monde.
Des cours de français seront-ils offerts au personnel?
Nous en avons discuté. Nous avons aussi songé à recruter des bénévoles bilingues de langue maternelle française.
Il y a des bénévoles à l'aéroport?
Oui. Partout au pays, les aéroports font appel à de très nombreux bénévoles. Souvent, le bureau d'information est tenu par des bénévoles, qui répondent aux questions et contribuent ainsi à atténuer le stress.
Les voyages peuvent être très stressants de nos jours. Est-ce pour cela que BTV et d'autres aéroports ajoutent de plus en plus de commodités?
Un aéroport, ce n'est pas simplement un endroit où on se précipite pour attraper un vol et décoller. Les voyageurs y passent plus de temps qu'on pense et doivent y trouver des endroits pour se détendre et des choses à faire.
The original print version of this article was headlined "Ground Crew"