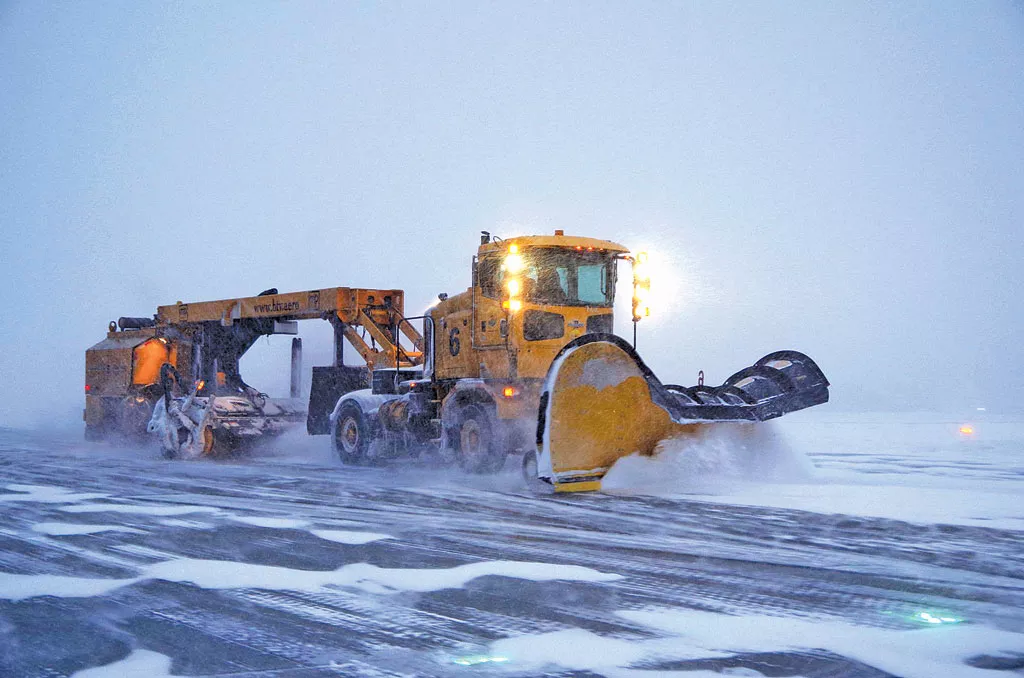 Matt Harding doesn't fly planes for a living. But when the snow flies at Burlington International Airport, if he didn't fire up his engines, no one else could, either.
As airport facilities foreman, Harding oversees the ground crew that clears snow and ice from the runways, taxiways and "ramp" (where the planes park). If there's even a dusting on the tarmac, Harding climbs into the cockpit of a $750,000 plow and rolls.
A 43-year-old Vermont native, Harding grew up in nearby Essex Junction, where he still resides. His interest in aviation took off during flights with his father, a private pilot who flew for the Civil Air Patrol. After earning his degree at the University of Vermont, Harding trained as a truck mechanic before getting hired at BTV, where he's been since 2002.
Though the BTV plow is as large as a tractor-trailer and built like an army tank, Harding needs a delicate touch when navigating around runway and taxiway lights, which are designed to snap off under the slightest pressure.
There's also no time for lollygagging when you're clearing snow between arriving and departing F-16s, commercial passenger jets and other civilian aircraft. Still, Harding enjoys those mornings when he can catch the sunrise over Camel's Hump to the east. "It's a billion-dollar view," he says.
Is airport snow removal very different from plowing roads?
Yes. You just can't go where you want and leave a pile of snow anywhere. We can't have any snow banks. When we sweep it, we have a blower come in behind us that actually picks it up and throws it into the fields. Those lights [on the runway] are only 36 inches high, so we can't block them.
Tell me about the equipment.
We have this huge, multifunction machine with twin 500-horsepower diesel engines. It's got a 26-foot plow on the front, a 24-foot sweeper in the middle and a huge air blower on the back. The plow moves the heavy stuff, the sweeper sweeps it bare, and anything left over gets hit with a 300-mile-per-hour air blast. The back wheels and all four tractor wheels steer it, so it can turn in a perfect arc. It's computerized, with a fighter-plane joystick control. It's quite a technology jump from even five years ago.
How much snow can it handle?
We can move a tremendous amount of snow. We've had big blizzards where we stayed open, such as the Valentine's Day blizzard [of 2007, when 25 inches fell on Burlington]. Also, if there's rain and we think the temperature is going to drop, we sweep it and dry it off.
Are you always talking to air-traffic control?
Yes, they're always taking us on and off surfaces, clearing us and giving us windows [of opportunity], like, "You've got 10 minutes out there," or "You need to expedite. Now!"
What's the best part of your job?
My crew. Everyone here works really well together. We've got guys who've been here 37 years, so they know what they're doing.
And when you're not doing snow removal?
We do all our own line striping [on the tarmac]. It must be very precise, accurate to a quarter inch. It's done so well, the [Federal Aviation Administration] compliments us on our work. We also keep up the terminal as best we can. There's a lot of maintenance in there, and we try to do it seamlessly. So we'll come in in the evening and cut out tiles. No one wants to wait for a plane listening to a jackhammer trimming out concrete.
Is your work rewarding?
It hit me a few years ago: You're here at three o'clock in the morning, clearing off a dusting [of snow] all night long that just won't stop, and you're like, "What am I doing here?" And then we get a call that there's a Life Flight [medical transport] 30 minutes out. I guess that's what I'm doing here, and why it's important the airport stays open 24/7. If we can keep it open, we do.
Matt Harding ne pilote pas d'avion dans son travail. Mais quand il neige à Burlington, s'il ne démarre pas les moteurs, tout le monde reste à terre avec lui!
À titre de contremaître des installations aéroportuaires, Matt supervise le personnel au sol qui assure le déneigement et le déglaçage des pistes, des voies de circulation et de l'aire de trafic (pour le stationnement des avions) – même s'il n'est tombé qu'une mince couche de neige.
À 43 ans, ce natif du Vermont a grandi tout près de là, à Essex Junction, où il habite toujours. Son intérêt pour l'aviation est né lors de vols effectués avec son père, un pilote privé de la Civil Air Patrol. Une fois son diplôme de la University of Vermont en main, Matt a suivi une formation de mécanicien de camions, avant d'être embauché à BTV, où il travaille depuis 2002.
Bien que la charrue de BTV, d'une valeur de 750 000 $, soit aussi imposante qu'un camion gros porteur et aussi robuste qu'un tank militaire, Matt doit faire preuve de délicatesse pour la déplacer autour des feux des pistes et des voies de circulation, qui sont conçus pour céder à la moindre pression.
Pas le temps de flâner lorsqu'il faut déneiger, entre les arrivées et les départs des F-16, des avions commerciaux de passagers et d'autres aéronefs civils. Matt a tout de même parfois le temps d'admirer le lever du soleil sur Camel's Hump, à l'est, un spectacle qu'il qualifie d'époustouflant.
Le déneigement d'un aéroport est-il très différent du déneigement des routes?
Oui. On ne peut pas aller où l'on veut et on ne peut laisser aucune accumulation de neige nulle part. Lorsque nous balayons la neige, il y a derrière nous une souffleuse qui la ramasse et la projette dans les champs. Les feux [de pistes] mesurent 91 centimètres de haut, ils ne doivent pas être bloqués.
Parlez-moi de l'équipement.
Notre énorme machine multifonction est dotée de deux moteurs diesel de 500 HP et équipée d'un chasse-neige de 7,9 m à l'avant, d'une balayeuse de 7,3 m au milieu et d'une immense soufflerie à l'arrière. Le chasse-neige enlève le gros de la neige et la balayeuse fait disparaître ce qui reste; s'il demeure quelques flocons, ils sont soufflés par un jet d'air de 480 km/heure. Les roues arrière et les quatre roues du tracteur sont directrices, ce qui permet au chasse-neige de décrire un arc de braquage parfait. La charrue est informatisée et dotée d'un levier de commande d'avion de combat – toute une avancée technologique par rapport à il y a cinq ans à peine.
Quelle quantité de neige la charrue peut-elle déplacer?
Énormément! Nous sommes restés ouverts lors de blizzards comme celui de la Saint-Valentin [de 2007, où 64 cm de neige étaient tombés sur Burlington]. Par ailleurs, s'il a plu et que nous pensons que la température va chuter, nous balayons et asséchons les pistes.
Êtes-vous en communication constante avec les contrôleurs aériens?
Oui, ce sont eux qui nous disent quand arriver et quand partir. Ils nous précisent combien de temps nous avons, par exemple : « Dix minutes, pas une de plus! » ou bien « Grouillez-vous, ça urge! ».
Quel est l'aspect de votre travail qui vous plaît le plus?
L'équipe. Nous travaillons vraiment bien ensemble. Certains employés sont ici depuis 37 ans – ils savent ce qu'ils font.
Que faites-vous quand vous ne déneigez pas?
Nous effectuons le traçage de lignes [dans l'aire de trafic]. Il faut être très précis, au centimètre près. La Federal Aviation Administration nous félicite d'ailleurs régulièrement pour notre travail. Nous assurons aussi l'entretien du terminal, ce qui représente beaucoup de travail. Le soir, par exemple, nous venons découper des tuiles. Personne ne veut attendre l'avion au son d'un marteau perforateur qui coupe du béton.
Votre travail est-il valorisant?
J'ai compris quelque chose il y a quelques années. Je déneigeais les pistes, à trois heures du matin, et il n'arrêtait pas de neiger. Franchement, je me suis demandé ce que je faisais là. C'est alors que nous avons reçu l'appel d'un avion-ambulance, demandant la permission d'atterrir 30 minutes plus tard. Je me suis dit : « c'est pour ça que je suis ici ». C'est important que l'aéroport reste ouvert en permanence, dans la mesure du possible, bien sûr.