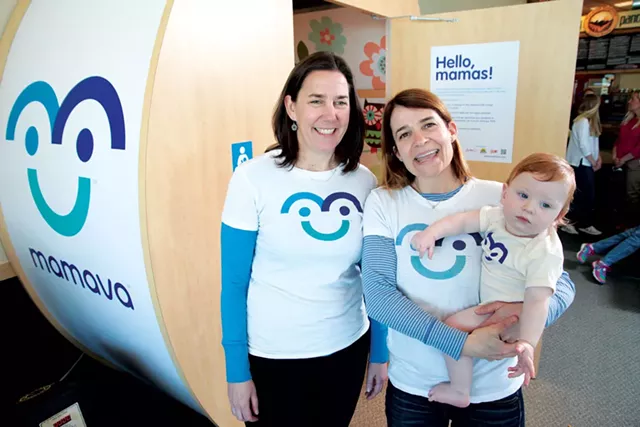 File: Matthew Thorsen
Christine Dodson (left) and Sascha Mayer
Picture this: An overburdened mom dashes through a crowded airport, one hand holding onto a temperamental toddler and the other clutching the handle of an uncooperative suitcase. Suddenly, she hears a wail. It comes from the infant worn across her chest, who has just become hungry at exactly the wrong place and time. The waiting areas are crowded, the bathrooms unhygienic. Not one location in the whole airport seems like a friendly spot to breastfeed a baby.
Ten years ago, Burlington graphic designers Christine Dodson and Sascha Mayer came up with a creative solution to this all-too-familiar problem. Their company, Mamava, designs and builds portable "lactation suites," the first of which was installed in the Burlington International Airport. The suites provide clean, comfortable, private spaces for moms to breastfeed or operate a breast pump.
The suites have since spread nationwide, finding homes in airports, schools, hospitals and sports arenas from Boston, Mass., to Boise, Idaho — and that's just the beginning. Dodson and Mayer met with BTV in the original Mamava "pod" — which still stands in Burlington International's passenger terminal — to discuss the past, present and future of their pioneering company.
How do you describe Mamava to someone who's never heard of it?
CHRISTINE DODSON: Mamava is design solutions for nursing mothers on the go. The idea is a clean, quiet, comfortable, safe place to use a pump if you're traveling, or to sit down and have a quiet place to nurse.
What are the features of the suites, and what problems do they address?
CD: They were designed with food prep in mind, so the surfaces have no seams and are really easy to wipe down. They have tables that fold down and electric outlets. The newer ones have USB ports and mirrors.
SASCHA MAYER: We also have an [Americans With Disabilities Act]-compatible unit. All units have four lights and a vent, which is not so much for air circulation as for white noise. A pump does make noise, and people sometimes feel self-conscious about that.
But this is not about keeping pumping in the closet, which is sometimes what we get accused of. It just gives moms options. And if you have a toddler, especially in an airport, you want to contain your situation as much as you can. That was our personal experience as moms, and that's why airports and convention centers came to mind first for us. When you pump, you're very exposed. You're hooked up to an apparatus that needs electricity. So bathrooms were the choice, but, of course, bathrooms have the exact opposite function as feeding somebody. And we know that there are millions of particulates that go into the air every time a toilet is flushed.
How was Burlington International chosen to host the prototype?
SM: [Airport director of aviation Gene Richards] enabled us. He'd had passengers who had complained about not having accommodations, and we wanted to fix that. We said, "OK, we'll do it!" Burlington is a community that takes risks like that.
CD: [Richards] was the one who gave us the deadline and helped with the original prototype, which was literally built in his backyard. He's been a friend to Mamava from the very beginning.
Where have you placed Mamava suites?
SM: Airports are fabulous pollinators for the concept. Though the Milwaukee airport is not very large, it actually has four units. And those have led to the installation of suites at a pizza factory, at [Wisconsin lip balm company] Carmex, at the Milwaukee zoo and with the Minnesota Vikings.
CD: The [football team's chief operating officer] was traveling through the airport in Wisconsin and saw the suites there. Around the same time, he had a mom who was coming back to work, and she was inquiring about where she was going to pump. He tracked us down, and we flew out there. They installed two in their [temporary] stadium and one in their offices; now, in their new stadium, they'll be putting more in. They recognized the need to do the right thing with their female fan base.
Where else do you envision placing the suites?
CD: There's no market that's not being considered. Because of the Affordable Care Act [which requires businesses with more than 50 employees to provide private spaces for nursing mothers], companies need to be in compliance. So does the government! The Department of Defense, in particular, has the challenge of women in the military and trying to keep moms there. So they're doing what they can to keep female employees happy.
What do you call the Mamava logo?
SM: "Happy breasts." That's what it's all about it. Being proud, not hiding.
---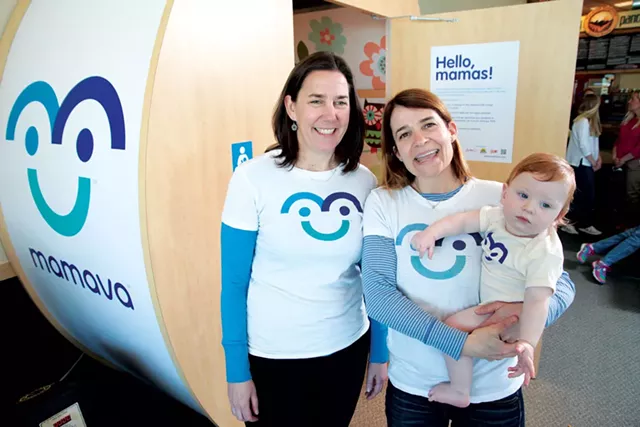 File: Matthew Thorsen
Christine Dodson (left) and Sascha Mayer
Imaginez la scène: une maman très chargée traverse en hâte un aéroport bondé en tenant d'une main un petit enfant peu coopératif et en tirant de l'autre une valise récalcitrante. Soudain, elle entend un cri. C'est le bébé qu'elle porte sur la poitrine qui décide au pire endroit et au pire moment qu'il a faim. Les aires d'attente sont remplies à craquer, les salles de bain, plus ou moins hygiéniques. Pas un seul endroit dans l'aéroport qui lui paraisse convenable pour allaiter son bébé.
Il y a dix ans, Christine Dodson et Sascha Mayer, deux infographistes de Burlington, ont trouvé une solution imaginative à ce problème beaucoup trop courant. Leur entreprise, Mamava, conçoit et construit des « aires d'allaitement » transportables, dont la première a été installée à l'Aéroport international de Burlington. Il s'agit d'espaces propres, confortables et privés où les mamans peuvent allaiter ou utiliser un tire-lait.
Ces aires d'allaitement se sont répandues dans tout le pays et on en trouve désormais dans divers aéroports, écoles, hôpitaux et établissements sportifs, de Boston, au Massachusetts, à Boise, dans l'Idaho — et ce n'est qu'un début. Christine et Sascha ont rencontré BTV dans l'aire d'allaitement Mamava d'origine, qui se trouve toujours dans le terminal des passagers de l'Aéroport international de Burlington, pour discuter du passé, du présent et de l'avenir de leur entreprise innovatrice.
Comment décririez-vous Mamava à quelqu'un qui n'en a jamais entendu parler?
CHRISTINE DODSON : Mamava fournit des solutions destinées aux mères qui allaitent et se déplacent. L'idée est de leur offrir un lieu propre, tranquille, confortable et sûr où elles peuvent utiliser un tire-lait si elles sont en déplacement ou s'asseoir et allaiter leur bébé dans le calme.
Quelles sont les caractéristiques des unités d'allaitement et à quels problèmes répondent-elles?
CD: Elles ont été conçues en fonction de la préparation des aliments, ce qui veut dire que les surfaces n'ont pas de joint et sont très faciles à essuyer. Elles sont munies de tables qui se déplient et de prises de courant. Les plus récentes ont des ports USB et des miroirs.
SASCHA MAYER : Nous avons aussi une unité conforme à la loi sur les personnes handicapées (Americans With Disabilities Act). Toutes les unités ont quatre lumières et un ventilateur, pas tant pour la circulation de l'air que pour le bruit blanc. Le tire-lait est un appareil bruyant, ce qui peut être embarrassant pour certaines personnes.
L'intention n'est pas de cacher l'utilisation du tire-lait, ce dont on nous accuse souvent, mais simplement de donner aux mamans des options. Et si vous avez un autre petit enfant avec vous, surtout dans un aéroport, il est probable que vous souhaitiez vous retirer dans une telle situation. C'est ce que nous avons vécu quand nous étions de jeunes mamans et c'est pour cette raison que nous avons d'abord pensé aux aéroports et aux centres de congrès. Quand on utilise un tire-lait, on est très vulnérable. On a besoin d'une prise de courant. Bien sûr, il y a les salles de bain, mais elles ont une fonction totalement opposée à celle de nourrir quelqu'un. Et on sait que des millions de particules sont libérées dans l'air chaque fois qu'une chasse d'eau est tirée.
Comment en êtes-vous arrivées à choisir l'Aéroport international de Burlington pour installer votre prototype?
SM: [Le directeur de l'aviation à l'aéroport], Gene [Richards], nous a aidées. Il avait reçu des plaintes de passagers à ce sujet et il souhaitait trouver une solution. Nous avons relevé le défi! Burlington est une collectivité qui prend ce genre de risques.
CD: [Gene Richards] nous a fixé une échéance et nous aidées à concevoir le prototype initial, qui a littéralement été construit dans sa cour. C'est un ami de Mamava depuis le tout début.
Où avez-vous installé des aires d'allaitement Mamava?
SM : Les aéroports ont été des lieux formidables pour répandre notre idée. Bien que celui de Milwaukee ne soit pas très grand, il dispose de quatre unités, qui ont entraîné l'installation d'aires d'allaitement dans une fabrique de pizzas, chez Carmex (une société qui fabrique des baumes pour les lèvres au Wisconsin), au zoo de Milwaukee et chez les Vikings du Minnesota.
CD : Le [chef de l'exploitation de l'équipe de football] a vu nos unités à l'aéroport du Wisconsin lors d'un de ses voyages. À peu près au même moment, il comptait parmi ses employés une jeune maman qui revenait au travail et qui avait demandé où elle pourrait utiliser son tire-lait. Il nous a retracées et nous sommes allées le rencontrer. Ils ont installé deux unités dans leur stade [temporaire] et une dans leurs bureaux; et maintenant, ils en installent d'autres dans leur nouveau stade. Ils ont compris le besoin d'agir ainsi pour le bien de leurs fans de sexe féminin.
Songez-vous à d'autres endroits pour installer vos unités?
CD : Nous n'excluons aucun marché. À cause de la loi américaine appelée Affordable Care Act [qui exige que les entreprises comptant plus de 50 employés fournissent aux mères qui allaitent un espace privé], les entreprises doivent trouver des solutions. Le gouvernement aussi, d'ailleurs! Le ministère de la Défense, en particulier, doit relever le défi des femmes militaires et trouver le moyen de garder les jeunes mères. Il fait donc ce qu'il peut pour satisfaire leurs besoins.
Comment qualifiez-vous le logo de Mamava?
SM : Le message véhiculé est celui de la fierté : sourire, ne pas se cacher.