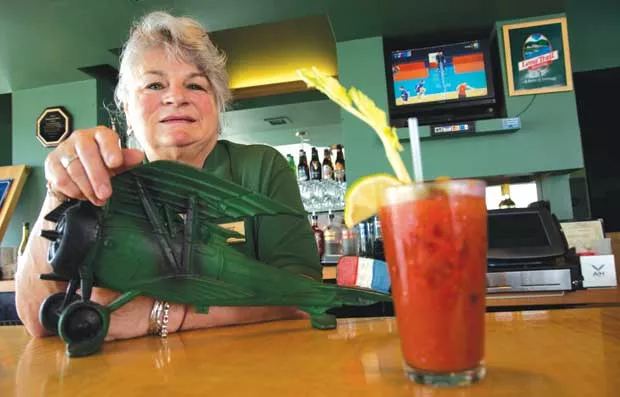 No need to ask Charlotte LaPointe if she knows how to make your favorite drink. A Manhattan? Easy. A Singapore Sling? Piece of cake. An Aviation Cocktail? Puh-leeze! If it's got alcohol and is served in a glass, chances are good the bartender at One Flight Up can mix it for you — and keep you entertained while you wait. For 22 years, LaPointe has tended bar at Burlington International Airport's only bar and grill. In that time, she's never once called in sick or showed up late — an impressive record in a city that averages 80 inches of snow annually. The Burlington native was born on Easter Sunday 1951 and was named after Charlotte Street, in the Queen City's Five Sisters neighborhood. LaPointe's first airport job was working for a caterer preparing the meals served on airplanes — more than 1000 a day. "Remember when they used to serve meals on airplanes?" she jokes. In addition to pouring drinks and controlling the terminal's only TV set, LaPointe provides another critical — though unofficial — airport service: Whenever she sees tourists carrying a Vermont gift package, she always asks them what's in it. If it's maple syrup, she offers to mail it to their home before airport security confiscates it. Travelers often send her gifts in appreciation, especially Harley-Davidson T-shirts, which LaPointe collects from around the world. LaPointe's best boast? Actor Elijah Wood once told her she makes the best martini he ever had.
I hear you keep a list of all the celebrities you've met over the years.
Yes. I once met Ernest Borgnine. He loved the Blue Angels. The day they flew over Burlington, he and his wife sat down at the bar with me. She sent me a Christmas card that year. It was addressed to "Charlotte. Bartender. Airport." And I got it! Actor Emmet Walsh always leaves me a $2 bill and a silver penny for a tip. That's his thing. I met Brooke Shields. She's a charmer, and so beautiful. Harvey Keitel comes in a lot, too. He's a riot! Always orders an egg sandwich at four o'clock in the afternoon... And [late NASCAR driver] Dale Earnhardt Sr. used to come here a lot to go bass fishing, because Lake Champlain is the best bass lake in the United States.
Seen many changes at the airport?
Oh, yeah. I remember when there was no parking garage. And I remember when you used to be able to smoke in the terminal, and they had ashtrays at the ticket counters.
What's your favorite dish at One Flight Up?
The Reuben. I'm the Rueben Queen! The food here is really excellent.
You must find a lot of lost belongings.
Oh, sure. People leave their cellphones plugged in a lot. So, I'll call up some number on their phone and ask, "Who's phone is this?" then have them paged. The things people leave behind. Tickets, jackets. But I always find them.
What are the more common reasons people visit Burlington? Lots of weddings and bachelor parties. And business. Then there's Jazz Fest. That gets pretty busy. After the Phish concert up in Coventry, Vt., we had all these guys coming in covered in mud who'd lost their shoes. The couldn't come into the bar barefoot, so I gave them all plastic bags for their feet. That was pretty funny.
Do much traveling yourself?
No, but for my 10th anniversary [at BTV], my boss gave me a cruise. I got hooked on blue water, so now every year I go to Mexico or the Bahamas or this tiny resort in Cocoa Beach, Fla.
What's the best part of working at Burlington International?
I meet the nicest people. I make them laugh, they make me laugh. It's a wonderful, wonderful place... And, I've got one of the best views of the Green Mountains. When it rains, the rainbows are unbelievable! It goes from the [hangar for the] F-16s all the way over to Camel's Hump.
How long do you plan to stay?
As long as I can. I'm here until they tell me I can't work here anymore. I'm still kicking. I don't kick as high anymore, but I'm still kicking!
Recontrez Charlotte LaPointe, la barmaid, One Flight Up
Nul besoin de demander à Charlotte LaPointe si elle sait comment préparer votre cocktail préféré. Un Manhattan? Rien de plus facile. Un Singapore Sling? Pfff, en un tournemain. Un Aviation Cocktail? Alors là, vous rigolez! Si la boisson en question contient de l'alcool et qu'elle se sert dans un verre, il y a de fortes chances que la barmaid du One Flight Up soit en mesure de vous la préparer, tout en vous distrayant pendant que vous attendez. Depuis 22 ans, Charlotte LaPointe travaille à l'unique bar-rôtisserie de l'Aéroport international de Burlington. Elle ne s'est jamais absentée pour cause de maladie et n'est jamais arrivée en retard – une feuille de route impressionnante dans une ville où il tombe en moyenne deux mètres de neige par année. Charlotte est née à Burlington le jour de Pâques en 1951 et son prénom lui vient de la rue éponyme du quartier Five Sisters de la ville. Elle a commencé à travailler à l'aéroport pour le traiteur qui préparait les repas des passagers – plus de 1000 par jour. « Vous vous souvenez, ironise-t-elle, qu'on offrait autrefois des repas dans les avions? » En plus de servir des verres et de contrôler le seul poste de télévision du terminal, Charlotte fournit un autre service essentiel – bien que non officiel – à l'aéroport : chaque fois qu'elle voit des touristes transportant un paquet-cadeau du Vermont, elle leur demande ce qu'il contient. Si c'est du sirop d'érable, elle leur propose de le leur envoyer par la poste pour éviter que les agents de sécurité de l'aéroport le leur confisquent. Les voyageurs lui envoient souvent un petit quelque chose en guise de remerciement, en particulier des T-shirts Harley-Davidson, car elle les collectionne et en a de partout dans le monde. Le meilleur coup qu'elle dit avoir fait? L'acteur Elijah Wood lui a déjà dit qu'il n'avait jamais goûté un meilleur martini que le sien.
On m'a dit que vous conserviez une liste de toutes les personnes célèbres que vous avez rencontrées au fil des ans.
C'est juste. J'ai déjà rencontré Ernest Borgnine. Il adorait les Blue Angels. Le jour où il a atterri à Burlington, sa femme et lui se sont assis au bar avec moi. Elle m'a envoyé une carte de Noël cette année-là. Elle était adressée ainsi : « Charlotte. Bartender. Airport. » Et le pire, c'est que je l'ai reçue! L'acteur Emmet Walsh me laisse toujours un billet de 2 $ et un sou en argent comme pourboire, allez savoir pourquoi. J'ai aussi eu l'occasion de rencontrer Brooke Shields. Elle a un charme fou, c'est vraiment une très belle femme. Harvey Keitel aussi passe souvent par ici. J'ai beaucoup ri avec lui! Il commande toujours un sandwich aux œufs à quatre heures l'après-midi… Et [feu le coureur NASCAR] Dale Earnhardt père venait régulièrement ici pour pêcher l'achigan; le lac Champlain est effectivement le lieu privilégié aux États-Unis pour ce type de pêche.
Avez-vous assisté à de nombreux changements à l'aéroport?
Oh oui! Je me souviens de l'époque où il n'y avait pas de garage pour le stationnement. Et il fut un temps aussi où on avait le droit de fumer dans le terminal; on trouvait même des cendriers aux billetteries.
Quel est votre plat préféré au One Flight Up?
Le sandwich Reuben. Je suis la reine du Reuben! On mange vraiment très bien ici.
Vous devez trouver beaucoup d'objets perdus?
Certainement. Il arrive souvent que les voyageurs laissent leur téléphone cellulaire branché. Dans ce cas, je fais un des numéros enregistrés dans l'appareil et demande à la personne qui répond : « À qui appartient ce téléphone? », puis je fais appeler son propriétaire au haut-parleur. C'est fou tout ce que les gens sèment derrière eux. Billets, vestes, etc. Je les retrouve toujours.
Pour quelles raisons, surtout, vient-on à Burlington?
Pour des mariages et des enterrements de vie de garçon. Ou alors on vient par affaires. Et puis il y a le Jazz Fest qui attire beaucoup de monde. Après le spectacle de Phish à Coventry, au Vermont, on a vu arriver plein de gars couverts de boue qui avaient perdu leurs chaussures. Ils ne pouvaient pas entrer dans le bar pieds nus, alors je leur donnais des sacs de plastique pour se couvrir les pieds. On a bien rigolé.
Voyagez-vous beaucoup?
Non, mais pour mon dixième anniversaire [à BTV], mon patron m'a offert une croisière. Je suis devenue une accro du bleu des mers du Sud et je vais donc maintenant au Mexique ou aux Bahamas chaque année, ou encore dans un petit hôtel de villégiature à Cocoa Beach, en Floride.
Quel est l'aspect de votre travail à Burlington International que vous préférez?
Je rencontre des personnes formidables. Je les fais rire et elles me font rire. C'est un endroit merveilleux… vraiment merveilleux. En plus, j'ai l'une des plus belles vues qui soient sur les Montagnes vertes. Quand il pleut, les arcs-en-ciel sont incroyables! Ils vont du [hangar des] F-16 jusqu'à Camel's Hump.
Combien de temps pensez-vous rester ici?
Aussi longtemps qu'on voudra de moi! Je suis toujours en super forme. Peut-être pas comme avant, mais en super forme tout de même.
The original print version of this article was headlined "Ground Crew"