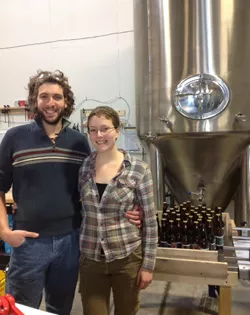 Bees may be tucking in for the winter, but the spoils of their efforts are still filling bottles in Colchester — specifically, brown ones that are dead ringers for beer bottles. Four-packs of mead?
Yup. "We want to be the mead for the people," says Ricky Klein, head mead maker of Groennfell Meadery, the Colchester company he cofounded earlier this month with his wife, Kelly.
The bottles are intended to pique the interest of casual drinkers who might eschew the more common wine-size bottles of mead. The Kleins' eclectic flavors, including a bourbon-barrel-aged mead, spiced-cranberry mead and dry-hopped mead, are designed for more adventurous palates. "We're going after the cider market," Ricky Klein quips.
Klein began making mead while he was pursuing a master's degree in comparative literature in Iowa and working in a Des Moines home-brewing store called Beer Crazy. "I love beer, but I prefer to make mead. I started to brew so I could make mead," he says.
"He was their mead expert [at Beer Crazy]," adds his partner.
The couple, who met as students at Middlebury College, began building a business plan for a commercial meadery. They returned to their beloved Vermont to launch Groennfell, which means "green mountain" in Old Norse.
Ricky Klein ferments single-source wildflower honey (plus yeast and water) inside three 1000-gallon steel tanks. The process yields a crisp, dry, fizzy flagship mead called Mannaz, as well as a tart, rose-hued mead brewed with hundreds of pounds of cranberries called Fenberry Draught.
"It can be difficult to introduce people [to mead], because you don't have a vocabulary for what you're tasting," notes Kelly Klein. "There's nothing to compare it to."
Texturally, Groennfell's fizzy meads are akin to hard cider or even cava. While mead has yet to make much of a dent in the national beverage market — there are only 100 or so meaderies in the U.S. — the couple say they have had several return customers after barely four weeks in business.
For now, Groennfell four-packs are only for sale at the meadery, but they will soon be distributed to retail stores throughout Vermont. Until then, guests can sample the Kleins' meads at their tasting room at 856 Hercules Drive, Tuesdays through Fridays, 2 to 6 p.m.; and Saturdays, 10 a.m. to 5 p.m. Every Friday, the Kleins offer tastes of experimental five-gallon batches during an event they call "Firkin Fridays."
The original print version of this article was headlined "A Taste of Honey"