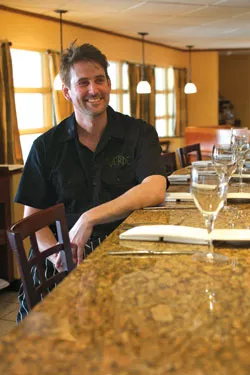 Jeb Wallace-Brodeur
Rogan Lechthaler
Ludlow's Downtown Grocery is a misnomer. "There's mass confusion about what we are," says chef Rogan Lechthaler, who is opening the new restaurant on Wednesday, December 15, with his wife (and the eatery's general manager), Abby. Instead of Spam-stocked, fluorescent-lit aisles, Okemo Valley diners will find a mod new eatery with a slate gray interior and handcrafted birch light fixtures, serving up dishes such as scallops with pickled crabapple purée and black-truffle vinaigrette.
The restaurant's quirky name, says Abby Lechthaler, is a nod to the space's past life as Charlie's Market and to her culinary coming of age in Oxford, Miss. "Most of the restaurants used to be feed stores, so there's Phillips Grocery, City Grocery, Taylor Grocery…" explains Lechthaler. "That's where I learned about fine dining."
Her husband, formerly chef at Verdé in Stratton, also owes a debt to Oxford. He picked up the art of curing meats at the city's L&M's Salumeria. He's saluting the South by putting shrimp and grits on the Downtown Grocery menu, as well as a burger topped with pimento cheese served with a side of shallot-dusted fries.
But Lechthaler likes it local, too. Those familiar with his work at Verdé will recognize his creative, ultraseasonal touches. They may also recognize his Verdé sous-chef, Alyssa Prouty, who rejoined Lechthaler to carry on the handcrafted, whimsical style they established there. The bulk of the restaurant's dishes, featuring the best nearby farms have to offer, will be listed on a chalkboard wall each day. "We really want people to get jazzed about what's on the board," says Lechthaler.
The opening menu includes tuna tartare with yuzu dressing, wasabi aioli and wonton wisps; and Cavendish Game Birds of Vermont quail with duck confit, honeycrisp apple, rabbit sausage and cider jus; along with housemade pastas and varied charcuterie plates.
Verdé fans will also find Lechthaler's signature dessert, the Late Night Breakfast: a freshly made waffle topped with buttermilk-bacon ice cream, house-smoked bacon and maple syrup. It's still on the menu at Verdé, too, where Thad Buck has taken Lechthaler's executive chef job. To keep things fresh, Lechthaler came up with a second sweet sensation: banana bread pudding with "boozy brown-sugar ice cream." Other ice cream flavors include peanut butter and jelly, Earl Grey-malted milk ball, and pineapple-basil.
Prefer a liquid dessert? Try a clementine Harvey Wallbanger or hard hot chocolate with a torched homemade marshmallow.
Both Lechthalers say they aim to show guests a great evening. Abby emphasizes that Downtown Grocery's slogan is "casual fine dining," and she wants to keep it that way. "It's just a super casual, cool spot, but you're going to get a beautiful plate," she says.
Her husband adds, "We just want to take it back to the roots of going out to eat and creating a good time for people."