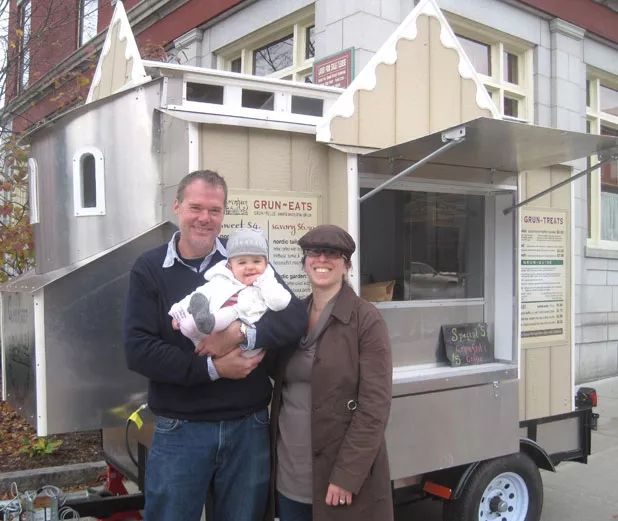 For more than a decade, modern Scandinavian cuisine has been earning its place as a hip choice in big cities. Now, thanks to a new food cart, Vermonters can finally taste what they've been missing.
Grünhaus Nordic Street Eats recently began parking in front of 27 State Street in Montpelier, the former home of Capitol Grounds. There, owners Doug and Jennifer Haugen are introducing Vermont's capital to lefse. Text on the cart's side defines it as a "mind-numbingly labor-intensive, mind-numbingly tasty old-world Norwegian, crêpe-like potato flatbread."
According to Doug Haugen, his Italian American wife has a natural knack for making the bread that can take Scandinavian housewives a lifetime to master. "It's a multistage process," says the former law professor, who left New York's Wagner College for slower-paced Vermont earlier this year. "My mother and sister took classes for this and gave up. It's so hard. You can rush it and do it in a 40-hour period, but it takes [Jennifer] three days."
The result is a skinny, potato-scented wrap that the Haugens fill with everything from kielbasa, sauerkraut and horseradish cream to chocolate-almond butter, sliced bananas, blueberries and cinnamon. The cart's other specialties include cupcakes, coffee and intense hot chocolate made from melted Swedish and Belgian bars.
The couple isn't yet using Twitter or Facebook to notify diners of service hours, but Doug Haugen says they should be up and running soon. The cart was designed to withstand freezing weather, and a spot at Stowe Mountain Resort is in the works. Whether schussing or walking to walk, visitors to the Grünhaus will have a cool new way to warm up this winter.