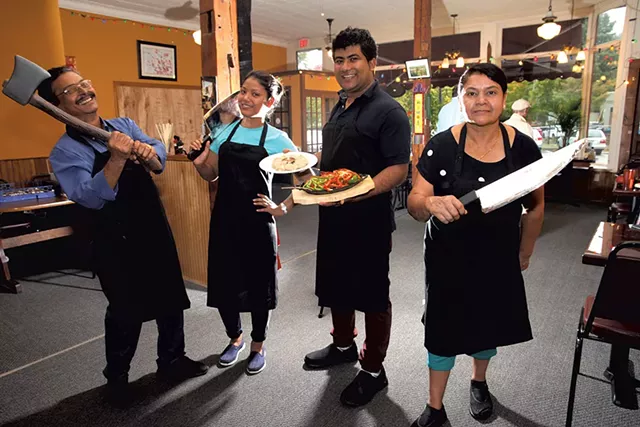 Matthew Thorsen
Left to right: Tika Ghimire, Shreepali Rajbanshi, Jeetan Khadka, Damber Kumari Ghimire
Chefs: Tika Ghimire, Damber Kumari Ghimire, Jeetan Khadka, Shreepali Rajbanshi
Ages: 56, 55, 25, 24
Restaurant age: three months
Cuisine type: Nepali street food and Indian cuisine
Training: Cooking is part of the family tradition.
Selected experience: Head chef Tika Ghimire worked in Bhutan, Nepal and Madras (now known as Chennai) in South India.
What's on the menu? paneer pakora (homemade cheese fried with chickpea batter); chicken momo (steamed chicken dumplings); biryani (fragrant long-grain rice cooked in a mixture of spices, with choice of meat or vegetables); thukpa (noodle soup); chow mein; butter chicken; lentil soup; lamb or goat curry
Cooking is a family affair at Nepali Kitchen, a restaurant run by Jeetan Khadka and his uncle, Tika Ghimire. The younger man is responsible for managing the front end. The older gentleman is the main chef; his wife, Damber Kumari Ghimire, and Khadka's wife, Shreepali Rajbanshi, are his assistants.
Khadka's and Ghimire's families were among the tens of thousands of Bhutanese nationals of Nepali descent who fled to refugee camps in Nepal after they were stripped of their citizenship in the early 1990s. They spent about two decades in the camps before resettlement to the U.S. began in 2008.
Matthew Thorsen
Tandoori chicken
Khadka and his immediate family were among the first Bhutanese to move to Vermont. A year after arriving in Spokane, Wash., in 2011, Ghimire moved to the Green Mountain State. Khadka's wife, a Nepali citizen, joined him earlier this year.
Khadka is a community leader in the Burlington area. He was an AmeriCorps volunteer, worked with Spectrum Youth & Family Services and served on the Burlington Parks Commission. While he didn't have any experience operating a business, he has always liked cooking.
When Seven Days met with the chefs, they were getting ready for the lunch crowd. Khadka did most of the talking and interpreted for his uncle and aunt.
SEVEN DAYS: How did you get into the food business?
JEETAN KHADKA: I was looking for some business venture for a long time. My aunt owns a store down in Burlington. They have a dumpling place [Nepali Dumpling House]. Also, I was told by a lot of my family members, "Why can't you do something productive and make some money?" Asian families, you know, they want you to make some earnings, buy a house and lead a happy life.
The work I was doing — social work, volunteering and spending time with the community — that's very good work, very productive work and very rewarding, but there's not much earning you can make. That was one of the reasons.
We love to cook. There are so many foods that we can make.
After [Shreepali] came from Nepal, she's always wanted to do a food truck. She used to watch all those food channels.
And I spoke with [Tika]. He worked in local restaurants here. He worked at Shalimar [of India]. He did work at Central Market for some time. If you know how to cook, owning your own business makes more sense.
SD: Where did your uncle learn to cook?
JK: When he was little, his dad died. He went to Thimphu, which is the capital of Bhutan, and he started working in a restaurant and started [with] dishwashing, chopping firewood and things like that. He did that for a year, and then he started cooking.
There are a lot of [Indians from Madras] in Bhutan. The restaurant he worked for sent him to Madras to learn how to make dosa [savory pancakes]. He worked there for a year.
In Nepal, he used to own a canteen. It was for the staff who worked for [the United Nations Commission on Human Rights] and World Food Program.
SD: What dishes are selling really well at the restaurant right now?
JK: Our top-selling dishes right now are chicken tikka masala, chicken curry and butter chicken. Most of our curries are very popular. Our saag dish, which is spinach, tastes very rich. A lot of people like it. Popular among the Nepalis are dumplings, noodle soup and chow mein.
SD: Since your uncle left Bhutan and Nepal, what food does he miss most?
JK: In Nepal, we used to slaughter goats. We had fresh meat every day. It's not frozen meat. Here, once you keep in the freezer [and since] it comes a long way, it does not taste as good, no matter how best you try to prepare.
Ema datshi [chile-cheese stew], the national dish from Bhutan, is very popular. It's very good. We do make it here. We do get cheese from Bhutan. [But] it's not good as it used to be.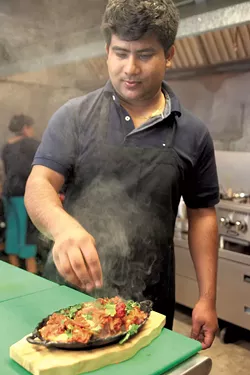 Matthew Thorsen
Jeetan Khadka with tandoori chicken
SD: How do you divide the work among four chefs?
JK: I'm a chef in the making. [Tika] does the main entrées and samosas. I do the prep work. [Damber] does everything, the same thing [as her husband]. [Shreepali] makes the pakoras and dumplings. I run the front. I do the accounting, marketing, paying the bills and writing the checks for everybody.
SD: Who are your customers?
JK: Most of our customers are local Americans. We have a lot of regular customers, and sometimes they come twice a week, three times a week. We do have some Nepali customers. I think it's because of the location. If we were in Burlington or Winooski, we would get a lot of Nepali customers.
SD: Are you planning to introduce any new items for winter?
JK: I'm thinking about adding more soup [options]. I've been experimenting with some new ideas. For example, ema datshi could be a really nice, cheesy soup for winter. [For] our house special thali, we get ema datshi and gundruk, which is fermented dried mustard leaf. We make a soup out of it. I'm thinking, maybe gundruk noodle soup — spaghetti noodles with gundruk soup.
SD: What's the one food item you can't live without?
JK: One food I cannot live without is rice. We don't get a chance to eat in the morning because we come early and we make soups, some dumplings, and eat right here for lunch.
TIKA GHIMIRE: Chapati, roti and peas.
SD: If money were no object, what kind of restaurant would you open?
JK: We didn't take any loans from the bank to start the business. I borrowed from my sister and my mom. If I had money, I would have added more equipment. I'd probably buy one more deep fryer. I would change the flooring; it's slippery here.
SD: What's on your playlist?
JK: In the morning, I play bhajan [Hindu religious songs]. After 11 a.m., I play Nepali pop songs. Sometimes I play Hindi songs. Sometimes I play reggae. If you come out to eat diverse, ethnic food, you have to have a taste of ethnic music.
SD: What about when you're not working — any hobbies?
JK: I used to spend a lot of time driving around the state. I love to take pictures, enjoying the sunset. I haven't been able to watch a single sunset since I opened the restaurant. I miss that — being able to go down to Battery Park and just relax. I was doing 8 a.m. to 5 p.m. work. Now, it's 7 a.m. to 10 p.m.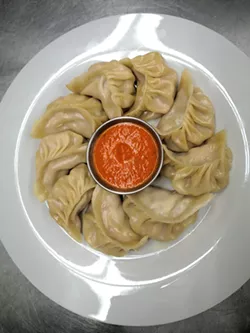 Matthew Thorsen
Momos
SD: What do you and your uncle like about having your own restaurant?
JK: Being able to work for yourself. Being with your family all the time.
TG: One of the things I like about having my own business and working in a restaurant is being able to cook whatever I love to cook. There's no one telling you, "Oh, you're five minutes late today." I come in at 7 in the morning. I stay up until 11:30 [p.m.] to do the ingredients, the cleaning.
SD: Are you thinking of starting any other food venture?
JK: I'm thinking of getting a food cart — masala grill, tandoori grill. My wife has always wanted to do that. That would be my gift for her.
SD: What is the strangest thing about American food habits?
JK: When I first came here, at the airport in New York, JFK, somebody came to receive us, and they brought a big bag. Inside, there were sandwiches, uncooked tomatoes, veggies. Most of our food are cooked, half cooked or steamed. I never had salad like that before. Nobody tried the sandwiches. We were hungry all the way here because we couldn't eat anything. But now, because I went to school here, I started eating American food.
TG: I see Americans eating bread, sandwich. They don't eat a lot of rice. We don't have naan [baked flatbread] right now. We make pratas [flour-based pancakes]. So every time, people ask, "Do you have naan?" They're always asking for bread.