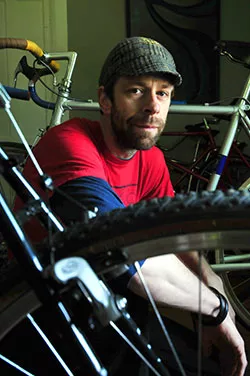 Some people fall into kitchen work by accident or default, but Matthew Bilodeau isn't one of them. At the tender age of 15, living in rough-and-tumble Springfield, Mass., he got a job washing dishes and quickly realized he had a passion for food. "I am what I want to be, and I'm not sure what more anybody could ask for," he reflects. "I don't know what I'd do without work. I spend more time at work than anywhere else, and when I take time off, I itch to get back."
At The Black Door Bar and Bistro, where he's cooked for four years and been head chef for almost two, Bilodeau prides himself on creating enticing dishes with seasonal ingredients, but without pretension. "I enjoy fine dining, and draw on many aspects," he explains, "but I'm much more of a casual person. I'm not disrupting nature to cut everything into little squares; it's just not my thing."
He's particularly proud of his noodle dishes: "I think that I do well at pastas and at incorporating our local fare into pastas that are actually brought from Italy," Bilodeau says. Right now, he's whipping up mushroom orecchiette with roasted oyster 'shrooms, spring greens and Vermont tome, as well as a pappardelle with Riesling-braised pork and Boucher blue cheese.
"One of my favorite things to do is make sure that in every dish, there's something [patrons] are eating that … they recognize, from a farm down the road," he says.
The Black Door's menu descriptions make us hungry, so we decided to put Chef Bilodeau on the grill.
How did your family eat when you were growing up?
We ate standard-issue American, New England style. My mother is an excellent cook, and she cans, saves, dries and jars everything, so that was definitely a part of childhood, having canned goods made at home. There was a lot of grilling on the weekend.
I certainly had many, many a time my parents were working, so it was my sister and myself.
Back then, were there any foods you thought were gross?
No, definitely not. I probably had some pickiness as a child, but I lived in a house where we ate what was presented to us or what we made; there wasn't much leeway. I don't have any issues with any food at all. I eat absolutely everything.
Name three foods that make life worth living.
Greens, certainly. When the greens start coming out around here, it makes every day better. We get them from LePage Farm, Pete's Greens and Cate Farm, and I eat endless amounts. I think it improves my health and well-being. Pasta is one of my favorite things. And tourtière: With our French-Canadian background, we had it for absolutely every holiday. The one thing I will not do is eat it cold with ketchup the next day.
Have you ever eaten something truly weird?
Organ meats would be the weirdest things, but I don't really consider them to be that weird. A lot of things I've eaten in that department aren't typical, but they should be. It just takes a little bit of adventure.
The dish I ordered at The Spotted Pig last time I was in New York was lamb crépinette wrapped in caul fat with sautéed lamb kidneys and lentils du puy. It was phenomenal, very iron rich. I'm glad three people shared it.
Brain I've only had once, and it was fried, and it tasted like a marshmallow that was made of meat.
The most I've ever done at this restaurant is chicken liver pâté; that's as far as I can really get people to go.
What's the last thing you ate?
Red Hen bread, which is pretty much my breakfast every morning: a slice of bread and cold butter with coffee.
What local foods are always in your pantry?
Eggs, greens, potatoes; there's always some meat in the refrigerator. Lots of local cheese.
I get home early because I live in such a quiet town. The restaurant only stays open until 9:30, so I'm always home by 11. I cook nominal dinners almost every night when I get home, and go all out on one of my weekend days, which are Sunday or Monday.
We eat well. We'll do a little more than required for two people and eat the same thing twice. We'll have multi-cheese grilled-cheese night with the ends of all our cheeses. We use all very quality stuff; for our household we buy almost everything from folks around here.
If you could have any chef in the world prepare a meal for you, who would it be?
I think I'd have Hugh Fearnley-Whittingstall [author of the River Cottage Meat Book, among others] cook a meal for me. I like his stylings.
What's your favorite cookbook?
I do favor the River Cottage books, but I think my favorite cookbook author in general is Patricia Wells. They're not under the guise of any kind of politics. The idea is that the best food is down the road, and there are simple ways to prepare the food from down the road.
Name a local restaurant that you patronize.
Kismet and Three Penny Taproom. The guys at Three Penny are friends of mine.
What's your favorite beverage?
For every day, it would either have to be seltzer or coffee. I can't say that I usually drink much else.
On the coffee side, I stay with the darkest roast that has the lowest acidity, like a country-style French roast. I need my coffee to have body, be more viscous than water. Because of where I shop, it's organic and Fair Trade, so on and so forth.
But my favorite beverage is wine. I've really been enjoying O'Reilly's Riesling. When I drink reds, I tend to drink Owen Roe or O'Reilly. I've been running through a number of American wines. [I'm interested in] seeing how fast America can catch up with European food. They're still ahead of us with cheese and with wine.
If you weren't a chef, what would your job be?
I don't rightly know. My other main focus and interest is bicycles, hence the reason I've never had a [driver's] license. I look forward to getting on my bike in the morning and riding it to go cook food. I don't know what that would entail as far as a job. But it is my one other true interest.
The only thing I've even explored was work in an art gallery, and I just ended up doing the food for the openings. Everything else has always been overridden by working with food.
It's an insane business. I rode along with all the insanity, and everything you read about in everybody's famous books about restaurants. But that stuff died out after a while. Things go wrong, and you can get really flustered and crazy about it or you can just deal. It's gonna be different every day, and that's one of the most exciting things about it. The rewards, I think, far outweigh any of the bad things. I focus on that and trying to do my best, and when people leave here they leave here happy, and they come back.
What's your most embarrassing favorite food?
It was Devil Dogs, but then I learned how to make my own devil's food cake. Hellman's mayonnaise might be one. That's a taste of childhood, and no other mayo, no aioli or mayonnaise-like substances I've made come close to it.
I've really stopped eating all the "guilty" things. I occasionally buy a bag of fried cheese doodles.
What's the next hot food trend?
It's weird living in a place that's really still stuck in '80s cuisine. I guess all I could say is that we probably won't know about it in Vermont for another five years, even if it started tomorrow.