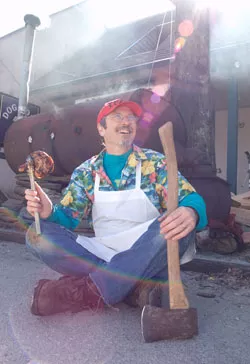 Matthew Thorsen
Chef Michael Flanagan
When weary workers stop for take-out, speed and convenience tend to trump taste. But what if those workers happen to be chefs?
Then they may head to Michael's Good to Go, located in a shopping center in Waitsfield. Here, "fast food" could be "Down Island Yams & Greens Soup" with coconut milk and tamarind. Or "Sizzling Squid Salad." Or veggie tacos made with ruby chard, potatoes and local goat cheese. Chefs from nearby restaurants stop by for the shredded pork shoulder with chipotle sauce and the ever-present Key lime pie.
Chef-owner Michael Flanagan, 49, uses his global sensibilities, honed during years of travel across five continents, to convert sustainably produced local fare into exotic specialties that he says cost "no more than a corner sub shop."
Raised mainly on frozen and canned foods during his youth in eastern Massachusetts, Flanagan began his culinary education at 13 with a job washing dishes at an Italian restaurant. In college, he caught a glimpse of upscale kitchen chic that convinced him to cook for a living. "I ... saw chefs at a French restaurant down the block with their fancy hats and coats, and I thought, 'Those guys look really cool, I'm gonna keep doing this,'" Flanagan recalls.
His toque dreams came true when he landed a job working under Culinary Institute of America graduates at Burlington's now-defunct Déjà Vu Café. Back then, Flanagan says, chefs were "hired guns. It was all about our egos. We thought we could take anything and turn it into something delicious."
Later, while working at Waitsfield's Tucker Hill Lodge, Flanagan learned a less brash approach from the man who would later found American Flatbread. "George Schenk was a mentor to me," Flanagan says of the cook who introduced him to the localvore philosophy. "He'd been in Vermont for a number of years, and he turned me on to being humble and listening to the land. Back then, that was radical talk."
At Seven Days, we believe that if chefs frequent a restaurant, others would be wise to follow suit. We decided to put Chef Flanagan on the grill.
******
How did your family eat when you were growing up?
My mom raised us as a single parent. She was a waitress, and she grew up on a farm in poor, rural Ireland, so she didn't have the time or experience to experiment. We had frozen potpies, franks and beans, nothing that special.
Back then, were there any foods you just detested?
Yeah, canned tuna fish, and I still hate it. My mom would make a tuna-salad sandwich and try to tell me it was chicken.
I was a fussy little suburban eater, like many were at that time. I didn't like the healthy green vegetables and so on.
Name three foods that make life worth living.
Well, I'll say fresh herbs like mint, basil and cilantro; lime juice; and really fresh fish. You get a taco and you're set.
What's the weirdest dish you've tried?
I don't think that I've really eaten anything too bizarre. Most of the strange things I've eaten were obscure, unidentifiable meats, so I don't know what they were. I remember being in the Islands and eating bush meat: It might be armadillo, monkey or coati, who knows?
When you have time to cook at home, what do you make?
Oh, all kinds of stuff. My wife and daughter are both vegetarians, so by and large we eat vegetarian at home. It's been a really great tool for me as a chef to not be uncomfortable or feel threatened by vegetarian requests.
We bake our own breads; we've gotten back into that with the economy the way it is. So maybe some soup, a little salad and some homemade bread.
We try to eat really healthfully — I'm 49 and I want to stay fit — but we're not ascetic, by any means.
What foods are always in your pantry?
Nothing fancy, but certainly Vermont cheeses; we love those. For my [vegetarian] wife, they're one of the little luxuries. Other than that, I'd say really good olive oil, really good vinegars like sherry vinegar, multigrain pasta. We do put up a fair amount of stuff [at the restaurant] every fall — 80 quarts of smoked salsa, 600 ears of sweet corn, 1500 pounds of winter squash — and those things are always in the freezer at home, like homemade convenience food.
Imagine you have an all-expenses-paid trip to any country you want to eat in. Where do you go?
Vietnam. We weren't fortunate enough to visit Vietnam when we were in Southeast Asia. [Also] Peru, to try the ceviche. Those two stand out.
You can cook for anybody, alive or dead. Whom do you choose, and what would you make?
There are my idols — Madeleine Kamman, Paula Wolfert, Marcella Hazan, Rick Bayless and Diana Kennedy — but I might not be good enough to cook for them.
I was fortunate enough to be at a duck-cooking competition [where] Madeleine Kamman was one of the judges. I was lucky enough to win, and she spoke very kindly about me. You could have knocked me over with a feather. I made a pan-seared duck breast with tamarind-and-blood-orange glaze and a potato-and- scallion spring roll. It was very 1990s.
Any disaster stories?
When I was at college, I was working in the school cafeteria as a brunch cook, and I was in charge of the omelette station. I told them I was "so skilled," and they said, "You'll be the omelette chef."
On my first day of work, they said, "Get a case and a half of eggs and mix them up in the Hobart." I thought it was on the lowest speed, and it was on the highest speed. It was pretty much like an egg tornado; it went everywhere. I was coated in egg.
Which two cookbooks should every home cook own?
I'm a big fan of Mark Bittman's work. I really like How to Cook Everything. I think it's a great, great basic one. The one I use a lot otherwise, because it is so simple, is Rick Bayless' Mexican Everyday. It's simple, but I think it's true to its roots. Diana Kennedy's books, too. I think I have two of them. She's such a good writer.
If you weren't a chef, what would your job be?
More than likely, I think I would be some sort of a teacher.
Name a local restaurant that you patronize.
We don't get out tons, of course. I think the guys at New World Tortilla have done a really solid job for years. Their food has always been clean, tasty and affordable; they do such a great job at such a great price. They're kind of unrecognized.
Flatbread is such a thrill ride. [We go to] the Royal Orchid in Montpelier. And when we can afford to, we go out to the Green Cup [Café and Bakery in Waitsfield].
Name a few local products you eat at home.
Well, we're huge fans of goat cheese from pretty much anywhere in Vermont. I have access to Vermont Butter & Cheese products, and they're so great.
Other than that, it's kind of hit or miss. I go to Cheese Traders whenever I'm in Burlington. All summer our vegetables and greens come from Dave Hartshorn. It's a great way to eat.
Butterworks Farm has been doing a great job with grains and beans. I get their oatmeal, whole-wheat flour, black beans. They cost more than commercial black beans cost, but it's still not that expensive. I use their flour at home when I bake bread. It's such a nice thing.
What is something every restaurant patron should know but doesn't?
How much pressure the waitstaff is under, between the kitchen staff and the customer, and how difficult that is to deal with emotionally. Give them respect. My mom was a waitress, my wife was for years, and my daughter is now. It's such a tough way to make a living on so many levels.
What are your hobbies?
I'm an avid skier and fly fisherman, and we go camping a lot.
We'll occasionally close on a powder day. People will actually harsh on me when there's 6 inches of snow [and the restaurant isn't closed]. In the beginning I had a really strict rule: If there's 4 to 6 inches, lunch will probably be late; if there's 6 inches, lunch will probably be canceled; 12 inches or more, forget about it.
Do you have a favorite food that you'd consider a guilty pleasure?
I don't really like junk food. I haven't eaten in a McDonald's since I was 19 or so. I just kind of realized this stuff is just poison.
When we go up to Montréal, which we ideally do a couple times a year, we'll tend to go to one of a couple different pâtisseries, and we'll just load up.
Everybody gets a few pastries, incredible unpasteurized cheeses from France, I'll get a few pâtés, and we'll go to the park and gorge ourselves.