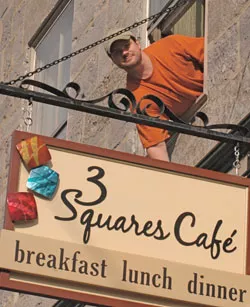 Matt Birong, who grew up in Essex, knows kitchens from the ground up — while still in high school, he had a job washing dishes at the New England Culinary Institute's Essex Campus. "That's where I kind of got interested in food," he says. "I knew the majority of the chef instructors; I knew my way around the place."
But it took time to get from the dish pit to the stove. Birong got his first taste of professional meal prep — rather than the messy aftermath — one weekend when NECI's banquet department was juggling several weddings. "They were a little light on students in this particular banquet class, so I came down and helped with the plating for a couple of functions," he recalls. "It's how every dishwasher ends up doing it; they're short staffed, and you end up making salads."
After graduation, Birong decided to make the switch from employee to student, and he laid the groundwork for other aspiring cooks who might want to do the same: "I talked [NECI] into starting an employee-student scholarship program . . . so it gave me a discount on the tuition," he says. Even so, culinary school isn't cheap, but Birong made ends meet by living at home rather than in the dorms.
The investment paid off — the NECI diploma netted Birong work in big-city kitchens. Back home after a few years, he worked locally and scraped up the funds to open 3 Squares, a casual eatery in downtown Vergennes. Now, Birong serves up three "square meals" a day in the spot formerly occupied by Eat Good Food, an upscale café that had a sister restaurant in Middlebury.
The little burg on Route 7 has seen its share of gourmet establishments in recent years, but Birong describes his café in more modest terms. "It's comfort food, approachable for everyday dining," the brown-haired, baseball-capped chef says unpretentiously. "It's basically just a glorified deli — I don't want to amp it up to be more than what it is."
But if he's reluctant to talk up his resto, some of his regulars sure aren't. In our 2008 Seven Daysies "best of" contest, Seven Days readers voted 3 Squares and Montpelier's Kismet co-runners-up in the "Best Lunch Outside of Chittenden County" category, right behind winner Sarducci's. To learn more about Chef Birong, we put him on the grill . . .
How did your family eat when you were growing up?
Well, my mom worked nights at IBM, so my dad was left to do most of the cooking. He had a bad habit of overcooking steaks and chicken and burning things.
I got tired of eating well-done London broil, so around the age of 10 or 11, I started manning the grill and leaving him to make the pre-packaged boxed rice and frozen vegetables himself.
We were focused around the family eating together, but I wouldn't say that I was introduced to fine food until I started working for the culinary school.
Back then, were there any foods you just detested?
Um, everything that makes a kid go, "Yuck." Like every child, I'd say Brussels sprouts were really low on the list, but now I'm a huge fan. I never enjoyed liver until I was introduced to foie gras, but now I also enjoy chicken livers.
Aside from those things, I was really open to a lot of stuff. Even as a kid I was an adventurous eater. I liked seafood and all that.
Name some foods that make life worth living.
Bacon, game meats, tuna and scallops. Sweets didn't even pop into my head there.
What's the weirdest dish you've tried?
Sea cucumber at a restaurant in Boston called Jumbo Seafood. This place was cool, because it stayed open until 4 in the morning. It really catered to clubbers and restaurant people. And it was really popular with immigrants from mainland China.
[The sea cucumber] was done two different ways. I enjoyed one, a stir-fry; I did not enjoy the other. The one that freaked me out was sashimi-style over rice. The texture was just so funky.
When you have time to cook at home, what do you make?
We eat at home so rarely that when we do, we try to cook something more upscale than meatloaf or pasta. I primarily cook Asian-style foods because my fiancée enjoys that kind of thing.
But we play with things a lot, too. A good chunk of the options on our catering menu are things we've tried at home.
What foods are always in your pantry?
I pretty much shop for perishables the day of.
I do have a lot of various accented oils, like pumpkin seed, truffle and a couple of different kinds of extra virgin; a wide assortment of spices — I'm a big fan of using dried chiles like anchos and smoked paprika; some sea salts, like fleur de sel. I was really into salts for a while.
Imagine you have an all-expenses-paid trip to any country you want to eat in. Where do you go?
I would probably work my way up the Boot [Italy]. Start at one end and work my way to the other, including the islands.
You can cook for anybody, alive or dead. Whom do you choose, and what would you make?
I'm a big sports fan. And with my family being from New York City, I'd say the 1999 New York Yankees.
I'd do a banquet for them. It's a little corny, but what's coming to mind is a Boston-based dinner to play up the whole rivalry. Maybe a clambake with baked beans.
Any disaster stories?
I wasn't there, but the first one that pops into my head is when my friend Gabriel was cooking at a restaurant in Boston, and there was a line cook that the chef was riding pretty hard.
He snapped at about 8 o'clock. There was a lot of swearing going back and forth: "Fuck you." "No, fuck you" — and the cook took all of the tickets off the board and burned them.
Is there a quirky piece of equipment you can't live without?
Microplanes, probably. I use them a lot.
Whose cookbooks should every home cook own?
Julia Child's books are good. They give you a relatively strong foundation and they're basic, although they can be a bit dated.
I like Bobby Flay stuff for the average Joe. And books on grilling by Chris Schlessinger [and John Willoughby].
If you had your own culinary TV show, what would it be about?
I would love the excuse to travel, so it would definitely be an exploratory show featuring mom-and-pop shops and Old World-style markets where they're making charcuterie, and stuff like that.
If you weren't a chef, what would your job be?
I think I would have found my way into teaching somehow.
What subject?
I'm a total history dork. I watch a lot of the History Channel. I'm really into the foundation of civilization. I watch a lot of stuff on Roman and Grecian society and Mesopotamia. It drives my fiancée crazy.
How much does the Vermont scene inform your style?
I think it's pretty influential. It's one reason I wanted to come home after being gone for five years: I love Vermont because the seasons are so pronounced.
I like using very hearty ingredients. When I was working at French restaurants, I was always trying to roll game meats and squashes into the menu.
What does Vermont's restaurant scene lack?
Um, wow, how do I say this without pissing somebody off? Honestly, I know this has been tried so many times, but for the love of God, give me authentic Mexican.
That's what I love about the cities: You have these ethnic neighborhoods that are microcosms of food. If you want something traditional to a region, you can go find it.
Why Vergennes?
I was actually looking at about four different towns, including Winooski, Montpelier and Vergennes. But at the time, Eat Good Food was here. EGF was similar to the concept I wanted, and I didn't want to dilute the market, but when it opened up [for sale], I pounced on it.
I like Vergennes 'cause it's still rural, but it's got a main street. You get out of that area and it's got that really rustic Vermont feel. Plus, the community seemed nice.
I was ready to get out of Burlington; there were too many condos going up and I wanted to get away from the sprawl.
I don't regret my decision for a moment. People have been great.
Name a local restaurant that you patronize.
I go to the American Flatbread in Middlebury a lot. For a nice meal out, I love L'Amante. And I like checking out all these little mom-and-pop Asian places that are popping up, although I wouldn't say that any one in particular is standing out.
Around here we go to the Waybury Inn for pub food a lot. They've got classics that they do well, but they also have a bun-less venison burger that I get. It's like an amped-up Salisbury steak with a good, rich, French-inspired sauce.
Name a few local products you eat at home.
I'm a huge fan of Lazy Lady cheeses. I think the whole spectrum is solid, but we always eat the Valençay because we sell it here. I don't make too much money on that because I raid the cheese supply too often.
Orb Weaver makes some solid cheeses, too. And I snack on the Water Buffalo yogurts pretty often.
What is something that every restaurant patron should know but doesn't?
Don't do "sauce on the side" — trust the chef's judgment. That always irritates the crap out of me.
So do you put salt on the tables, then?
We do put salt out on the tables. I understand [why people don't], but I find it to be a little too snooty. To the average Joe, it might seem like "my shit doesn't stink."
What are your hobbies?
I work a ton. When I'm not here, I try to enjoy the outdoors whenever possible — wakeboarding, stuff like that.
I'm not upstairs making pottery or crocheting on a Saturday.
Do you have a favorite guilty pleasure?
I love a generic pizza shop chicken-parm sub. I'm a sucker for that.