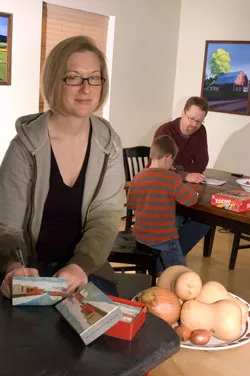 It's normal for a restaurant's kitchen staff to be referred to as a "team," but at the end of the night, team members typically go their separate ways.
Not so at The Kitchen Table Bistro, where chef-owners Steve and Lara Atkins are food family. Parents to a 7-year-old son, the couple worked at numerous restaurants together before opting to open their own. The college biology majors even dropped out of culinary school together. Despite vastly different backgrounds — Steve grew up in Shelburne, while Lara hails from Knoxville, Tennessee — they share a love of local Vermont products, a lust for bacon and a guilty pleasure: Fritos.
The pair's synergy is apparent at their restaurant, where Steve's savory specialties — think slow-cooked beef with root vegetables, or seared halibut with ratatouille — are the perfect lead-ins to Lara's simply elegant desserts. Her apple cake — adapted from her grandmother's recipe — is so scrumptious that at least one person, yours truly, is still thinking about it more than a year after trying it.
Although the food is just-so for birthday and anniversary meals, the pair will refocus their menu in January by adding a handful of more casual, bistro-style medium plates, intended to encourage diners to drop by for a drink at the bar and a snack.
"We don't want to be just a special-occasion restaurant. That's not where we thought we were going," Steve opines. "A bistro is a neighborhood, two-or-three-times-a-week restaurant, not a two-or-three-times-a-year restaurant."
No matter how frequently folks manage to dine at The Kitchen Table Bistro, the food is always delicious, so we decided to grill one of the chefs.
True to form, they suggested that we really ought to talk with them in tandem. So we did . . .
How did your family eat when you were growing up?
LARA ATKINS: My father's hobby, one of many, was raising beef cattle. We always had frozen cow of various cuts in our chest freezer in our garage. My mother was an excellent home cook.
We dined out all the time, mainly in the Southeast where I'm from: Nashville, Atlanta. Food was the center of our weekends; it was all about where we were going for dinner. Other activities would be planned around that.
STEVE ATKINS: My dad always had a huge garden, and my mom is an adventurous cook. My love of food started with them.
In the summer, most meals were from the garden, whether it was corn we picked and shucked and immediately dropped in the water or potatoes done the same way. We're all avid carnivores, but we loved our garden vegetarian meals.
Back then, were there any foods you just detested?
LA: Butter beans. Everyone outside of the South calls them lima beans. I love them now, isn't that funny? [Otherwise] I loved it all!
SA: I really didn't like cooked carrots or cooked peas, but I liked all of the stuff that kids don't usually like: broccoli, lima beans, okra — all those strange vegetables.
There are very few foods that I don't love now, but I do them a little differently than [they were done when] I was a youngster — roasted carrots versus squishy boiled carrots.
Name three foods that make life worth living.
LA: Bacon; a really perfectly roasted chicken; pâté in some form, a chicken liver or a country pâté.
SA: Can I name bacon twice? Bacon is right up there at the top of the list. Braised short ribs, beef cheeks and lamb shanks. This may be a bit of a cop-out, but potatoes: mashed potatoes and fried potatoes, both fries and chips.
What's the weirdest dish you've tried?
LA: At The Flying Saucer in San Francisco, everything on their menu was kooky. Usually I detest things like that, but this particular place was magnificent. They had little balls of spun sugar that you would crack open on your plate and they were filled with different things.
SA: On a trip to France I ordered eggs with fruits de mer for breakfast — what I thought would be eggs and scallops or something. It was very softly scrambled eggs topped with a mountain of fresh, out-of-the-shell uni — sea urchin — and it was oozing black juice all over the eggs. It was not at all what I was looking for or expecting at that hour of the morning.
When you have time to cook at home, what do you make?
LA: It's very homey: I don't sauce stuff. [My son] Gabe and I love pork chops; pasta with sausage; roasted vegetables or fresh vegetables. Roasted chicken is a big thing. Luckily I have a child who loves everything.
SA: Lara and I rarely have the day off together, so I usually have the stove to myself. I'll get a big chuck roast — something I need to cook for six hours — so when Lara and Gabe arrive home, the house is full of aromas and they know good stuff is in store for them.
What foods are always in your pantry?
LA: Cornichons and Dijon mustard, pastas of various shapes and sizes, capers, olives of all sorts, peanut butter — I do have a 7-year-old, after all.
SA: We like our crispy, salty snacks: pretzels, potato chips, Fritos. And wine.
Imagine you have an all-expenses-paid trip to any country you want to eat in. Where do you go?
Both: France.
You can cook for anybody, alive or dead. Whom do you choose, and what would you make?
LA: My parents. They dig food, and no matter what we cook, they get so excited about it. We would start with champagne, olives and cheese, she-crab soup, a little salad course; we'd have to have filet; coffee ice cream with chocolate sauce — that's my daddy's favorite thing in the world.
SA: It would definitely be my wife and my boy. I love the luxury of my nights with them. It would be either lamb chops or a braised lamb shank. I'd make ricotta gnocchi for Lara because she doesn't eat potatoes, and potato gnocchi for Gabe.
Any disaster stories?
LA: When I was still a NECI student, I was on my first internship at Brava Terrace restaurant in Napa. It was my first or second week there, and I was the garde manger — seriously, the low man on the totem pole — but they knew that I had some experience with desserts. The pastry chef had gone on vacation, and they asked if I could toe the line.
I was in charge of baking off the crème brûlée that day, which needs a water bath. The oven was too tall for me— I was this weak little pathetic girl — and as I'm pulling it out, I slip. The entire tray went all over me, all over the sous chef, all over the floor. I'm sure I was ashen. Of course, it had to happen right in front of the sous chef.
SA: The biggest disaster we've had at The Kitchen Table Bistro was a miscommunication with a big party. We had it down as a party of 19 on the 19th. They showed up in a bus on the 12th. We were off that day, but luckily we still lived in the apartment above the restauraunt.
We'd created a very special menu for them, and on the fly, we had to do something approximating that menu.
We were thoroughly embarrassed with the miscommunication, but they were thrilled with the results in the end.
Which two cookbooks should every home cook own?
LA: The Silver Palate Cookbook [by Julee Rosso and Sheila Lukins]: magnificent, love it. The other one is called Rosie's [Bakery All-Butter, Fresh Cream, Sugar-Packed] No-Holds-Barred Baking Book [by Judy Rosenberg]. I love that book. Every single thing I've ever made out of there has worked and was just delicious.
SA: Molly Stevens' All About Braising. Aside from the recipes being fantastic, she's an amazing teacher. Beyond that, it would probably be one of the staples that I don't have, like The Joy of Cooking [by Irma S. Rombauer] or How to Cook Everything [by Mark Bittman].
If you weren't a chef, what would your job be?
LA: I'd probably be a doctor, a surgeon like my dad.
SA: A food critic. Most of what I do is eat and cook, and talk about eating and cooking.
Name a local restaurant that you patronize.
LA: Our favorite would be Trattoria Delia; we'd eat there every night if we could. We live very near the Paisley Hippo sandwich shop in Hinesburg. Shelburne Farms in season.
SA: The Paisley Hippo is walking distance, it's fantastic. [Lara's answers] really cover the bases.
Name a few local products you eat at home.
LA: Misty Knoll chicken; we are very lucky to be able to get vegetables from Lewis Creek Farm; apples that we pick at Boyers Orchard in Monkton. Sometimes we bring home delicious steaks from Boyden or Laplatte.
SA: Duclos & Thompson Pork, it's fantastic. We'll throw it on the grill and serve it with grilled bread and Vermont Butter & Cheese's herb-rolled goat cheese.
What is something that every restaurant patron should know but doesn't?
LA: We want people to know that we call ourselves a "yes kitchen." We want to be accommodating to anybody's dietary restrictions, so ask!
I think people don't realize that we gladly do take-out.
SA: It's pretty easy to make substitutions. It might throw us off on a busy night, because it's routine to make it in a certain way, but it's silly to come out and pay for a meal and not try to ask for something that's the way you want it, like putting different cheese on the salad. That would be a big step for a lot of diners.
Tell me something about yourself that would likely surprise people.
LA: I played the bassoon throughout high school and college, and got a scholarship to my college for playing the bassoon. It fit my personality perfectly.
SA: I don't have a lot of mysteries.
What are your hobbies?
LA: Gosh, I wish I had time for hobbies. I read, I enjoy reading; it's all pulp-fiction stuff that I read. I love to garden, and if I had more time, I would do even more than I do; I plant all the herbs here at the restaurant.
SA: Cooking and food is a hobby, as well as a passion and profession. I used to play soccer a bit. As our son is getting a little older, we go and kick the ball around.
Do you have a favorite food that you'd consider a guilty pleasure?
LA: I love Frito scoops and hummus. That's the best snack in the world.
SA: Fritos are right up there; we love them so. A lot of the foods we love eating, others might consider a guilty pleasure: butter, bacon.
I grew up in the margarine generation, but there's only so much we should have to do to our food to make it an edible product. Butter is pretty straightforward.
Our philosophy is "Everything in moderation." Even if it's a healthy food, when you have too much of it, it's not good for you.