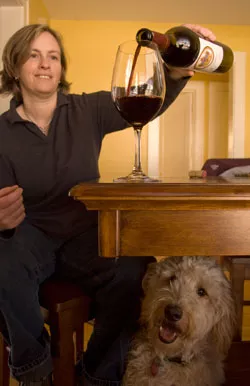 Even when she was working in other people's kitchens, Burlington-born Monica Lamay had plans to run her own restaurant one day. During a chef stint at The Blue Seal in Richmond — a hip, Southwestern-inspired eatery located in an old animal-feed store — she realized she'd found the perfect spot. She shared her idea with the owner, Deb Weinstein. About five years later, in 2006, Weinstein "was ready to sell and gave me a call," Lamay recalls.
Since then, Lamay has been cooking up classy, New American cuisine in the 40-seat eatery with a cool, rustic yet minimalist aesthetic. Through a window into the kitchen, patrons can spy her — often decked out in a baseball cap — as she puts the finishing touches on their plates.
Lamay didn't grow up in a foodie environment. As a kid, she noshed on frozen food and overcooked veggies. After graduating from high school, she took a job in a deli to make ends meet. "The owner turned it into a restaurant," she says. "I worked for him for five years, cooked for another two years around Burlington, and decided to go to NECI."
With a culinary degree and whisk in hand, Lamay moved to Boston and then to California. She was particularly inspired by the head chef at Boulevard Restaurant in San Francisco: "She'd spend $2000 on mushrooms in a week," Lamay marvels. "I loved her sauces, her salads, everything she did. I think we [Vermonters] have great products, but money out there is so different."
When she moved back to Burlington and took an executive chef job at Leunig's, she brought localvore, West Coast sensibilities with her, and was happy to find that Vermont's food scene had evolved as well. "It's really exciting to me that people understand what good food really is, and appreciate it and enjoy it," she remarks. "Hopefully, I'm helping bring that to people who don't get to travel very much."
What did your family eat when you were growing up?
Um, frozen pizzas, TV dinners. I grew up in the early '70s and my parents worked nights. One night a week mom would cook a nice homemade mac 'n' cheese. For the most part, at night we fended for ourselves. Everything I ate was well done — the vegetables, the meat.
My friends actually laughed at me when I told them I was going to culinary school. They said, "What are you going to do? Fry up some eggs and make chocolate milk?"
Back then, were there any foods you just detested?
Tomatoes. I don't like the squishy seeds; green beans because they were so overcooked, and [my parents] never took the string out; liver.
I like [liver] now. I love tomatoes, but I mostly take out the seeds, still.
Name three foods that make life worth living.
Foie gras, butter … Do I have something that's not fattening? And duck. Those are my decadents, for sure ... I don't have a sweet tooth.
What's the weirdest dish you've tried?
Smoked bison tongue. Once you got over the look of it — with the little taste buds sticking out — and sliced it up, it kind of looked like pastrami. That was bizarre.
When you have time to cook at home, what do you make?
I don't go very extravagant at home. I usually grill something or make really simple things like tacos. Fish tacos, or pork tacos, those are the two I would do the most.
What foods are always in your pantry?
Mostly Asian ingredients. I do always have a great balsamic; nice extra-virgin olive oils from California; salt and pepper. I don't stock my pantry that much. I find myself with one real day off a week, and I go out to eat a lot or do something really simple.
What was the most delicious food trip you've ever taken?
Italy, definitely. My partner Lisa and I went to northern Italy, to a lot of small towns. They had real, simple kinds of peasant-type foods. [We] just walked around and talked to the fishermen and asked them where to eat.
We ate a lot of octopus, as much fresh fish as we could, wild boar with big, flat noodles. I try to go someplace that has vineyards, because [wine and food are] such a great combination.
If you could meet one gastronomic legend, alive or dead, who would it be?
I'd have to say Escoffier, definitely.
I met Julia Child. When I was living in Boston, I worked with Jim Dodge at the Museum of Fine Arts, and she used to come in all the time. She's an interesting lady. I met her in her later years, and even hunched over, she towered over me.
Any disaster stories?
Nope. Nothing that scarred me enough to remember it.
Which two cookbooks should every home cook own?
Both Splendid Soups and Sauces by James Peterson. He makes it so simple. And Molly Stevens' book on braising [All About Braising]: That's just essential to home cooks, and chefs, too. I love that book.
If you weren't a chef, what would your job be?
I've been trying to figure that out my whole life. Honestly, I can't imagine doing anything else. Once I started cooking, I never looked back.
If there were something, it would have to do with a winery or brewery. [Working at either] is very similar to being a chef in a lot of ways: the earth, the chemistry of it all, getting the best product you can get and making it incredible while at the same time letting it stand on its own.
Name a local restaurant that you patronize.
Hen of the Wood [in Waterbury] and The Kitchen Table [in Richmond]. I go to other ones, but those would be the first two I'd go to on a day off. I think we have fairly similar ideals.
Name a few local products you eat at home.
I love Misty Knoll chicken; Awake coffee — I've been using it [in the restaurant] for about two-and-a-half years. Cabot Extra Sharp is my favorite cheese. It's been around forever, but I just think it's such a great product. I love all of Vermont Butter & Cheese Company cheeses, and all of Lazy Lady Farms goat cheeses.
When you go out to eat, what do you look for in a restaurant?
Definitely atmosphere. It's wrapped up in how you're greeted when you walk in the door to very attentive, down-to-earth service that's not overly pretentious — genuine service and food. And cleanliness, of course.
I don't necessarily need to see farms listed on the menu; I just need to know they're giving it their all to use as much Vermont food as they can for the style of food they're doing. Some restaurant [concepts] lend themselves to using more local products than others.
What makes your restaurant unique?
Besides the train going by a couple times a night? I would say the fact that I try and use many Vermont ingredients, but I try to bring some different styles to local food. I bring a little Asian flair, a little Southwestern, a little French, a little California. A lot of restaurants in my price range probably stick to a little more straightforward New England or Vermont cuisine.
What are your hobbies?
I play soccer, indoor and outdoor. I kayak in the summer. When I have time, I snowshoe.
Why did you name the restaurant Sonoma Station?
Naming a restaurant is kind of like naming a child. We said to all of our friends, "If you can help us come up with a name for the restaurant, we'll give you dinner for free for a year." Nobody came up with anything we liked.
I think Lisa came up with it, with friends. We have this really weird thing with "Sonoma." We lived in Sonoma County, and our dog's name is Sonoma — we didn't name it after our dog, but our dog did have that name first. When we were cabinet shopping, we looked at these cabinets and said, "We love those," and when we opened them up, they said Sonoma on them. Sonoma County is where we would live if we weren't here. It kind of reminds us of Vermont, with the people being so friendly and really wanting to get to know you. We thought we'd honor Sonoma, and with the railroad track going through, we got the "station."