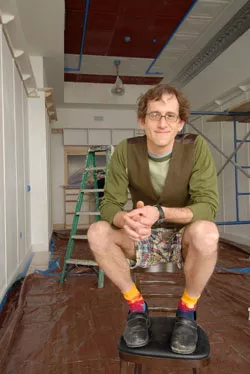 Jeb Wallace-Brodeur
Steven Obranovich
This weekend, Claire's Restaurant and Bar in Hardwick celebrates its grand opening with a Saturday open house and dinner, followed by "blunch" and dinner on Sunday. The eatery — created by partners Steven Obranovich, Mike Bosia, Linda Ramsdell and Kristina Michelsen — made use of creative financing in the form of a "community-supported" investment model.
How does Chef Obranovich describe the "New Vermont Cuisine" he plans to dish up? First of all, it incorporates local ingredients with the "flavors of the world," he explains. "My cooking isn't defined by a style — French, Italian or Spanish — it's what the farmers want to grow, what people want to eat and what I want to cook. It starts out at the purest point for me: The ramps are speaking to me or the carrots are speaking to me. It all starts with the ingredients; it's not about the concept."
At Seven Days, we're all about the ingredients, too. So we decided to kick off our brand-new Food Section feature, "Grilling the Chef," by holding Chef Obranovich over the coals. Don't you want to know who's making your food?
SEVEN DAYS: How did your family eat when you were growing up?
Steven Obranovich: I was raised by a single, divorced mom, so my mom was working a lot, and we did a lot of gardening. We had zucchini in every possible way you could imagine, but we did have days when we were going to horrible McDonald's, as well. There was a juxtaposition of horrible industrialized food and great things coming from the garden. Gardening was something that we loathed in the beginning and I love doing now.
Back then, were there any foods you just detested?
Peas. They were fresh — there was nothing wrong with these peas — but there were a lot of them.
SD: How do you feel about peas nowadays?
SO: I love them.
SD: Name three foods that make life worth living.
SO: Garlic, chiles of any hot variety, and tortilla chips, any kind of chip. Anything crunchy.
SD: What's the weirdest dish you've tried?
SO: I had pigs' feet in Strasbourg that I absolutely adored. I remember eating tripe in Provence at this little hole-in-the-wall café. Everybody insisted that I try it, even though I didn't want to. And it was the most delicious thing: It was amazing.
SD: When you have time to cook at home, what do you make?
SO: Well, there's something that I usually end up making that I absolutely love: I'll go to the co-op and buy as many vegetables as I can. I put them all in a pot with a little water. Then I start prying off the spice lids and add them, along with herbs from the garden.
SD: Imagine you've got an all-expenses-paid trip to any country you want to eat in. Where do you go?
SO: India. I'd like to learn more about the regional differences, the masalas and spices.
SD: You can cook for anybody, dead or alive. Whom do you choose?
SO: Salvador Dali. I think he would appreciate my cooking style.
SD: Any strange restaurant stories?
SO: When I was at culinary school, Stars Restaurant was right down the street, and another half-block away was Stars Café. I walked in and talked to the chef and asked if I could have a job. He let me have a non-paying job doing prep. It was my first cooking job.
One day we're in the kitchen and I come around the corner to the line. [Celebrity chef and owner] Jeremiah Tower had walked over, and was apoplectic that the duck confit wasn't crispy enough. He removed it from the plate and threw it at the cook.
SD: Is there a piece of equipment you can't live without?
SO: A Microplane [grater]. You try doing the same thing with other methods and it's just ridiculous, it's absurd. What we all did before was get a lot of bloody knuckles.
SD: Which cookbook should every home cook own?
SO: The New York Times Cookbook by Craig Claiborne and James Beard's American Cookery.
SD: If you had your own TV show, what would it be about?
SO: It would be about the terroir here, in Hardwick, Vermont. The flavors of the world that are present and can be brought here. They'll come to fruition in great dishes when Claire's opens.
SD: If you weren't a chef, what would your job be?
SO: I would be a starving stage actor in New York, doing serious drama and musical theater.
SD: What's your favorite thing about cooking in Vermont right now?
SO: Everything! I'm just glad that everything's green. And rhubarb. We don't have that on the West Coast as readily as we do here. It's such a great harbinger.
SD: Why Hardwick?
SO: Myriad reasons. It's next to Greensboro, but Hardwick is a lot less expensive to live in. And it's got a great hodgepodge of people.
SD: Name a local restaurant that you patronize.
SO: The Bee's Knees. It's close. [Owner Sharon Deitz] is great.
SD: Can you tell me a fact about you that might surprise people?
SO: I've been in a committed relationship for 20 years.