Courtesy Of Chip Natvig
Sarah Natvig
Chef Sarah Natvig
Position: Owner and chef, Black Krim Tavern
Location: Randolph
Age: 40
Restaurant age: 8 years old
Cuisine type: New American, farm-to-table
Culinary Training: BA in culinary management, New England Culinary Institute, 2004
What's on the menu? Changes weekly; jerk salmon with ginger rice cake, pork sausage tamales, risotto cakes, steamed mussels with coconut curry, duck-egg pho ga, goat sliders, caramel apples with cinnamon ice cream
In March, Black Krim Tavern chef-owner Sarah Natvig took a call from the Vermont Chamber of Commerce. She'd been named chef of the year, the woman on the other end of the line told her. Natvig balked. "I thought it was some kind of scam," she recalled, speaking to Seven Days last week. "I was such a weirdo on the phone. I actually called the lady back to apologize."
According to the chamber's website, the nod honors cooks "with a proven history of supporting Vermont's agricultural economy using local food and products." The chef's husband, Chip, owner of Pebble Brook Farm, grows organic vegetables at their home in Braintree; in the summer, the couple takes their morning coffee in the fields. Natvig stuffs bags with fresh produce, then schleps it to the restaurant.
Courtesy Of Chip Natvig
Pork chops with roasted pineapple and chipotle red pepper purée
On Black Krim's menu, the chef mixes the homegrown ingredients with Vermont meats and cheeses and fish from local seamen. The after-dinner coffee comes from nearby roasters; milk for the ice cream from a local dairy. So, yeah, the shoe fits.
Natvig has worked in hospitality her entire adult life. "Since I was 18 or 19, I wanted to have my own place," she said. But she wasn't ready to do anything about it until 2010, when she was front-of-house manager at Sarducci's in Montpelier. "It's a great job, and I love the owners at Sarducci's," Natvig said, "but I was bored out of my gourd."
She sketched out a business plan in her spare time, and when she noticed a space available in Randolph village, things quickly got real. With 1,000 square feet, the restaurant was small; if she partnered with a chef, Natvig could handle the dining room on her own. The rent was affordable.
Courtesy Of Chip Natvig
Clam sauté with squid, olives and prosciutto in tomato broth
Natvig called her friend Emily Wilkins, who was cooking in Seattle at the time, and asked if she wanted to partner on a restaurant. Wilkins was game: "It was just kind of like, 'Great, we have a spot; let's do it." The partnership didn't last; Wilkins left the business two years later. "I wasn't ready to close the doors,'" Natvig recalled, "so I was like, 'I guess I'll figure out how to cook.'"
Six years later, Black Krim's menu reads like a true American melting pot. Some weeks it skews Mexican; others, it's more Italian or Indian or Asian. Often, it's a totally mixed bag. Same goes for the restaurant's vibe, which can be raucous one night and subdued the next.
"We'll have a bunch of locals in here, and it's all hooting and hollering," Natvig said. The next night, the tables will fill up with people on dates, and the narrow, candle-lit room will quiet to a low and whispery buzz.
Last week, the chef chatted with Seven Days about her past eight years on Merchants Row, staffing challenges, modern palates and how she keeps boredom at bay.
Courtesy Of Chip Natvig
Roasted salmon with pappardelle
SEVEN DAYS: Where did you grow up, and how did your family eat back then?
SARAH NATVIG: I grew up in Northfield — East Roxbury, technically — and my mom did the food. She made everything from scratch, and I would get so embarrassed about my school lunch because it was always something like homemade roasted turkey on homemade wheat bread. Like, Can't I just have the ramen noodles?
SD: What are a few of your staple ingredients?
SN: Chip does such a great job with greens — getting real greens is the best thing. And herbs. Herbs are very overlooked or underappreciated. To have real oregano and real parsley, there's nothing second to that. And when things get to the tail end — like during zucchini season when you can't pay people to eat a zucchini, or when it's January and we're still serving potatoes. So, what can I do with this that's different? I like that piece of it. That part's super fun.
SD: How do you keep your menus inspired? How do you avoid creative burnout?
SN: After six years of cooking, I still just get excited. I get a call from a farmer [saying], 'I've got some rabbit,' and I'm like, 'Oh, that's exciting!' Or I'll get a text from Wood Mountain Fish, and it's like, "OK, I'll make that happen." Farming season is the highlight of the year, and Chip will say we're going to have something in two days, and I just start churning my brain on what we're going to do with it. Even if it's just one herb, it can start with that, and it just kind of goes.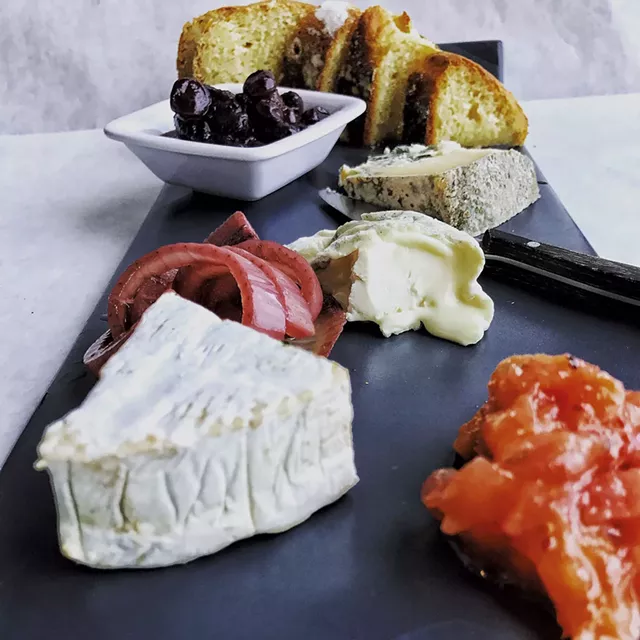 Courtesy Of Chip Natvig
Cheese plate
SD: How has the business changed since you opened?
SN: On a national level, people are more aware and more interested in food. That's super helpful, and obviously Vermont ties into that really well. Health-wise, people are looking for simplified ingredients and dishes without processed foods or a thousand things in them. I feel like our customers are focused on that. People are more interested in cooking and experimenting and stretching their palates at home, and that's where it starts. I think that needs to happen, and if it takes watching the Food Network or these food delivery things to happen, so be it. We need to learn to cook.
SD: Last year, you opened and closed Café Salud in a four-month span. What happened?
SN: The original concept was to do an ice cream shop with the homemade ice cream I make. There's an old drive-through bank near the Krim, and it's 400 square feet. We were going to go in there, and it would have been amazing, and I should have just done that.
Then the owners of the Three Bean Café were like, "Why don't you do your thing over here?" My old mind was thinking, Oh, look at all this space! And, I'll have room for catering!
In the end, I knew from the get-go that it was a bad choice. I equate it to dating an annoying boyfriend. I was never in love with that restaurant, and it needed so much attention. The No. 1-selling thing was a blueberry muffin and an egg sandwich. Everyone [in town] wanted Salud to be the Three Bean, and I was just like, "This is not a coffee shop!"
I was not able to give it, or the Krim, or myself, or my family, or the farm the attention they deserved, and I'm glad I pulled the plug when I did. Now I have all the time in the world to do the things I really love.
But I've always told myself I have to learn from every experience, and what I took away from that is, I don't stack my plate so high anymore. I literally say no to everything — it's just not worth it in the end.
SD: Restaurant staffing is a real issue these days. How do you make it work?
SN: I have a total of six — seven sometimes — employees, all of whom are women. The food part is tricky because, for this particular restaurant, it's essential that whoever's in the kitchen can be presentable out front, because they're also supporting the dining room. You need someone who can plate dessert and serve wine. So far I've lucked out, but it's a hard hire. Serving-wise it's also tricky, because there's only six tables. But there's also the dim sum area and the bar, which can be like a full section in and of itself, and the server is also the bartender. So it's a lot of work for one person. That's why that one person in the kitchen is so essential.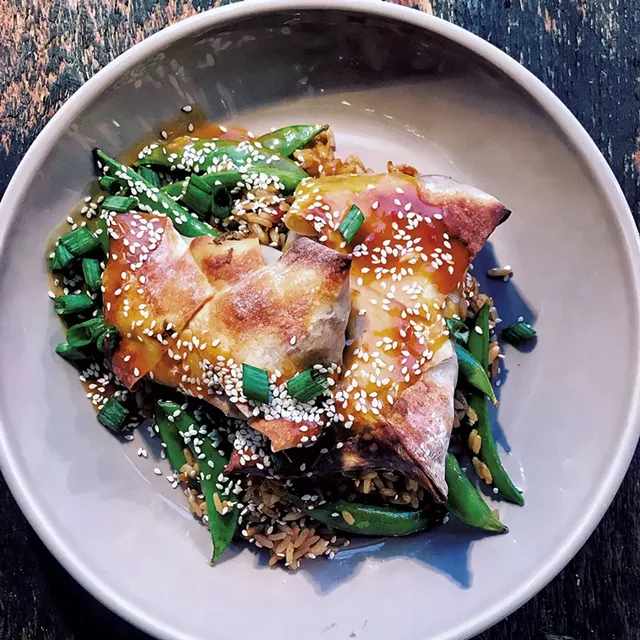 Courtesy Of Chip Natvig
Pulled pork egg rolls with bacon, fried rice and snap peas
SD: Randolph is a pretty small town to be opening a farm-to-table restaurant, particularly when you did it.
SN: In hindsight, it was definitely very brave of us to set up shop here. I'm extremely grateful that we're doing well. A lot of what we do was very new to most people, particularly in the beginning. If [Black Krim] was a normal restaurant with an enormous payroll, it probably wouldn't have worked.
SD: What are a few of your best-loved cookbooks?
SN: I have a whole set of 1980s Gourmet cookbooks — it's funny going back to those old dishes and chuckling at them. The photography is terrible. But they can just have one ingredient that stands out and I'll think, OK, let's make this "2019."
SD: What's on the kitchen radio?
SN: Right now, it's Gillian Welch, because I was in a somber mood this morning, but we play all kinds of stuff. Reggae to dance stuff, or Shakira or the Devil Makes Three. We're pretty all over the place, but music is always on.
Courtesy Of Chip Natvig
Chicken dumplings with shiitake and edamame
SD: Any kitchen pet peeves?
SN: Oh my God, yes. I like to keep a tidy kitchen. I like things wiped down. Kitchen towels drive me batty. They have to be folded and always in the same spot. We were at Hen of the Wood a few months ago, and they have that wide-open kitchen, and I was astounded at all of the kitchen towels just thrown everywhere. I was having a nervous breakdown. Our kitchen is über small, and I have this big window that looks out into town. So everyone can see in, and we have to keep it nice because of that, but I just like it tidy.
SD: To borrow a question from Vanity Fair: What is your greatest extravagance — in food or in life?
SN: In life, I'm really active — that's a huge thing for me. I'm hiking Mount Abe tomorrow. This is what I do for myself; I just give myself time to go hiking, snowboarding, to do those outdoor adventures.
SD: Any edible guilty pleasures?
SN: I just love bread. I'll make bread, and it's supposed to rest for a while after taking it out of the oven, but I literally can't wait long enough. That warm bread with butter and salt. I do it all the time.