Oliver Parini
Ren Weiner
Chef: Ren Weiner Age: 29 Restaurant: Miss Weinerz Location: "sprinkled around town" Company age: three months Cuisine type: sustainable baked goods, pickles and other reimagined convenience foods, sold through local restaurants and her website, missweinerz.com Training: "I've cooked in restaurants since I was 14 years old. I've done everything everywhere. I've worked on farms and with herbalists and nutritionists. And I have over 1,000 books." Select experience: cook, Misery Loves Company, Winooski (2012-2014); cook, ¡Duino! (Duende), Burlington (2010-2014); garde manger, Bluebird Tavern, Burlington (2010) What's on the menu? doughnuts, candy bars, pickles and cakes
"To me, rainbow sprinkles are joy and happiness," says Ren Weiner. In dessert lovers, her baked goods evoke a similar reaction. Those sprinkles come atop the doughnuts that Weiner prepares for Saturdays at Scout & Co. in Burlington; before that, her candy-colored pastries inspired a local cult following at Misery Loves Co. Weiner took them with her when she left her gig at Winooski's MLC Bakeshop last year.
Since then, the self-described "experimental" pastry chef has been plying her trade in a whole new way, creating desserts in collaboration with local restaurants. Weiner recently started bringing treats such as mocha cakes and chocolate balls to Burlington's Light Club Lamp Shop, continuing her relationship with the Radio Bean culinary family. (She spent four years cooking at sister restaurant ¡Dueno (Duende)).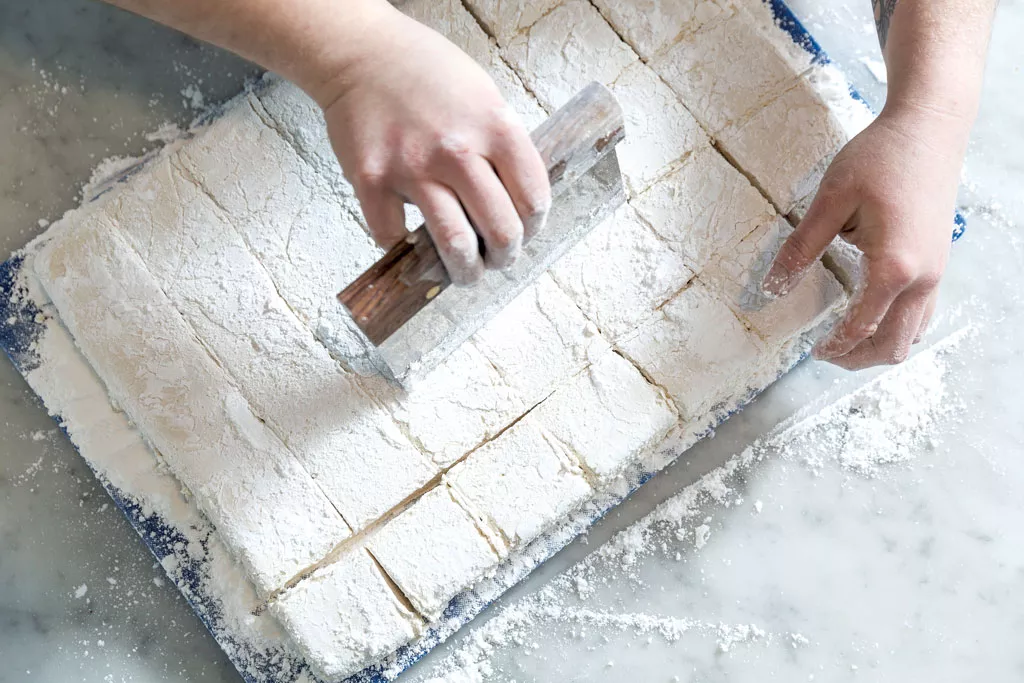 Oliver Parini
Making marshmallows
Soon more Burlington-area restaurants will benefit from Weiner's creativity. She's preparing a pastry menu for American Flatbread (Burlington Hearth), including desserts flavored with Zero Gravity Craft Brewery beer. Other projects are also in the works: "I'm really looking to collaborate with as many people as possible," Weiner says.
That includes civilians with an interest in custom-made sweets. Weiner makes cakes and candy bars to suit any dietary need, including gluten-free or vegan options. Having a few food allergies herself, she says, she's sensitive to those concerns — plus, she enjoys the challenge.
The self-declared "tinkerer" says her home-based business is a natural outgrowth of her experiments. "I'm home making cakes, and I don't want to be stuck at home with an entire cake," she explains. "But I want to keep experimenting."
One of Weiner's greatest passions is re-creating convenience foods with healthier ingredients. A recent triumph was her version of an Almond Joy bar, in which she replaced milk chocolate with dark and swapped processed sugar with honey — making it, well, almost wholesome.
Many noxious foods end up in our lives simply because they're convenient, Weiner points out. Accordingly, her goal is to produce fare as healthful as possible while still easy to eat, such as locavore hot dogs and candy bars. "People say all the time, 'I would love to eat locally and organically and without GMOs, but I don't have time to do things like braise beef,'" Weiner says. "As I see it, that's my role in society. As a cook, I'm here to do the labor for you."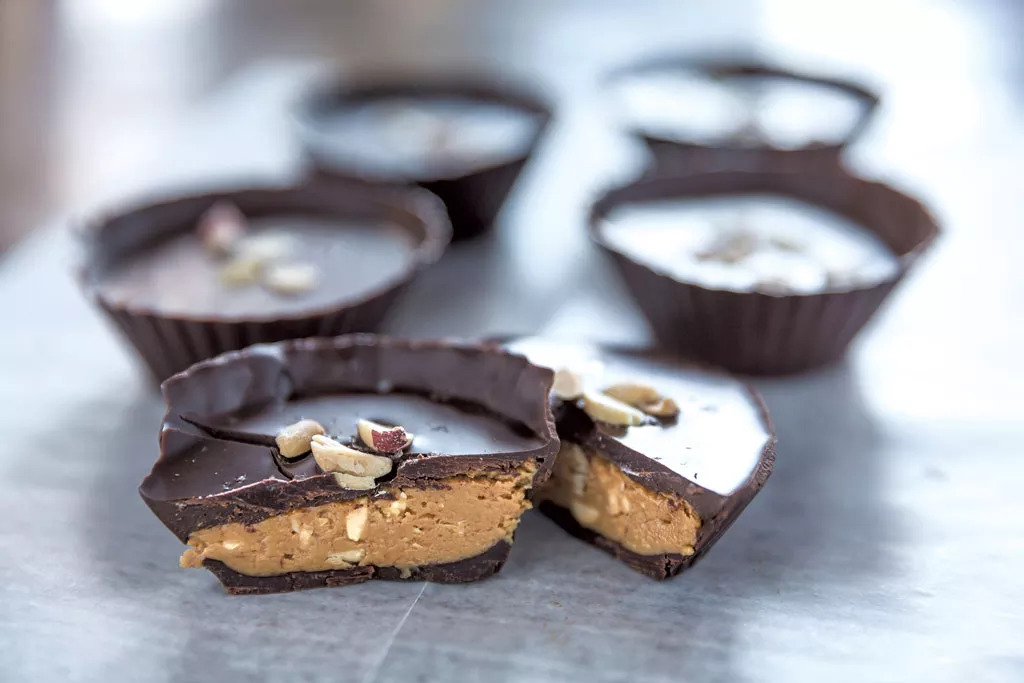 Oliver Parini
Peanut butter cups
Though she reserves the right to go "all out" on occasion with decadent appeals to the palate, Weiner says she also aspires to offer customers the burst of serotonin that comes with quality nourishment.
Even those rainbow sprinkles give Weiner an opportunity to talk about her food-related activism. She makes them using the egg whites left over at Misery Loves Co. "Those guys are fantastic at saying nothing should be wasted," the baker says. "In America, we waste 40 percent of the food we grow as a country. We talk about being in a food crisis, but we throw away close to half of it."
Weiner's commitment to sustainability inspired another phase of her business that she'll debut this summer. Her studies last year at Sterling College with famed fermenter Sandor Katz helped instill a passion for pickles. The result is a mobile pickling unit that she'll use to help farmers preserve and add value to their harvests. Eventually, Weiner hopes, her pickle-mobile will also become a hot dog cart, complete with vegan options.
Surely not everything in Weiner's world is rainbows and sprinkles. We wanted to know more about the woman behind the sweets, so we grilled her for some answers.
SEVEN DAYS: How did your family eat when you were growing up?
REN WEINER: My last name is Weiner, and we have a lot of pride with that. We had a mailbox in the shape of a hot dog. We always had hot dogs at family barbecues and stuff. Growing up with the last name Weiner was difficult as a kid.
My uncle [Marc Weiner] had the TV show on Nickelodeon "Weinerville." Having your uncle on TV helps when you're a kid. I was raised on Skippy peanut butter and Wonder Bread, but at the same time Thanksgiving was 50-plus people every year.
SD: Were you always a foodie?
RW: There are pictures of me in the kitchen with my mom at a very young age. Not a lot of things in the world make sense, but food does.
SD: What made you love pastry?
RW: When I was 14, I saw a PETA [People for the Ethical Treatment of Animals] video and became vegan, but immediately missed chocolate chip cookies. So I needed to find substitutes to make my own.
Pastry is all chemistry. It's not all about cooking a really great carrot. It's really interesting with pastry — seeing, say, if I heat this five degrees hotter, what's going to happen? The patience involved helps me in my daily practice of being a human.
SD: Name three foods that make life worth living.
RW: I would go more with three mouthfeels. I'm really drawn to textures. I love ice cream and that feeling of cold creaminess. Whether it's chips or dehydrated seaweed or sprinkles, I like the feeling of crunch. I drink a lot of chicken broth and warm bone broths in general. Cold and creamy, crunchy, and hot and drinkable — those are my favorites.
SD: What's the last thing you ate?
RW: An avocado. Just with a spoon. It was really soft and very good for the gut. Before that, it was yogurt with pecans and celery with almond butter.
SD: If you left Vermont, what local products would you miss most?
RW: Vegetables. Oh, God, everything. I tried to leave once, around 2012. I felt really stagnant in my life. I tend not to stay in one city for too long.
Some friends and I went for a road trip in an old biodiesel school bus, and every city we went to, I kept trying to test the food. Not the restaurants — I went into the co-op.
The beets just don't taste as good in California. The kale doesn't have the same texture in Wisconsin. There's something about this land, and especially the people here, that I haven't been able to find anywhere else.
SD: If you could try the specialty of any pastry chef, what would it be?
RW: I have a really deep desire to try Pierre Hermé's macarons. I've been told by someone I trust immensely that they are life-changing. It's on my bucket list.
SD: You're trying to impress somebody with your culinary prowess. What do you make?
RW: Whatever I find in the woods that day. Foraging is one of my favorite things. I have a little garden where I mostly grow herbs. What do I do with five pounds of ramps and five fiddleheads and three hedgehog mushrooms, a couple chanterelles and maybe a pheasant's back mushroom and some nettles? I love when people surprise-visit me and I have to figure out, How can I cook with what's on hand?
SD: What's the best dessert you've ever had?
RW: I guess there would be two answers. I had Christina Tosi's grapefruit pie, and it totally knocked me out. It was absolutely amazing.
Actually, one of the best things about working in a kitchen is you get to mix and match mise-en-place. When I was at Bluebird, [then-chef] Aaron [Josinsky] was pickling strawberries, and we were making pistachio butter for this beet dish. And Aaron made these different fantastic ice creams, one being rosemary. That with the pistachio butter with the pickled strawberries ... It's been almost five years, and I was getting yelled at for eating the mise-en-place, but I'm still thinking about it.
SD: What's your favorite beverage?
RW: Coffee. I like coffee. I love pu'erh tea. I used to be a whiskey girl, definitely. I love bubbles and textures in drinks. I love when drinks change when you drink them. Cocktails can change as you drink them.
I do a lot of fermented beverages. I like to make kombuchas with alternate sugars. I love vinegar-based drinks. Carbonated mineral water with a shot of vinegar is amazing and feels so good.
SD: If you weren't a chef, what would your job be?
RW: Kindergarten art teacher. It was what I was gonna do. I went to art school with the intention of getting my master's in education. I love kids. They're little future people.