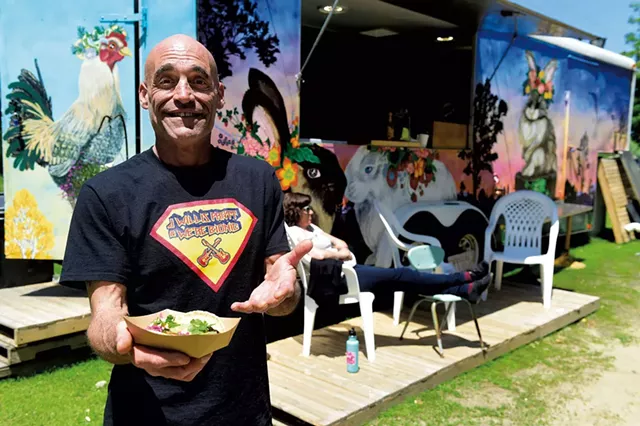 Jeb Wallace-brodeur
Adam Woogmaster at the Chez Mami Catering food truck
Chef Adam Woogmaster
Position: Chief cook and bottle washer, Chez Mami Catering food truck
Location: Route 2 in Marshfield, in front of Onion River Campground through November
Age: 54
Truck age: Starting its third summer. Parked seasonally at Black Bear Biodiesel in Plainfield in 2017 and at Dog Mountain in St. Johnsbury over summer weekends in 2018.
Culinary training: On the job, starting as a dishwasher at age 14
Past experience: Executive chef at Goddard College, chef at Positive Pie in Montpelier, cook at now-closed Barre nonprofit LACE (Local Agricultural Community Exchange), breakfast chef at now-closed Easy Street Café & Market in Waitsfield
What's on the menu: Tacos made of housemade tortillas filled with meats and produce, much of which is from local farms. Later in the summer, goat's milk ice cream will arrive.
Truck art: By Lani McKay, a high school friend of truck owner Ariel Zevon, who also owns the affiliated catering business. The truck's chef for its first two seasons, Zevon lives in Peacham and raises food for Chez Mami on her farm.
Parked in front of an old farmhouse on Route 2 east of Plainfield is a food truck whose exterior is painted with colorful, fanciful animals and flowers. Inside the truck, Adam Woogmaster cooks up meals with their own sense of fancy: Working without a menu, he asks customers if there's anything they don't want to eat. "And then — just let me have creative license," said Woogmaster, who lives in the farmhouse behind the food truck.
Something else sets Chez Mami Catering's food truck apart: Payment is optional. If customers want to pay for their tacos, they can put money in a jar on the counter, picking their own price — which could mean contributing toward the costs of those who offer no or token payment. If someone wants or needs to eat for free, that's OK.
"Most people want to be generous and good, but there's no vehicle for them to share good food," Woogmaster said. "But if they can come to a place and throw in some extra money to a donation jar that lets other people eat the same quality food as them, it's painless. It doesn't feel like charity; it just feels like people sharing food."
Eaters at Chez Mami can garnish their tacos with nasturtiums. They're encouraged to pick their own from planters near the truck, where Woogmaster grows the edible flowers in repurposed toilet bowls.
The creative use of materials is a theme on Woogmaster's property. A musician who sang with local bands viperHouse and Mr. Dooley, Woogmaster repaired the plaster walls of his farmhouse with vinyl LPs from the Goddard College radio station. (He purchased the house itself for its musical possibilities, namely the Hammond organ that came with the deal.)
"Music and food are both fast tracks to joy," he said.
Woogmaster learned to cook from his grandmother, a Second World War refugee who immigrated to this country in early June of 1939. She came from Vienna via Panama, which she left by ship when she was 8.5 months pregnant. Woogmaster's mother, Ellee Celler, was born at Ellis Island three days after her mother arrived there.
"My grandmother taught me that love was the most important ingredient," Woogmaster said. "And she made the world's simplest salad. The dressing was lemon juice, salt, pepper, water and sugar. It was always delicious and refreshing." She served it on iceberg lettuce with onions.
Last week in the RV in his front yard, where his mother is living for the summer, Woogmaster talked with Seven Days about dropping out of Twinfield Union School after one day, raising four sons who all play music, and food as an equalizer.
"We all need food," he said. "This thing that we all need is available at a high quality to people of means, and at a very low quality to people who don't have means. It's a really clear example of what's not fair in our society."
SEVEN DAYS: You've lived in Plainfield 40 years. How has central Vermont cuisine changed since the mid-1970s?
ADAM WOOGMASTER: We used to have the River Run [Restaurant], and before that we had a place called Juanita's, and Lickety Split, an ice cream shop. There was a hot dog stand. And right in downtown Plainfield, where Positive Pie is now, was a general store. It was more hamburgers and hot dogs kinds of stuff, except Juanita was a brilliant cook. She was kind of hippie-leaning — making good, clean fresh food with a Sicilian influence. And she kind of opened me up to that stuff.
SD: What's the trick to food-truck cooking?
AW: What I've been telling people who come by is, you're never going to get the same taco twice. Everything is made from scratch with no recipes. So we're just responding to the foodstuffs: We're trying to bring the best out of the product.
The tortillas are made out of masa, water and salt. The meats are all coming from small local farms, and the produce, as the summer progresses, will come only from small local farms.
SD: One of your social media collaborators — your 13-year-old son, Xavier — remarked on Facebook Live about your "American work ethic" as he recorded you grilling tortillas. You wondered if that was a compliment and suggested it might've been in 1923. What's your take on the American work ethic of 2019?
AW: My experience is that almost everybody wants things faster and easier. And quality comes from slower and harder.
SD: On the video, you said that secret recipes are dumb and old punks never die. What do you mean by the first part of that statement?
AW: I think a secret recipe panders to the lowest common denominator of exclusivity and competition. I'll tell anyone anything I remember. If you have something that's good and people enjoy, why would you want to keep it from them?
SD: You worked at LACE, the Barre nonprofit organization that was founded on principles of food justice and equality: getting healthy local food to as many people as possible at an affordable price. What connection do you see between LACE and the Chez Mami truck [both started by Ariel Zevon]?
AW: It's driven by the same principles. Our intention is to feed everybody who is hungry with the highest-possible-quality food regardless of their ability to pay for it.
SD: How do you intend to do that?
AW: We're feeding anybody who shows up hungry, and they are welcome to make donations. I encourage people not to put any money in the jar until after they eat the tacos. I'm hopeful that the tacos will blow their mind and they'll be more generous.
SD: What music do you listen to when you cook? How about when you eat?
AW: A lot of my friends' music, my kids' music, and I'm particularly fond of Bollywood in the morning.
SD: Can you talk about your experience giving food away, including your work with Food Not Bombs?
AW: The first time I did Food Not Bombs was in San Francisco on the anniversary of the anarchist revolution in Spain. It would've been the mid-'80s. We dumpster-dove and collected food from grocery stores and prepared soups and gave it away in Golden Gate Park.
I was only there for a week or two; I got sucked into it. I started a punk rock venue in Salt Lake City, the Monastery, and we'd occasionally make meals and share them with the punk kids. [In 1986,] there was a fringe group of radical anarchists that weren't allowed into the [Great] Peace March of people walking across the country. They came and stayed with me, and we fed them. That was the first time I ever experienced feeding a really large group of people with no resources.
SD: The truck serves lunch. What do you do the rest of the day?
AW: I do all kinds of odd jobs — plumbing, [being] a sound man, help people with different music projects. Anything that won't get in the way of me taking care of my kids, that's what I do.
SD: Do you see a connection between making food and making music?
AW: Absolutely. I think it's about making finished things from raw ingredients, both instrumentally and lyrically. The connection for me between the two is improvisation. That's why you'll never get the same taco twice. Part of that has to do with a terribly abused memory. Also, I like the idea of things being brand-new.
SD: How much newness can there be with a taco?
AW: How much newness can there be with a kiss? Every one is new, right? As long as you're not trying to duplicate the last one, it stays that way.