How does Adam Longworth keep a cool temper in a heated kitchen? The Northfield-bred kid who made good as longtime chef de cuisine at New York landmark Gotham Bar and Grill says his secret is staying physically fit. He and his partner, Lorien Wroten, returned to Vermont for the mountain biking. Now, even in the depths of winter, the couple end their evenings with a run or bike ride near their restaurant, the Common Man (also their home), at the foot of Sugarbush Resort.
"There's something about when it's dark out here and you're getting a nice, fresh snowstorm," Longworth says. "It's so quiet, all you can see is a little bit in front of you where your headlamp is."
According to Longworth, those stress-relieving rides help keep him free of the notorious chef's ego — and keep him lean, mean and flexible in the kitchen, too, where he's willing to make significant tweaks to his seasonal menu. The biggest tweak came little by little at the Common Man. Though Longworth gained many fans with the modernist, New York-influenced cuisine he initially prepared, he realized he was leaving many longtime fans of the 42-year-old restaurant out in the cold.
"When I was younger, I did some really cool food, but I don't know if it was the tastiest food," he admits. "Now I'm not trying to reinvent the wheel anymore. I'm trying to serve wholesome, delicious food that's cooked right."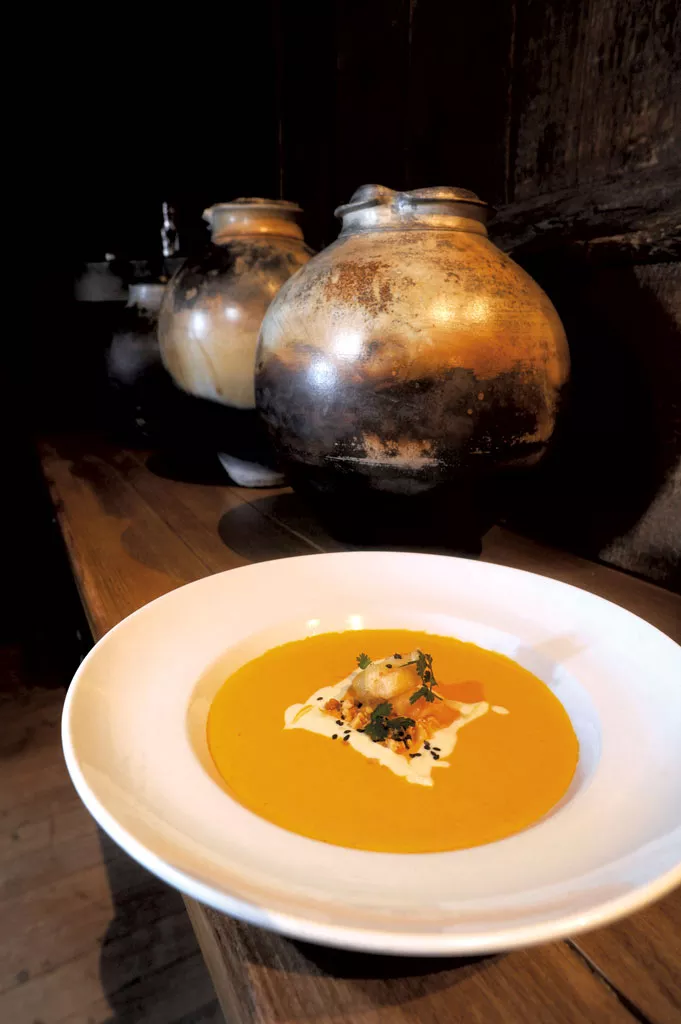 Jeb Wallace-brodeur
Carrot-ginger soup
The biggest hits of the new regime have been Longworth's multiple takes on the meatball, the happy results of trimmings from his center-cut, locally sourced meat dishes. The Common Man's menu still attracts adventurous eaters with intense crudos and complex soups. But the meatball choices, ranging from spicy lamb merguez to bacon to classic beef, have become so big a draw that Longworth is working to package them for retail sale.
Recently, Longworth scaled back the restaurant's hours to dinner service Thursday through Saturday, leaving him and his crew time to prepare the meatballs once the kitchen is approved. The chef also plans to cook pop-up dinners outside Warren, perhaps in collaboration with friends such as Hen of the Wood's Eric Warnstedt.
After a long pedal uphill, Longworth is finally coasting back home in Vermont. We grilled him to learn the details.
SEVEN DAYS: When you were growing up, were there any foods you couldn't stand?
ADAM LONGWORTH: I hated tomatoes. Every kid will eat ketchup and tomato sauce. But raw tomatoes I hated. My mom was always trying to get me to like them, but I just couldn't do it. I think it had something to do with the tomatoes she bought at the Grand Union. I remember going to culinary school and trying heirloom tomatoes and saying, "Oh, this is good!" A good lesson when you're cooking: If it's not fresh, why even use it?
SD: Your dad was once a chef but is now known to Burlington-Montpelier commuters as "Buddy the Bus Driver." [Buddy Longworth drives the Chittenden County Transportation Authority's LINK Express.] How did that happen?
AL: He was a chef, and he noticed that he had a little bump on his neck one morning when he was shaving. Found out he had cancer in his lymph nodes. He made it through, but what happened in the treatment process was he lost his taste buds and ability to produce saliva, which pretty much put an end to his cooking career. Seven years later, he thinks he has about 80 percent of his taste buds. I don't know how true that is with some of his cooking. But that's when he started driving the bus.
SEVEN DAYS: Were you always a foodie?
AL: I cared about just being outside and sports my whole [time] growing up. Oftentimes I'd have to go help my dad in the kitchen, and I had zero interest in it, even when I was graduating high school.
I didn't do the best job applying to colleges — I wasn't even sure I wanted to go. But all of a sudden all my friends were in college, and I was stuck in Northfield. I was not happy. I told my mom and dad, "I'm going to cooking school," because it was the only thing I understood.
Even at the CIA, I didn't love it. I didn't love going to school. Oddly enough, it was in London that I fell in love with it. It wasn't so much the cooking as the hard-core "I don't give a shit" attitude. I was like, Oh, my God, it's acceptable to act like this! That's what hooked me.
SD: Name three foods that make life worth living.
AL: Fresh eggs. Ground beef. Good bread. Most of my dinners happen to be good, grilled bread with sunny-side-up eggs on it. There's something about ground meat. I used to be a big steak guy, but I don't eat as much steak now. I like to use ground beef as a base. It can take on so many flavors.
SD: What was the last meal you ate?
AL: An epic grilled cheese that Lorien made me. We use the Red Hen [Baking Company] Waitsfield Common bread. It's got the perfect size holes. She puts a nice Vermont cheddar and really super, super thinly sliced white onions with yellow mustard. It tastes like you're eating a cheeseburger. When tomatoes are around, she puts a couple slices in, too.
The other thing that makes a grilled cheese pretty epic that I use a lot for myself — I call it "muracha." It's equal parts yellow mustard and Sriracha mixed together. That's my favorite.
SD: When you cooked in New York, what Vermont food did you miss?
AL: I'm not a junk-food guy, but one of the things I missed most was going to Cold Hollow Cider Mill and getting cider doughnuts with warm cider. I would usually just make a trip home and do that.
Jeb Wallace-brodeur
The Common Man dining room
SD: You're trying to impress someone with your culinary prowess. What do you make?
AL: I would probably course it out and begin the progression with a raw dish. Assuming they're not vegetarian, I'd do some sort of sashimi. I'm a big sea urchin guy — there would probably be some sort of sea urchin or uni component in that sashimi. Then I'd throw some form of octopus at them. Then, for the last course, I think that I would still have to stick with seafood and do some sort of crispy black bass. I didn't get a lot of seafood growing up, and when I was introduced to high-quality seafood, it really did a number on me.
Ethan Wood from Wood Mountain Fish has really been my saving grace. If we didn't get the seafood that we get from him, I don't know if I'd still be part of the Common Man. It's such a big part of my cooking. He's our savior for sure.
SD: What's the worst dish you ever created?
AL: Wow, I have a lot of them. I was trying to do this baked-potato tortellini. I got so wound up in the process of trying to make potato stock for the sauce and trying to keep a lot of trashy, loaded baked-potato ingredients and using horrible cheese and a lot of sour cream. When I was younger, I thought it was cool.
Unfortunately, it's in a cookbook [photographer Alan Batt's Pasta]. If I happen to flip through that book, I'm devastated. But after that, [Batt] did a salad cookbook [for which] I did an artichoke salad and redeemed myself.
SD: What are your favorite Vermont restaurants?
AL: Hen of the Wood will always be up there with us. We've become great friends with a little restaurant in town [Waitsfield] called Peasant. The chef is such a cool guy. One of my personal favorites — and this is very odd for me to say — is Mint Vegetarian Restaurant right here in town [Waitsfield]. They're vegetarian, but their food to me is so fresh and inspiring. It's just the two of them. I find it really amazing what they do.
SD: Do you have any hobbies?
AL: I love to collect cookbooks. I really keep an eye on them. I don't really let people touch them too much, and I'll notice if one is out of place.
The Gotham Bar and Grill Cookbook was the first I ever owned. I bought it in the CIA bookstore. I collect autographed cookbooks, but it took me until right before I was leaving New York to move up here to ask Alfred [Portale, author and Gotham's executive chef] to sign it. He was like, "You need to give me a couple of days; I want to bring it home." I told him absolutely no way. "This is the first book I ever bought; there's no way that you're bringing this thing anywhere. Figure out something to write and sign it, and I want it back immediately!"
SD: What's your favorite guilty-pleasure food?
AL: I'm proud to eat it. I go to a little deli and get an egg sandwich on an English muffin. It has to be American cheese. That's my thing. I'll even go when I'm pumping gas. I'll pick an old one up out of the warming thing. I actually keep hot sauce in my truck so I can doctor it up.
The Common Man will close for stick season (and meatball R&D) starting October 18, then reopen on Thanksgiving with a traditional buffet dinner.
The original print version of this article was headlined "Cooking Uphill"