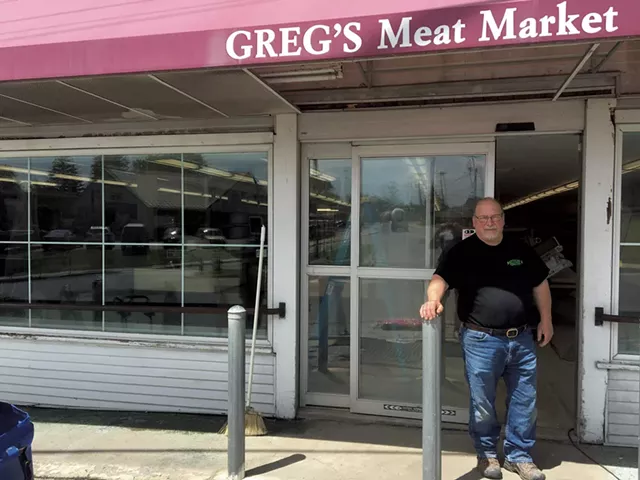 James Finn
Jim Blais at the future Greg's Market
The Middlebury food market previously known as Greg's Meat Market will reopen in mid-July as Greg's Market, said owner Tony Neri. It will focus on fresh meats, produce and deli offerings, including prepared foods.
Located at 3 Elm Street, the store is undergoing significant renovation and will also offer expanded parking next door where Pool World was, Neri said.
Originally opened in 1981, the market closed in April 2015 after more than three decades. Neri bought it in 2017 and tried to lease it to another supermarket operator. "I didn't plan on running it myself," he said, "but I've got great people so decided to do it."
Among those is longtime local butcher Jim Blais. "He's the best of the best," Neri said. Blais worked for 18 years at Shelburne Supermarket (now Shelburne Market) and then for five years at Green Pasture Meats in Shelburne and New Haven before a recent stint at a chain supermarket.
Blais will bring his meat-cutting expertise to Greg's, as well as his relationships with local farmers. Offerings will include meats from the western U.S. and Vermont, and he will make his own sausages. He's looking forward to working at a locally owned market again: "I'm not much of a corporate guy," Blais said.