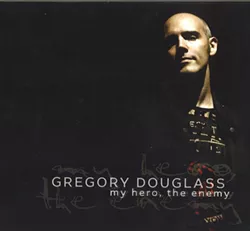 (Emote Records, CD, digital download)
Gregory Douglass is at odds with his art. That's the central thesis of the songwriter's ninth full-length album, My Hero, the Enemy. The Vermont-born Douglass was a teenage pop prodigy who flirted with national success early in his career. But his big break never quite materialized the way many predicted. Now in his mid-thirties and living in Los Angeles, he's soldiered on, fighting the good fight in the face of the music industry's identity crisis. Fiercely independent, Douglass has become something of a champion of the DIY ethos, acting as a guru for younger artists looking to crack the perhaps unsolvable riddles of the music biz.
Through it all, he's continued to produce music at a remarkably high level. But it seems the constant grind and diminishing returns have taken their toll. Just below the title of the album on the inside cover is this subtitle: "The blessing and the curse of creativity in the age of information."
Douglass' talent has never been in question. Frequent comparisons to the likes of Rufus Wainright, Justin Timberlake and Adele are not hyperbole. He is blessed — or cursed, depending — with a sublimely expressive and versatile voice. Douglass matches that with a mad scientist's approach to pop music, deconstructing archetypes and remolding them to suit his endlessly curious and creative ambitions. But the fearless ingenuity that is his greatest asset might also be his most daunting adversary. It's fair to wonder if the reason stardom has been elusive is that record execs have never known what to do with him.
That won't change with My Hero, the Enemy. If anything, the album is Douglass' most bold and artistically progressive to date, a dizzying manifesto on art in the digital age that's as confounding as it is compelling. Those who (rightly) marvel at the mystifyingly beautiful production of Adele's 25 will find a lot to like here. As will fans of Douglass' more overtly Wainright-influenced output. But a darker undercurrent informs the album, too, one directly tied to the songwriter's questions of art and identity.
For Douglass to write a record unpacking his personal frustration with art and commerce might reek of entitlement and sour grapes. That's not lost on him. One of the record's most revealing cuts is "Complain," a one-way conversation in which he excoriates himself for, well, complaining about illusory stardom when he's built a life that allows him to create and pursue his art on a level that few experience.
My Hero, the Enemy is less about Douglass' disillusionment with music than it is an examination of his own identity and what it means to be an artist. It's an unflinching self-portrait of a man at a personal and professional crossroads that raises as many questions as it answers. And it's probably the finest album of Douglass' career.
Gregory Douglass performs at the Flynn MainStage on Thursday, December 31, as a headlining performer of First Night Burlington. Advance copies of My Hero, the Enemy will be available at the show.