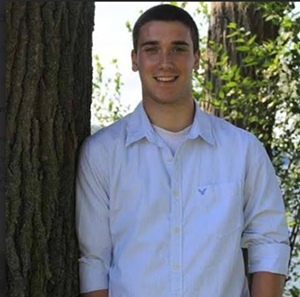 Gregory Brigante Sexton, 22, of Malletts Bay Ave. entered eternal life during the early morning hours of Monday, January 12, 2015 due to complications from epilepsy, at his home and in the presence of his family.
"Then he said to Jesus, Lord, remember me when thou comest into thy kingdom. And Jesus said to him, I promise thee, this day thou shalt be with me in Paradise."-Luke 23: 42,43
Greg is a treasured gift from God bestowed to his earthly mom and dad, Linda Brigante-Sexton and Alan Sexton, on September 1, 1992 in Burlington. Greg's golden heart shined, specifically as a devoted protector of his family and friends.
Greg had a passion and talent for the game of soccer, and he immensely enjoyed his teams and the competition while playing for Colchester town and school teams, Far Post and Nordic Spirit soccer clubs. Greg loved playing basketball, and his talents developed for his middle school coach, C.P.D. Lt. Jeff Barton. Greg flourished under Coach Barton's firm, and fair style. Greg was an avid fan of the Boston Celtics, Bruins, New York Yankees and the New York Giants.
Greg graduated from Colchester High School, class of 2011. Greg aspired to be a U.S. Marine, and had joined the U.S. Marine Corps in 2014. Greg was injured during training exercises at the Marine Corps Recruit Depot at Parris Island, SC. To his disappointment, Greg was sent home for further treatment and recuperation, following which was looking forward to heading back to Parris Island. Greg planned to join the Military Police, and serve with municipal or state law enforcement following his planned career with the Marines. Greg had a passion for community service, and he served as a probationary firefighter for a time with the Colchester Center Volunteer Fire Company.
Greg is forever cherished, and dearly missed by his family: his mom and dad, Linda Marie and Alan; his brother Christopher Alan and sister Katelyn Marie; Greg's maternal grandparents and godparents, Peter and Margaret Marie Brigante; his paternal grandmother, Tina Sexton; his maternal family: uncles and aunts Peter Brigante and his fiance JoAnn, Paul and Jeanne Brigante, David Brigante, Richard and Holli Brigante, and Michael Brigante, Alan and Cheryl Landry and C.P.D. Sgt. Michael and Ronda Fish; many cousins, great-uncles and great aunts. Greg's paternal family: uncles and aunts, James Jr. And Shirley Sexton, Joanne and Arthur Willey, Karen and Scott Downs and Scott and Laura Sexton; many cousins, great-uncles and great aunts.
Greg's fiercely loyal, and devoted brothers and treasured extended members of our family Tom Vaux, Matty St. Peter, Alex Thibault, Greg Olio, J.J. (John Michael) Ouellette Jr., and Ibby Wilson, who along with Greg's brother Chris, will honor Greg as his active pall bearers.
A Mass of Christian Burial will be celebrated Friday at 11AM in Holy Cross Roman Catholic Church in Colchester by dear family friend Father Roger Charbonneau. Interment will be in Holy Cross Cemetery. Visiting hours will be held Thursday, January 15 from 4 p.m. - 7 p.m. in the LaVigne Funeral Home, 132 Main St., Winooski. Memorial contributions in Gregory's name may be made to the Wounded Warrior Project. Online condolences may be shared with the family at lavignefuneralhome.com