Amy Lily
Diane Elliott Gayer serving visitors at GreenTARA Space
If a building can be said to have nine lives, the 1823 structure that now houses GreenTARA Space — the Champlain Islands' newest art gallery — is on its third.
The North Hero building started life as a general store on the lakeshore half a mile from its current location. In 1888, it became a Catholic church, acquiring a steeple and eight tall, narrow, frosted windows capped with simple stained-glass arches. In 1949, St. Benedict Labre Church was moved on rollers across and down the road to a piece of land big enough to provide parking.
Diane Elliott Gayer bought the building from the church in 2016, after it had sat on the market for nearly a decade, and has honored its history of reuse with GreenTARA, a one-room art-gallery-cum-coffee-bar.
On a recent Sunday morning, Gayer, an architect long interested in restoring and repurposing old buildings, met with Seven Days inside the lofty, sunlit space to explain her approach. Between snippets of conversation, she served kombucha to groups of women visitors who had stopped in to see the current exhibit: Barbara Zucker's wall-hung steel sculptures and prints from her "Time Signatures" series, and Kathleen Goddu's shibori fabric works, collectively titled "Artistic Endeavors."
"We found a holy-water spring in the basement," Gayer joked to her visitors. Dressed in a colorfully patterned blouse and skirt, the architect stood out against a background of white walls and a barrel-vault ceiling lined with white acoustic tile — a relic, she guessed, of the church's 1970s Vatican II renovations.
The spring itself was real, if not its holiness. After installing a sump pump, Gayer and her three-man building crew, from R. Rose Construction of North Hero, spent almost six months on the space, guided by Gayer's light, frugal touch. They left the raised altar floor but removed vestibule walls and a low ceiling. In the process, the workers found three original 1823 ceiling beams. Gayer left one in place, flush with the back wall, and had the other two cut into benches that now line an outside deck; Burlington metalworker John Marius forged their frames.
With the space now open as one long room, Gayer extended the barrel vault over the altar. That was among the most significant changes the architect made. The former choir loft has become her studio; it may also serve to house visiting artists, she said.
The walls of the basement, now a workshop space, are lined with plywood rescued from the vestibule and some new pegboard; the 1947 poured-concrete basement floor was left untouched. The gallery and basement are sparsely but artfully furnished with carefully chosen castoffs.
"I went to [ReSOURCE in Burlington] every week for three months," said Gayer with a chuckle.
Gayer left intact the exterior's white metal siding, along with its traditional peaked roof and cupola. But she replaced the front entry steps with a deck that provides access from the sides. "I didn't want that formal feeling of entering a church," she explained. And she built a new side entry to the basement, clad in galvanized metal. Its shed roof will become a green roof during an upcoming workshop on installing the ecologically friendly surfaces.
Back inside, visitors might be torn between the art — beautifully set off by those double-height white walls — and the views through the tall windows. Gayer had each window's frosted panel at eye level replaced with clear glass, allowing glimpses of the lake and the red farmhouse next door.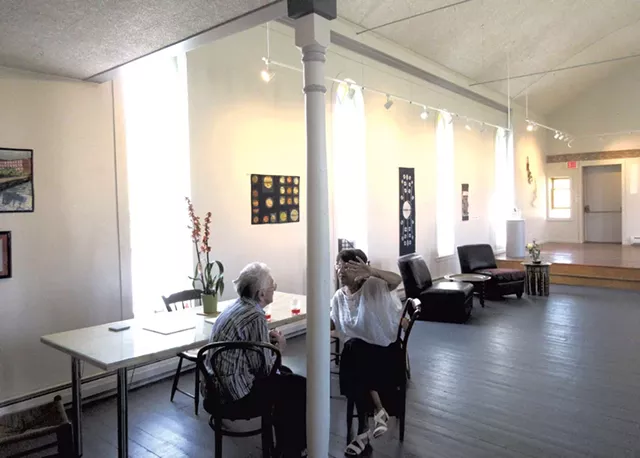 Amy Lily
GreenTARA Space
The farm's 230 acres of tilled fields surround GreenTARA on two sides. Gayer borrowed the gallery's name from Buddhism — Green Tara is the Tibetan goddess of enlightened activity — but the "green" moniker also applies to the landscape and sustainable features such as a deckside herb garden.
Gayer isn't exactly new to curating. She assembled shows at the University of Vermont, where she taught as a lecturer and adjunct for 22 years in the Community Development and Applied Economics department and the Rubenstein School of the Environment and Natural Resources, and as a fellow at the Gund Institute for Ecological Economics. (She retired in 2015.) Gayer also mounted exhibits related to the former Vermont Design Institute, of which she was founding director.
A visitor can sense Gayer's affinity for the curatorial art in the way she hung Zucker's shadow-casting works around the altar space. She placed the artist's "Back of My Neck" (1999), a large-scale abstraction of wrinkled skin cast in steel, off-center on the back wall by itself. Centering it "made it seem too small," Gayer explained.
Zucker is a major sculptor based in Burlington and New York City whose works are held in the Elizabeth A. Sackler Center for Feminist Art at the Brooklyn Museum, the Whitney Museum of American Art and similar collections. She cofounded A.I.R. Gallery, the country's first women's art gallery, in New York in 1972. Zucker generally shows outside of Vermont, so the seven sculptures and prints on display here are a rare treat for local viewers. As "time signatures," they explore her own and other women's aging. Some pay tribute to a specific woman, like "Rosa Parks" (2000).
Pieces by Maine fabric artist Goddu, hung on a side wall behind two comfortable leather armchairs and a large table with chairs, provide a pleasing contrast to Zucker's in material, craft and color. Goddu recently conducted a workshop in shibori, a Japanese cloth-dying technique, in GreenTARA's basement studio. Her shibori scarves are for sale beside the coffee bar.
These kinds of artwork diverge from what Gayer calls "island art" — that is, the realistic paintings of nature that local galleries more typically offer. The architect in her, she said, is drawn to more sculptural modes of creative expression.
In fact, GreenTARA's next exhibit will be two riverboats narrow enough to fit through the front door: an original 1920s craft belonging to Charlie Auer (of the Burlington landmark Auer Family Boathouse) and a replica made by Vergennes boat craftsman Douglas Brooks and his UVM students.
GreenTARA is well positioned to become a popular stop for summer tourists and the endless stream of road cyclists who cruise the islands, as well as for local residents. Gayer plans to keep the venue open year-round. It sits on a half-mile stretch of Route 2 between the North Hero Public Central Library and Hero's Welcome General Store, less than two miles from the old barn that the nonprofit Island Arts plans to restore for its new home. Visitors can sit on the front deck and spot Lake Champlain sparkling across the road, then look up and admire the deft repurposing of a humble historic building.