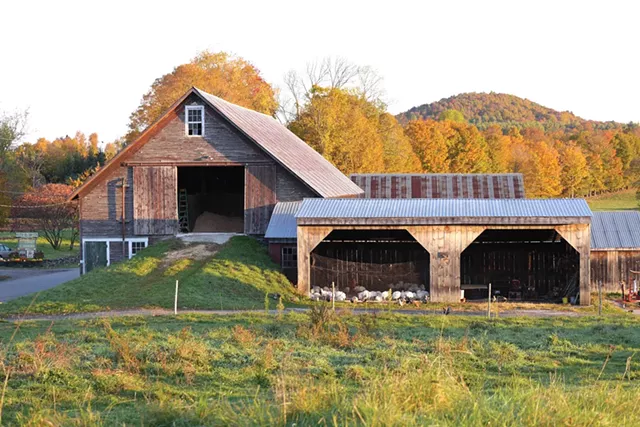 The Green Mountain State is a dream for fans of agritourism. Visitors who want a true taste of place will get their fill dining at the state's farm-to-table restaurants or touring its breweries, wineries and artisan cheesemaking businesses. There's something to please every palate.
All of these activities provide a peek at farm life, but there's an even better way to experience a working agricultural operation: Sleep there. Across the state, farms big and small open their doors to guests, inviting them to tour the land, meet the animals and even help with the daily chores. Some serve up hearty meals made with ingredients produced on-site.
Just seven miles south of Burlington, the Inn at Shelburne Farms is Vermont's most famous and luxurious place to ogle baby lambs, watch cheesemaking in action and drop your head onto a pillow. Here are a few other overnight options — from charming country inns to wooden yurts — that offer rural relaxation.
Hollister Hill Farm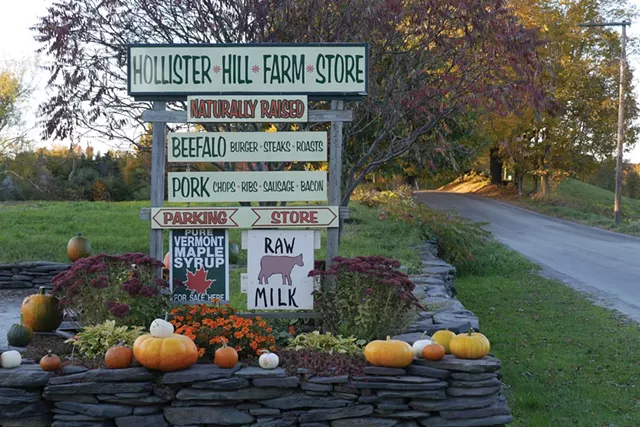 Distance from Burlington: 51 miles • accommodations: a B&B with three rooms and a cottage • sleeps: up to five in the family suite • rates: $100-200 per night, plus extra for additional guests • amenities: common room with fireplace; games and puzzles; Wi-Fi; breakfast included • farm products: beef, pork, chicken, turkey, eggs, maple syrup, veggies, berries, milk
At Hollister Hill Farm, the list of approved activities for visiting youngsters sounds like something out of Little House on the Prairie: "Help in barn, where appropriate ... Play with the barn kittens ... Go sledding, play in the snow and make snow-people."
Guests can also eat big country-style breakfasts and sip on glasses of raw milk when they stay on this 205-acre property in Marshfield. There, owners Bob and Lee Light — self-identified back-to-the-landers since 1972 — aim to share the joys of the rural livelihood they've built.
Farm life changes with the seasons, but there's always something to watch, learn and eat at Hollister Hill. The Lights and their crew sugar in the spring, preserve fruits and veggies in the summer, and make hay in the fall.
But if you just want to sit by the fire and drink Vermont beer or wine, they're cool with that, too.
Perry Family Farm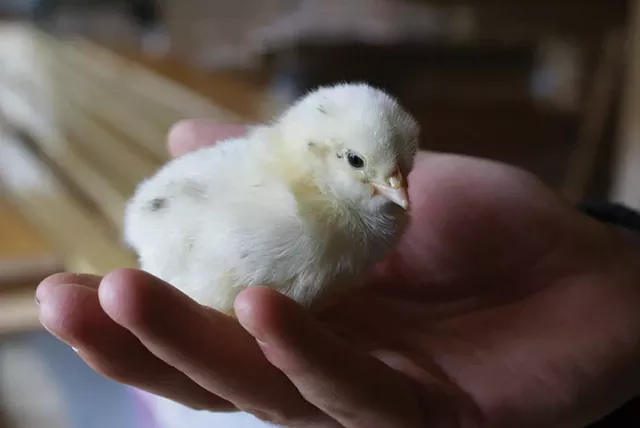 Distance from Burlington: 54 miles • accommodations: three rooms • sleeps: up to four • rates: $135-145 per night, plus extra for additional guests • amenities: garden in which to dine; continental breakfast; solar energy; radiant-heat floors; electric-car charging station • farm products: electricity to feed back into the grid, ducks to hang out with
Sustainability is the name of the game at Perry Family Farm, where the electricity comes entirely from solar panels and guests can make use of an electric-car charging station on the premises.
The farmers, James and Laura Perry, originally hail from England but moved to Vermont in 2004 for its bucolic scenery. Once here, they built the farmhouse and grew it into the operation that visitors see today. Currently — with the Perrys recently returned from a sabbatical abroad — that includes two pigs and seven ducks. The latter swim on the pond and have a penchant for joining guests under the apple trees.
Visitors can head to the nearby villages of Northfield and Montpelier to shop, dine and recreate. Or, while helping tie the vines in the vineyard or feed the pigs, they can investigate the ways the Perrys have found to live closer to the Earth.
"People just like to unwind here," says James. "People come from the city ... [and,] after two days, the real person comes out, right in front of your eyes."
Liberty Hill Farm & Inn
Distance from Burlington: 68 miles • accommodations: an inn with seven guest rooms • sleeps: up to five • rates: $65-139 night per person • amenities: breakfast and dinner included; board games • farm products: dairy for the Cabot Creamery Cooperative
Nestled on 200 acres of land near the White River, Liberty Hill Farm's dairy operation is part of the Cabot Creamery Cooperative. Along with milk from 1,100 other New England and New York farms, theirs creates Cabot's award-winning cheddar cheeses, as well as butters, Greek-style yogurts, cottage cheeses and sour creams. And, since 1984, Liberty Hill has also been an inn, welcoming guests to stay in its rustic farmhouse. The 1825 structure features prettily patterned wallpaper and quilts, maple wood floors, and butternut moldings.
Visitors can check out the milking room, take photos of the Holstein cows, or simply sit on a porch rocking chair and enjoy the view.
Owners Beth and Bob Kennett feed their guests a filling breakfast of homemade sausages, eggs, pancakes and baked goods. Unlike many innkeepers, they serve dinner, too. Their most popular offering: chicken pot pie with carrot soufflé. Do they use Cabot butter and cheese in their meals? You betcha!
Maple Wind Farm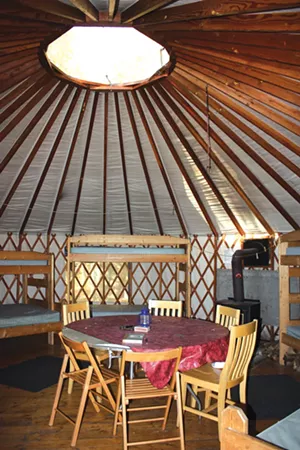 Distance from Burlington: 27 miles • accommodations: a pair of yurts • sleeps: up to 10 per yurt • rates: $145 per night, per yurt • amenities: firewood; an equipped kitchen; ability to purchase farm food; farm tours • farm products: beef, pork, chicken, turkey, eggs, veggies, maple syrup
The least expensive and most rustic of these accommodations, Maple Wind's yurt rentals allow groups of up to 10 (or 20, when both yurts are reserved) to stay and play on the farm anytime between December 1 and April 15.
The circular Mongolian-style structures are 24 feet in diameter with bunk beds for 10 people. Each offers a woodstove, a well-equipped kitchen and a dining area with a large table. The farm itself provides plenty of ingredients to be used in yurt-cooked meals — owners Beth Whiting and Bruce Hennessey produce meat, poultry, eggs and veggies that are sold at farmers markets and used in restaurants around the state.
Staying at the farm during its off-season, guests will find themselves in a winter wonderland, with plenty of opportunities for backcountry skiing and snowshoeing. There's nothing like a couple of hearty, farm-raised pork chops and a seat in front of the woodstove to warm up after a long day in the woods.
---
Des prés plus verts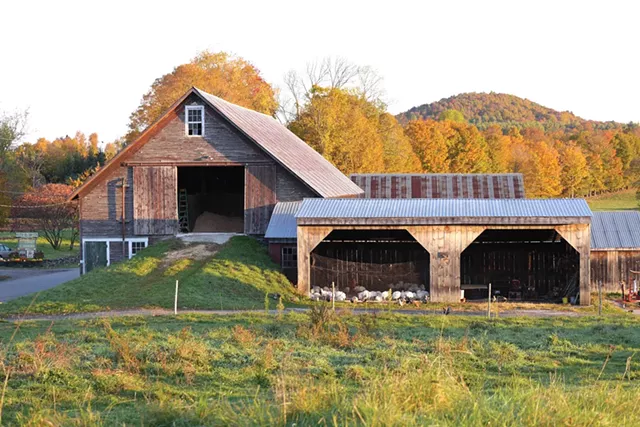 L'État des Montagnes vertes est un paradis pour les adeptes de l'agrotourisme. Les visiteurs qui souhaitent vraiment découvrir le terroir seront comblés en soupant dans un restaurant vermontois « de la ferme à la table » ou en faisant une tournée des brasseries, des domaines vinicoles et des fromageries. Même les plus fins palais y trouveront leur compte.
Toutes ces activités procurent un petit aperçu de la vie dans une ferme, mais il est possible de découvrir d'encore plus près la réalité d'une exploitation agricole : y dormir. Dans tout l'État, de petites et de grandes fermes accueillent les visiteurs, les invitent à visiter leurs terres, à voir leurs animaux et même à participer aux tâches quotidiennes. Certaines servent des repas consistants mettant en valeur les aliments produits sur place.
Pour observer des agneaux, regarder un fromager travailler et poser sa tête sur l'oreiller, il n'y pas d'établissement plus célèbre ni plus luxueux au Vermont que le Inn at Shelburne Farms, à 11 km à peine de Burlington. Voici d'autres options pour passer une nuit dans un climat de détente rurale, que ce soit dans une charmante auberge de campagne ou dans une yourte en bois.
Hollister Hill Farm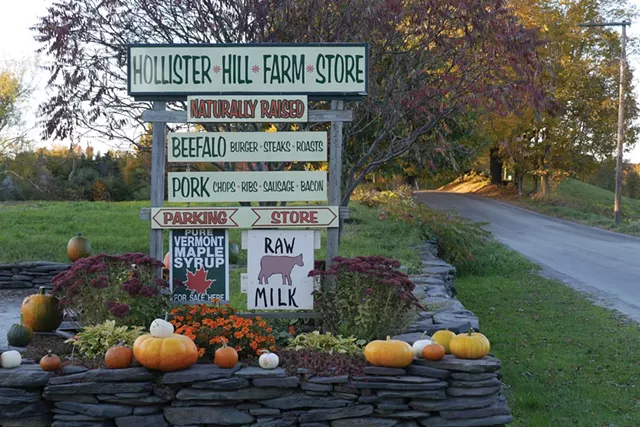 Distance de Burlington : 82 km • hébergement : gîte touristique comportant trois chambres et un chalet • capacité : jusqu'à cinq personnes dans la suite familiale • tarifs : 100 $-200 $ la nuit, plus supplément pour les personnes additionnelles • commodités : salle commune avec cheminée, jeux et casse-têtes, Wi-Fi, petit déjeuner inclus • produits de la ferme : bœuf, porc, poulet, dinde, œufs, sirop d'érable, légumes, petits fruits, lait
À la ferme Hollister Hill, la liste d'activités approuvées pour les enfants semble tirée tout droit de La petite maison dans la prairie : « Aider dans l'étable, selon les besoins... Jouer avec les chatons dans la grange... Faire de la luge, jouer dans la neige et construire des bonshommes de neige. »
Les hôtes peuvent aussi savourer de copieux petits déjeuners campagnards et boire des verres de lait cru lorsqu'ils séjournent dans cette propriété de 82 hectares à Marshfield. Les propriétaires, Bob et Lee Light, qui ont fait un retour à la terre en 1972, veulent faire goûter aux joies de la vie rurale qu'ils se sont créée.
La vie dans une ferme varie selon les saisons, mais il y a toujours quelque chose à observer, à apprendre et à manger à Hollister Hill. Les Light et leur équipe font les sucres au printemps, mettent fruits et légumes en conserve l'été et font les foins à l'automne.
Mais si vous préférez rester au coin du feu et siroter un verre de bière ou de vin du Vermont, ils n'y voient aucun inconvénient, bien entendu.
Perry Family Farm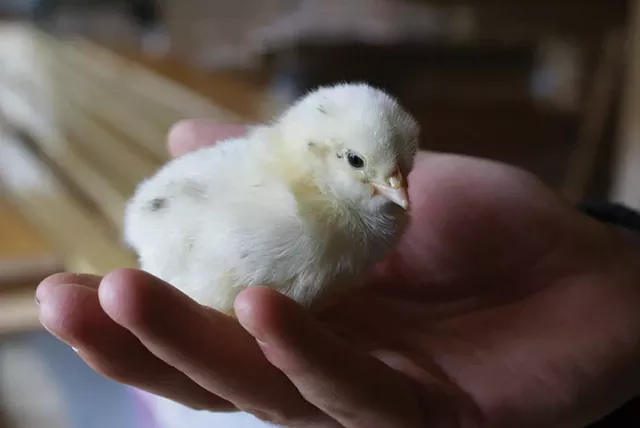 Distance de Burlington : 87 km • hébergement : trois chambres • capacité : jusqu'à 4 personnes • tarifs : 135 $-145 $ la nuit, plus supplément pour les personnes additionnelles • commodités : jardin où on peut prendre le repas du soir, petit déjeuner continental, énergie solaire, planchers chauffants, borne de recharge pour véhicules électriques • produits de la ferme : électricité remise dans le réseau collectif, canards fort sociables
La durabilité est le mot d'ordre à la ferme de la famille Perry, où l'électricité provient entièrement de panneaux solaires et où les hôtes peuvent utiliser sur place une borne de recharge pour voitures électriques.
Les fermiers, James et Laura Perry, sont originaires d'Angleterre, mais se sont établis au Vermont en 2004 parce qu'ils aimaient ses paysages bucoliques. Ils y ont construit une ferme qui est devenue avec le temps l'établissement que les visiteurs peuvent voir aujourd'hui. Actuellement, depuis leur retour d'une année sabbatique, les Perry ont deux cochons et sept canards qui se promènent sur l'étang et aiment bien aller retrouver les visiteurs sous les pommiers.
Les hôtes peuvent aller dans les villages voisins de Northfield et de Montpelier pour faire des emplettes, souper au restaurant et s'adonner à divers loisirs. Ou bien, si vous aidez à attacher les vignes dans le vignoble ou à nourrir les cochons, vous pourrez interroger les Perry sur leur mode de vie près de la terre.
« Les gens aiment bien décompresser ici, dit James. Ils arrivent de la ville... et au bout de deux jours, ils se métamorphosent, là, sous nos yeux. »
Liberty Hill Farm & Inn
Distance de Burlington : 109 km • hébergement : auberge de sept chambres • capacité : jusqu'à cinq personnes • tarifs : 65 $-139 $ la nuit par personne • commodités : petit déjeuner et souper inclus, jeux de société • produits de la ferme : produits laitiers de la coopérative Cabot Creamery
Nichée sur 80 hectares près de la rivière White, la ferme laitière Liberty Hill fait partie de la coopérative Cabot Creamery. Avec le lait provenant de 1 100 autres fermes de Nouvelle-Angleterre et de l'État de New York, la coopérative fabrique des cheddars primés, ainsi que du beurre, des yogourts grecs, des fromages cottage et de la crème sure. Devenue une auberge en 1984, la ferme Liberty Hill accueille les visiteurs dans sa maison rustique qui date de 1825. Jolis papiers peints et courtepointes, planchers de bois d'érable et moulures de noyer cendré en agrémentent l'intérieur.
Les clients peuvent visiter la salle de traite, prendre des photos des vaches Holstein ou simplement se bercer sur la galerie et admirer la vue.
Les propriétaires, Beth et Bob Kennett, servent à leurs hôtes un copieux petit déjeuner composé de saucisses maison, d'œufs, de crêpes et de produits de boulangerie. Contrairement à bien des aubergistes, ils offrent aussi le souper. Leur plat le plus populaire est un pâté au poulet accompagné d'un soufflé de carottes. Si vous vous demandez s'ils emploient le beurre et le fromage Cabot dans leurs recettes, eh bien la réponse est... évidemment!
Maple Wind Farm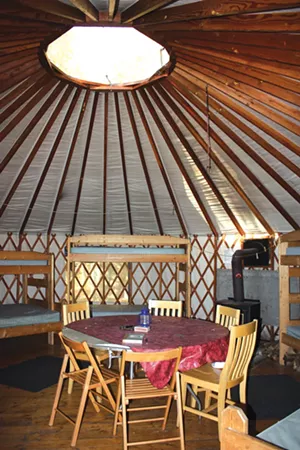 Distance de Burlington : 43 km • hébergement : deux yourtes • capacité : jusqu'à 10 personnes par yourte • tarifs : 145 $ la nuit pour une yourte • commodités : bois de chauffage, cuisine équipée, possibilité d'acheter des produits de la ferme, visites de la ferme • produits de la ferme : bœuf, porc, poulet, dinde, œufs, légumes, sirop d'érable
Les yourtes de la ferme Maple Wind, l'hébergement le moins cher et le plus rustique de cette sélection, peuvent accueillir jusqu'à 10 personnes (ou 20 si on réserve les deux yourtes) et sont ouvertes du 1er décembre au 15 avril.
Ces structures rondes de style mongol ont un diamètre de sept mètres et renferment des lits superposés pour 10 personnes. Chaque yourte comprend un poêle à bois, une cuisine tout équipée et une grande table dans le coin dînette. La ferme produit toutes sortes d'aliments pouvant servir pour les repas. Les propriétaires, Beth Whiting et Bruce Hennessey, produisent de la viande, de la volaille, des œufs et des légumes qu'ils vendent dans les marchés fermiers et à des restaurants dans tout le Vermont.
Les hôtes qui séjournent à la ferme hors saison se retrouveront dans un véritable paradis hivernal, avec une foule de possibilités pour le ski hors-piste et la raquette. Et comme il est réconfortant de déguster de bonnes côtelettes de porc de la ferme devant le poêle à bois après une longue journée dans les bois!