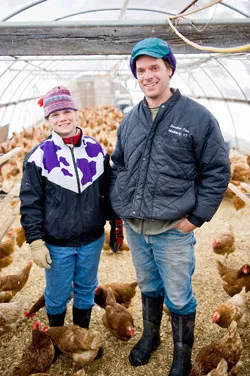 Andy Duback
Christa Alexander and Mark Fasching
Everyone knows farming entails backbreaking labor. But in the 21st century, Vermont's "working landscape" itself deserves overtime pay, because there's a lot less of it than there used to be. The Vermont Housing and Conservation commission reports that almost 163,000 acres, or 11 percent, of "productive farmland" statewide were converted to "other uses" between 1987 and 2002.
Meanwhile, Green Mountain consumers and media are buzzing about locally grown and raised food. Seventy-three percent of residents value Vermont for "some aspect" of its "natural environment or rural characteristics," according to a 2006 report by the Center for Rural Studies, and "working farms" is the aspect that tops the list. But who's going to grow all those local tomatoes and maintain those bucolic pastures? With milk prices dipping and well-heeled urbanites scouting rustic second homes, even successful growers are feeling the pinch.
That's where the Vermont Housing and Conservation Board (VHCB) and the Vermont Land Trust (VLT) come in. Along with a coalition of state- and municipally based nonprofits, they run programs that make it possible for Vermont green thumbs to buy land or keep plowing. In some cases, farmers can sell "development rights," thus ensuring no one ever builds on their turf. In other cases, plots transfer between generations, or from ag estates to newbie couples. Plus, the Board provides infrastructure grants and technical assistance to farmers with tender bottom lines.
But will that support soon be a thing of the past? In his January 22 budget address, Governor Jim Douglas proposed siphoning $4.6 million from the VHCB in fiscal year 2009 to pay for Medicaid.
According to land-trust regional co-director Allen Karnatz, the decision reflects "backtracking" on the state's "commitment to agriculture." That's presumably because VHCB, which has preserved more than 118,000 acres of farmland statewide since 1987, is the only source of public clams for such initiatives in the state. If the Douglas cuts go through, roughly 50 ongoing farm-preservation projects will be deemed "at risk."
In the following portraits, Seven Days looks at three ag-preservation trends. These are snapshots, not a comprehensive portrait of farmland preservation, but they put human faces on the programs at stake in the current budget debates.
*****
Islandacres Farm
Steven and Kelly Robinson, South Hero
Passing on the farm to the next generation
Steven Robinson isn't old, but he's already witnessed a few lifetimes' worth of change. The 46-year-old grew up on his father's South Hero dairy farm and never left. Meanwhile, the number of milking operations in the area has dwindled from more than 20 in the early 1960s to just four in 2008.
"Things used to be quiet here," Robinson recalls, gazing out his kitchen window at bustling Route 2 in downtown South Hero. "When I was a kid, traffic was nonexistent."
Despite the surrounding growth, Islandacres Farm isn't morphing into condominiums. By May, Steven and his wife Kelly will have purchased it from Steven's parents. As part of the deal, more than 80 percent of the 179-acre homestead will be protected by "conservation easement," a legal clause prohibiting future housing construction. The easement "is the only way we've been able to do it," Robinson attests. Otherwise, he says, "we'd-a been out of farming six years ago."
It hasn't been an easy process. When he first considered buying the farm in 2002, Robinson recalls, officials at the Williston-based Yankee Farm Credit told him, "Absolutely no way." Hurting from low milk prices, Islandacres had maxed out a $25,000 credit limit. Oh, and the market-rate value of Dad's dairy was appraised at "over a million dollars."
Enter the South Hero and Vermont land trusts. Two years ago, the nonprofits started guiding the Robinsons through a complicated easement-application process. By September 2007, the couple had secured roughly $500,000 from the VHCB for a direct farm transfer. Once deeds are inked this spring, notes Robinson, his day-to-day operating expenses will shrink by at least two-thirds.
South Hero Land Trust Executive Director Minner Hobbs reports her "one-and-a-half" staffer group has conserved more than 1250 acres in Grand Isle County since 1997, most of it farmland. "It's been really important to us to work as much as we can with local farmers," she asserts from across the Robinsons' table. "It's all about finding common ground and common goals." Since this project is virtually settled, she assures, it won't be affected by Gov. Douglas' planned VHCB budget cut.
As Robinson tells it, some of his South Hero neighbors perceive Vermont Land Trust assistance as a "welfare thing" that hobbles landowners. But Hobbs says the Robinson agreement isn't remotely "anti-development" — it would conceivably allow Steven's two sons, now 18 and 21, to build homes on adjacent, non-conserved patches.
Moreover, this deal could benefit the South Hero community. Kelly notes that the easement should free her up to run a farm stand on her front lawn — a potential resource for fellow growers. "Other farms that don't have great roadside locations could bring extra lettuce for us to sell," she speculates. "Or, if there's an organic chicken person, we could sell their eggs."
And that's just one plan. "With 10,000 cars passing by here every day," says her husband, "there's no reason they can't get some of my sister's donuts or some of Kelly's zucchini bread. Making our own cheese, ice cream? Bottling our own milk? A farm stand? A bed and breakfast? Commercial kitchen? Kelly makes the best peanut-butter chocolate-chip cookies, gingersnaps . . ."
"Kelly makes the best a lot of things," Hobbs, 33, chimes in. Steven's parents used to baby-sit her in the early 1980s. "That whoopee pie you sent me home with the other day? Whoa. That was so good!"
*****
Christa and Emilie Alexander and Mark Fasching, Jericho
Shaking hands on a land-lease agreement
For all intents and purposes, Christa Alexander and Mark Fasching are regular ol' farmers. A given winter morning might find them patrolling a thousand-chicken hoop-house, stocking their retail-meat cooler or putting pigs out to pasture.
There's just one catch: The young couple doesn't own a single productive acre. Instead, they lease about 150 via non-binding "handshake agreements" with "five or six" local landowners, including Christa's mom, Emilie. Such pacts enable them to harvest flowers, eggs, poultry, veggies and pasture-raised animals for Burlington-area families and farmers' markets. Consequently, these neo-sharecroppers reap profits without sinking into mortgage purgatory.
Turns out the casual-sounding "handshake" deals are supported by the state. Back in 2005, the Jericho couple's nascent operation began receiving aid from VHCB's Farm Viability Enhancement Program. The Board contributed $13,000 for pasture fencing and $2500 toward a walk-in cooler. Those crucial funds helped Christa, 34, and Mark, 40, quit their day jobs and farm full-time.
VHCB also provides technical assistance. Since 2005, the Farm Viability program has paid consultants from the Northeast Organic Farming Association of Vermont to provide Alexander and Fasching with how-to tips. "Farmer-to-farmer" mentors "basically reworked us through rewriting our business plan," Alexander recalls. "They helped us figure out where we wanted to go with the farm in the next five, 10 years."
One result of such diligent consulting is the couple's community-supported agriculture program (CSA). In 2005, they counted about 30 families on the roster. This past season, the number jumped to about 100, and Fasching expects it to double again this year. "Our timing on this was impeccable," he asserts. "There's so much press about 100-mile diets, localvores, that sort of thing. It all happened right when we were getting into this."
"There's definitely stuff like this happening in other places," Alexander adds. "But the support from both farmers and consumers in Vermont to make this local-food network happen is incredible."
An upscale Jericho location, though, could prove a mixed blessing. Fasching estimates "bare land" values in his neighborhood at "no less than $10,000" per acre. Understandably, that makes any "handshake" lease agreement a bit precarious.
Alexander, however, points out that low-commitment deals can be healthy starting points for up-and-coming farm ventures. "For the safety of the farmer and the land owner, it's good to hit that formal agreement," she says. Pending that formalization, though, handshake agreements offer "the flexibility to try things out."
For his part, land lessor Tom Vogelmann terms the current Jericho Settlers' Farm pseudo-lease "an interesting experiment." The University of Vermont botany professor lives in a nearby white house beside his father, a former UVM prof himself who allocates 60 acres to Alexander and Fasching's herd of black-and-tan Devon-Angus and Hereford beef cattle. "My dad bought the original farm in the late '50s, when all the hillside dairy farms were starting to go under," Vogelmann recalls. "We raised some Angus in the late '70s. There's always been a strong desire to keep the land as part of a working landscape."
Now 55, Vogelmann declares that his family's 320 acres of forest and pasture most likely comprise "the largest intact parcel left in Jericho." The Vogelmann property is enrolled in the state's "Current Use" program, which offers tax breaks to owners who steward their land in a sustainable fashion. Roughly 2 million acres are registered in the program statewide, for a total taxpayer savings of almost $40 million.
"New homes are popping up all over the place, so the landscape is changing," Vogelmann muses. "At the same time, we're looking at, what, gasoline going up to $4.50 a gallon next summer? It might make a lot of economic sense to have a farm in Jericho and Williston that can supply local produce."
*****
Eric and Keenann Rozendaal, Starksboro
Elmer Farm
Jennifer and Spencer Blackwell, East Middlebury
Taking the Intervale skills back to the land
In 1998, veggie raiser Eric Rozendaal got a call from friend and UVM international-development professor Dan Baker, a member of the Starksboro Agricultural Working Group. At the time, Rozendaal was growing food on a leased 10-acre plot in the Burlington Intervale. Did he want to buy a farm outright?
The call came at an opportune moment. Rozendaal and his then-partner Julie Rubaud were looking to settle within striking distance of Burlington, so the short answer was "yes." But, as Rozendaal recalls, "There were certain things that needed to be figured out."
Those 70-some Starksboro acres, he learned, belonged to a 600-plus acre property that included a foreclosed gravel pit, a "riparian corridor," a woodlot and a baseball field. The Vermont Land Trust brokered an epic mixed-use conservation easement in 2000. Eight years later, Rozendaal is one of three ex-Intervalers who have, with help from VLT and VHCB, made a successful transition to permanent digs.
That pattern reflects the mission of the Intervale Center's "Farms Program," which has established a "cafeteria of technical and mechanical support" for newbie farmers. After a few years of plowing the Burlington lowlands, the thinking goes, farm "graduates" amass enough chutzpah and know-how to manage their own patches.
Post-grad life can be rocky, but rewarding. Sitting by his computer on a recent afternoon, flannel-clad Rozendaal laments that VLT's easement-abetting bureaucracy was "frustrating" at turns. Still, he pledges, "I have nothing but praise for the land trust; otherwise [my 108 acres] wouldn't have been affordable." He bought them for a mere $85,000. Rockville Market Farm currently sells to a Whole Foods distributor and a host of Greater Burlington "usual suspects," such as City Market, Healthy Living, Stone Soup and Penny Cluse Café.
What's cooking with the next generation? Last year, VLT helped State Representative and Intervale farmer Dave Zuckerman (P-Burlington) score a plot in Hinesburg. And down the road in East Middlebury, Jennifer and Spencer Blackwell are breaking ground at 90-acre Elmer Farm, which they acquired in 2006 after an "intense" easement-application process.
"I'd been looking for land for many years before I got to the Intervale, but hadn't had much luck," says Spencer, who founded Intervale Bean & Grain in 2003 with a "fair amount of vegetable experience" under his belt. A few years later, his wife Jennifer got wind of the Elmer Farm property via email from a business contact. The Blackwells subsequently became two of the first-ever applicants for VLT's Farmland Access Program, which works in tandem with UVM's Center for Sustainable Agriculture to place qualified farmers on open soil. "We came down here, checked it out, and thought it would work for us," Blackwell recalls.
In October 2006, the couple purchased the Elmer farm for $240,000 — fully half of its assessed market-rate value. As part of the deal, VLT gets first "right of refusal" on any potential resale unless the farm stays in the family or transfers to a fellow farmer. In summer of 2008, the Blackwells plan to sell vegetables, black beans and winter grains to the Middlebury Natural Foods Co-op & Café, and a few local farmers' markets and restaurants.
"It's a dream," Blackwell reflects. He spent 2007 tilling soil, renovating the couple's home and caring for their newborn son, Angus. "It's been a hectic year and a half, and we're itching to settle into our life here."