Courtesy of Jeb Wallace-Brodeur
Green Up Day 2019 in Plainfield
On April 18, 1970, then-governor Deane Davis ordered all of Vermont's interstate highways closed from 9 a.m. to noon. The reason? So Vermonters could walk along them safely, picking up trash as part of the state's first Green Up Day.
The idea for one day designated for a community-run statewide cleanup was brought to Davis the preceding year by Burlington Free Press reporter Robert Babcock Jr., who noticed on his commute to Montpelier that when the winter snow melted, it exposed the garbage that had accumulated on the side of the road. Davis, then in his first year as governor, thought it was a fantastic idea and assigned a senior aide, Ted Riehle, to organize the event with Babcock. Riehle had been the driving force behind the 1968 law that banished billboards from Vermont roadsides.
Parker Riehle, Ted's son, now sits on the board of Green Up Vermont, the nonprofit organization founded in 1979 to ensure that the event would have staying power. Prior to then, it had been run by the governor's office. Parker was too young to remember the first Green Up Day, but he shared some of his father's stories in an interview. For example, Ted was a pilot and flew his Cessna 185 with a megaphone mounted to the bottom of it, shouting words of encouragement to those cleaning up trash down below. Gov. Davis touched down in a helicopter right next to the Whale Tails sculpture in South Burlington, participated in a ribbon cutting for the event, then took off to survey the cleanup effort in other parts of the state.
Courtesy of Jeb Wallace-Brodeur
Green Up Day 1970
Kate Alberghini, who became executive director of Green Up Vermont last October, said she hears from a lot of people who participated in the inaugural Green Up Day in 1970 "and are very proud of that fact." Green Up Day was the first event of its kind in the United States, and it's very much a part of our state's culture.
"It's more than just picking up trash," she said. "It's having a beautiful, healthy, clean environment to live in. Really, that's the goal."
Plans to celebrate a half century of "greening up" on Saturday, May 2, were in full swing when COVID-19 changed the landscape. At the end of March, the organization decided to postpone the event to the last Saturday of the month, May 30, with many of the special new initiatives still happening.
"No one really expected the 50th anniversary of Green Up Day would include working around a pandemic," the organization announced in an email, "but we will accept our challenges and persevere to make this Green Up Day memorable."
Alberghini said Green Up Vermont is still planning to distribute 65,000 garbage bags to town clerks through the Vermont Agency of Transportation. Towns are then responsible for getting bags to volunteers. This year, the bag is made of 70 percent postconsumer waste.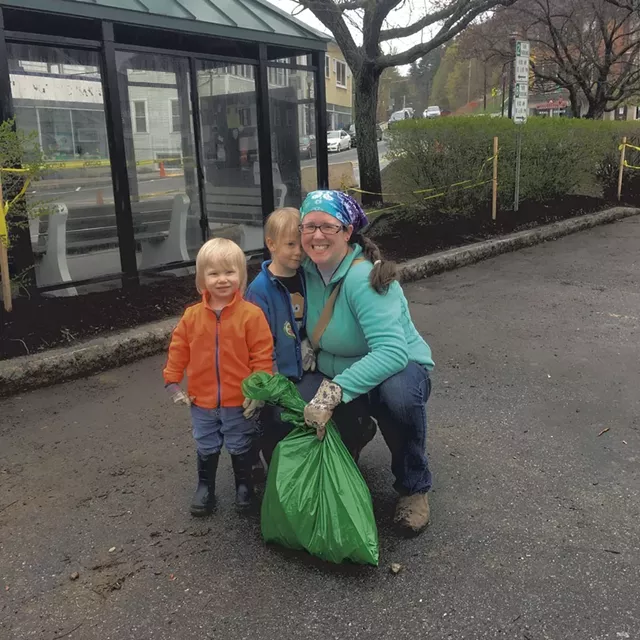 Courtesy of Jeb Wallace-Brodeur
Kids greening up in Springfield last year
A new app was created for volunteers to learn where to pick up supplies, drop pins on the routes they have cleaned and track where they've left bags for pickup. There's also a live leaderboard so volunteer teams can see how much trash they've collected. And for towns taking part in the cleanup effort — last year, 247 of the 251 towns in Vermont participated — Green Up Day has put together Birthday Boxes, with a granite plaque and a maple tree sapling to plant in a common area.
For the first time, a team of scuba divers will collect litter from Lake Champlain by the Burlington waterfront. Their progress can be tracked on the Green Up app. The organization is also encouraging "plogging" — a Swedish term that means running while picking up litter (plocka upp means "pick up" in Swedish).
Above all else, Alberghini said, Green Up Vermont is encouraging participants to keep themselves safe this year by social distancing and wearing masks and gloves when they pick up trash. Towns that typically have barbecue lunches or doughnuts and coffee for volunteers to mark the day are taking a break from those celebrations this year.
Though the way that people green up will look a little different, said Alberghini, "Vermonters are resilient and respond in innovative ways to challenges that affect their core beliefs."
Find more information about Green Up Day at greenupvermont.org.