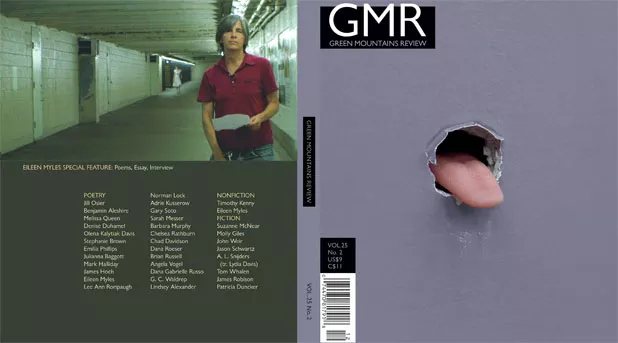 Green Mountains Review is sticking out its tongue at you.
Not really. But the current issue of the biannual literary journal, housed at Johnson State College, does have a striking cover, designed by W. David Powell. In the image by New York artist Urs Fischer, a human tongue protrudes cheekily from a hole in a sheet of drywall.
The cover has drawn both positive feedback and a few "politely chastising letters," says Jacob White, GMR's fiction editor since 2010, who, with poetry editor Elizabeth Powell, is spearheading the journal's "new direction." "We do like the idea of challenging readers' expectations."
For a journal celebrating its 25th birthday — founding editor and poet Neil Shepard edited the landmark anniversary issue preceding this one — GMR looks surprisingly young. The back cover of the current issue bears a photo of Eileen Myles, an activist poet to whom a large section of the journal is dedicated. (The New York Times has called her a central figure in "a new literary avant-garde.") The pages are studded with well-known names: Lydia Davis, frequent New Yorker contributor James Robison, poet Gary Soto.
But newcomers have a place in GMR, too; the issue
showcases a poem from Burlington's Ben Aleshire, editor of The Salon. (Another Vermont poet featured is St. Michael's College professor Adrie Kusserow.)
White says he and Powell are "very proud of the accomplishments of Neil Shepard and want to continue building on the legacy he's had as editor." At the same time, they'd like to "open the journal to a more diverse range of voices and bring it into a more contemporary conversation."
By building an active web presence, White says — including online-only content — GMR has raised its profile and experienced a "little surge of readership among younger writers." The print version took a circulation hit with the demise of big retailers such as Borders; current circulation stands at just over 1000, down from 1500 a few years ago.
The new GMR has switched from a 6-by-9-inch format to a 6.5-by-7.5-inch one that "looks more square, more fun to read, feels a little more whimsical in the hand," White says.
Indeed, the 161-page journal is easy to slide into a backpack, in tune with a sensibility that White calls "edgier, frankly playful" — and, to an extent, DIY. While a JSC fund and donations cover the journal's production and printing costs, "we don't have really a paid staff, so to speak," White says. "We all do it because we love it, and we put a lot of time into it."
If White and Powell are "trying to rip [the journal] at the seams a little bit and see what happens," as White says, they aren't lighting too far out into avant-garde territory. In the past three years, White notes, GMR has produced "three Best American Poetry selections, one Pushcart Prize and multiple Poetry Daily selections" — strong traditional bona fides.
White, whose own story collection will be published by Leapfrog Press in October, says he hopes to keep old and new trends in "tension." "We think of [GMR] as a party where the people you expect least to get together get together and see what happens," he says. "You like it to feel a little precarious."
Green Mountains Review can be purchased at greenmountainsreview.com, or ask at your local bookstore.