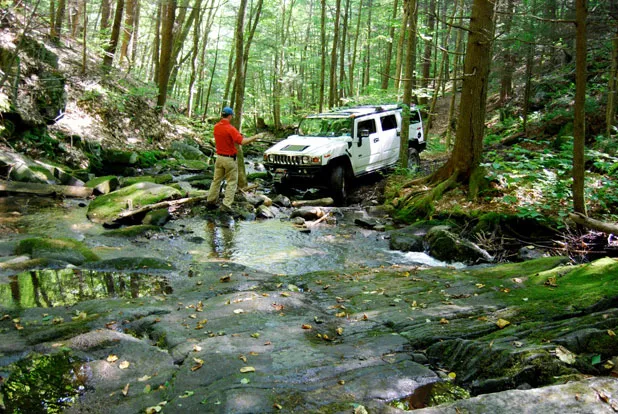 In The World Without Us, journalist Alan Weisman interviewed hundreds of experts and crisscrossed the globe to answer his book's central question: What would the Earth look like if humans suddenly disappeared? Vermonters can find that out by just taking a walk in the woods. There rock-lined cellar holes are inhabited by hardwoods instead of hardy souls; stone walls like serpentine furrows heave and crumble amid third-growth forest; and ancient roads, once main arteries coursing with horse carriages, lie clogged with leaf litter and toppled trees, or washed by spring freshets to treacherous sluices of granite bedrock.
One could spend a lifetime traversing Vermont's hills on foot, seeking evidence of our nearly forgotten forebears and piecing together their unimaginably difficult lives. Most people lack the resources and the will for such a quest. But if you want to pass a couple of hours in the woods, see a few towns and travel the routes frequented in the 18th century — and you have a capable SUV and $250 — you're in luck: You can go Jeep-touring. And you probably won't even get muddy.
Vermont Overland Guide Services, a Woodstock-based business, has cornered the Jeep-touring market in Vermont. While you can pilot a borrowed Land Rover off-road at Manchester's Land Rover Experience Driving School, Vermont Overland is currently the only outfit that lets you drive your own truck on customized tours based on vehicle capability and driver skill. Trips range from two-hour jaunts on well-used Class IV roads — public highways that are not maintained by towns — to five-hour excursions over rougher terrain. The latter sometimes involve winching or other methods of vehicle recovery.
Peter Vollers, 42, is one of three owners of Vermont Overland. This is a side job for him; he works full-time as a real estate attorney. The other owners, Jamil Abbassy and Seth Warren, also have day jobs; Abbassy is a dentist in Massachusetts, and Warren is a realtor in Brownsville. They run two to four trips per month and guide everything from $70,000 virgin Lexus sport utilities to battle-hardened Jeep Cherokees.
On a cool Wednesday morning in late August, I ride shotgun in Vollers' red Jeep Wrangler Rubicon as he drives from Woodstock to Grafton to meet some clients. The plan is to lead them back to Woodstock over Class IV roads. The Wrangler is modified with a 2-inch lift kit and 35-inch mud tires, which the plastic fenders have been trimmed to accommodate. While Vollers drives, a miniature Dachshund named Gretel shivers in his lap, and a Jack Russell terrier bounces around the cabin. A GPS monitor is mounted on the dashboard — "I would be completely lost without this thing," Vollers says — and a CB radio is clipped to the front windshield. In the space where a backseat normally would be are a fire extinguisher, a refrigerator with cold drinks, and a chainsaw for cutting any fallen trees blocking the way.
Vollers has been an off-road-driving enthusiast for about 15 years. What began as an attraction to Land Rovers and their rugged yet gentrified aesthetic morphed into an obsession with modifying the vehicles to be nearly unstoppable. In 2001 he founded the Vermont Expedition Society, a nonprofit club that organizes off-road gatherings in states along the eastern seaboard. Its primary event is the Trans-Vermont Expedition, a four-day safari from Canada to Massachusetts, where the participants drive on at least one Class IV road in every town they traverse, camping along the way. Vollers is also a certified off-road-driving instructor. He describes his addiction to the activity this way: "It's like crack."
Some people may wonder why an attorney would spend a day out of the office to make just $300. Vollers can come up with plenty of reasons. They include emotional engagement ("There's something extremely special about letting other people know how wonderful Vermont is"); an affirmation of legal rights ("It's a public road, not your private walking path"); and a celebration of economic development ("I want to show that there's a commercial component to this"). Vollers' last point encapsulates a major motivating factor: "This" is public access to the Vermont backcountry on ancient roads.
In 2006, Vermont passed Act 178, which provides towns with criteria and a timeline for mapping any ancient roads they want made official. Vollers believes doing so is not just a boon to outdoor recreation, but an opportunity to add to the state's tourism revenue. "My clients are making a vacation largely around my tour," he points out.
On this day, those clients are Steve and Nettie Robinson. They live in Woodbury, a town on Long Island, N.Y. Steve, 58, owns a company that makes police and security uniforms, and Nettie, 56, teaches physical education at various preschools. The couple drove their white, pristine-looking Hummer H2 to the Grafton Inn; later tonight, they'll be staying at the Woodstock Inn.
We pull into Grafton, a museum of a town where everything is just so, and greet the Robinsons at the inn's parking lot. Steve is an athletic-looking gentleman with a receding crew cut and rimless glasses. He's dressed in quasi-military duds: a khaki Hummer Driving School button-down shirt and cargo pants. Nettie, girlish in figure, is sporting Prada sunglasses and a baseball cap.
They both appear overjoyed to be here, and the weather couldn't be much better. Steve gives me a hearty handshake. "I've been on these tours before," he says, "and Peter is a cut above. You'll see."
We drive through the sleepy village, with its clipped green grass setting off its white fences, and roar up a paved road that soon turns to dirt. Vollers leads, and the Robinsons follow, the chrome grill on their 7000-pound vehicle glinting in the sun. The first obstacle of the day presents itself quickly, as we bypass a covered bridge and drive down the stream bank, through the babbling water and up the other side. With these vehicles, it seems, bridges are sometimes optional.
Soon the Class III road ends in a patch of weeds, and the Class IV road begins. All the telltale signs are there: two stone walls, old-growth trees on either side, concave path down the middle. Here we stop to "air down" the tires for better traction. Normal vehicles use 40-50 psi for tire pressure; these trucks will be in the 10-20 psi range.
At the same time, a caravan of bear hunters comes crawling down the old road — two pickup trucks, each with four garrulous hounds in the back. The driver of the first truck gets out, smoking a cigarette and wearing a camouflage-print Red Sox cap. Strapped to his torso is a hefty sidearm. "We've been tracking one all morning," he reports coolly. "Didn't get him, though." They move out, and we get going.
As we bounce along the road at 3 miles per hour, Steve's voice comes over the CB: "It's not often that you get to escape the world and immerse your body and spirits and mind in nature." Vollers smiles.
Farther on, we come across a logging operation. A massive skidder with chains wrapped around its 6-foot-tall tires is whining up the path, pulverizing the road into a fine powder of dirt and rock. Vollers says he wishes the loggers would bypass these old roads, respecting their historical value. Though loggers sometimes repair the road damage, they often bring in aggregate and crushed stones to do it. "The bummer," Vollers says, "is that it's going to look like an improved road rather than an ancient road."
About an hour later, we pop out on a paved road, switch back into two-wheel drive, and get on a highway. We turn off again, navigate a few dirt roads and creep through someone's backyard.
Of the 2700 miles of Class IV roads in Vermont, many start or end this way. "I'm all about accountability," Vollers notes. "If we come near a person's house, I slow way down, and if someone comes out, I stop and say hello, let them know what we're doing. I don't hide."
The highlight of the trip for the Robinsons comes on the third section of ancient road, a long stretch that bisects a 1919-acre estate in Chester. At about the halfway point, we reach a wooden bridge so rotten it wouldn't hold a person, let alone a Hummer. The only way around it is through a stream that cascades down a 30-foot-wide swath of lichen-covered ledge.
Vollers' Jeep makes it with barely a splash. Steve drives the Hummer gingerly down the bank and over a ledge midstream, but he can't make the crux, a large step up the bank, over gnarled tree roots. The beast is stuck. Vollers uncoils the winch on the front of the Hummer, attaches it to a tree 50 feet away, and with the press of a button drags the vehicle slowly up the bank. "He's the master," Steve says. "We're just pawns."
At lunch outside a general store in Cavendish, I ask Steve if the couple would come back and attempt this type of driving without a guide. "No way," he says. "We've been to Antarctica and on safari in Africa. To me, this is just the cost of a fun vacation."
Vollers thinks that's a smart attitude, especially if the Robinsons don't dial down the conspicuousness. "Some people around here," he cautions, "don't take kindly to big Hummers from New York."