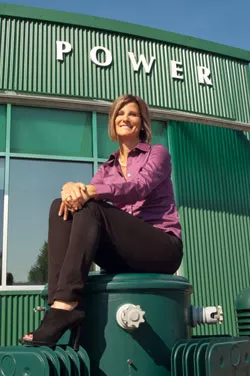 Matthew Thorsen
Mary Powell
The receptionist at Green Mountain Power's Colchester headquarters smiles warmly before buzzing the boss to say her nine o'clock has arrived. Photos of happy utility workers adorn the small waiting area. As with almost every room in the building, the walls are glass.
Beyond the front desk, the floor plan is open; bright colors, high ceilings and low-slung cubicles are everywhere. GMP employees also meet in "virtual" conference rooms that have no walls whatsoever — just a table, chairs and lines on the floor where walls would be, like staging marks on a community- theater set.
The work space of Vermont's second-largest utility revolves around two prominent features: One is a floor-to-ceiling schematic of GMP's energy grid, with video monitors, computer screens and LED readouts. The other major hub of activity is the kitchen, where employees can congregate or grab a piece of fruit, a bowl of granola or some other healthful snack.
Just an apple's throw from the kitchen, in the most heavily trafficked part of the building, is the desk of GMP president and CEO Mary Powell. Like everyone at GMP, she doesn't have a private office or gatekeeper. She works at a stand-up desk that takes up minimal square footage.
Powell's egalitarian workstation, like all of GMP's architecture, was designed to reflect her corporate credo of openness, efficiency and accessibility. Anyone who walks by Powell's desk can see what's on her computer and hear her phone conversations. "If I have to whisper," she notes, "I probably shouldn't be saying it."
The story of Powell's rise to prominence at GMP is well known in Vermont business circles: how, in 1998, she joined a bloated utility on the verge of bankruptcy and, with no prior experience in the energy industry, transformed it into the lean, green corporate machine it is today. By the time she took over as president and CEO, in August 2008, she had become what David O'Brien, the former public service commissioner under Gov. Jim Douglas, calls "the standard-bearer for how to run a utility."
Powell is now poised to command more power than ever, figuratively and literally. Just months ago, she brokered the purchase of the state's largest utility, Central Vermont Public Service, by GMP's parent, Gaz Métro of Montréal. The merged CVPS and GMP will serve three out of every four electric customers in Vermont and oversee the rollout of smart-grid technology, an innovation that has the potential to redefine the role of "utilities" in our lives.
The merger still needs final approval from the Public Service Board, but two facts are certain: The company's new name will include the words "Green Mountain," and Powell will be running the show.
It's been quite a year for Powell, who turned 51 on the day of our interview. In January, she chaired the inaugural committee for newly elected Gov. Peter Shumlin and threw him a "ball" that drew a crowd of more than 1000 supporters and dignitaries.
In May, Powell announced that GMP had secured an agreement with NextEra Energy to buy power from its Seabrook nuclear plant in New Hampshire. The contract, to provide about a fifth of GMP's energy portfolio over the next two decades, barely got a reaction from antinuke activists, in stark contrast to ongoing public pressure to close down Vermont Yankee.
Also in May, GMP got a certificate of public good to start construction on a 21-turbine, 63-megawatt wind project on Lowell Mountain in the Northeast Kingdom. When the Kingdom Community Wind project is completed, in late 2012, it's expected to generate enough power to light more than 24,000 homes. The $156 million project brings GMP a giant step closer to fulfilling Powell's goal, announced shortly before she took the reins three years ago: to get a 10th of GMP's energy from wind by 2032.
But 2011 hasn't been a total breeze, either for Powell or GMP. The Lowell project faces resistance from detractors who denounce the ridgeline development as too large, destructive and out of character with Vermont's environmental ethic. Critics include Steve Wright, the former Vermont Fish & Wildlife commissioner. In a September 29 op-ed published in the New York Times — where Powell's brother, Michael, works as a columnist — Wright condemned the project as "ecologically disastrous" and "a desecration in the name of 'green' energy." Just days ago, the Agency of Natural Resources temporarily halted work on the project, citing violations of the Clean Water Act.
Yet few expect ANR's latest action to be more than a speed bump in GMP's ambitious drive to convert its energy portfolio from fossil fuels to cleaner renewables. Just weeks ago, Shumlin unveiled the state's first comprehensive energy plan in more than a decade. In it, he proposed meeting 90 percent of Vermont's total energy needs from renewable power by 2050. To reach that goal, he and other state officials will be looking, in large part, to GMP and Powell to lead the way.
Powell perfectly embodies the company she has reinvented over the last 13 years: She's trim, energetic and looks younger than her age. A frequent runner, she has a marathoner's build, a perky haircut and outdoorsy good looks. Her easygoing style belies a tireless work ethic and the entrepreneurial spirit of a Silicon Valley techie.
Powell describes herself as "hard-wired for efficiency," which is a recurring theme in virtually every project she's undertaken. David Coates, the Democratic elder statesman from Colchester, says that's why he and then-governor Jim Douglas asked Powell to cochair the Vermont Institute on Government Effectiveness in 2003. The goal was to trim government waste and save taxpayers money. Powell may lack formal education in engineering or physics, Coates says, but she seems to have an instinct for moving "power" via the path of least resistance.
That includes political power. Indeed, a number of recent news reports have commented on the direct line that seems to run between GMP headquarters and the governor's office. As Shay Totten noted in his July 6 Fair Game column for Seven Days, the inaugural ball that Powell organized raised nearly $190,000 from private and corporate donors. Little wonder, Totten noted, that Shumlin spoke so enthusiastically about Gaz Métro's bid to buy CVPS but extended a chillier reception to its Newfoundland-based suitor, Fortis.
But while Powell may be on the short list of Vermont business leaders who can seriously influence policy in Montpelier — she claims the media have vastly overstated her ties to the governor — she doesn't see herself as a "political person," and certainly not an "ideological" one.
"Not at all," she insists. "My passion is getting important things done for this state. And my loyalty is always to people who, I believe, are doing things that excite me in terms of meaningful change. I just love Vermont."
Coates, who was recently appointed the new chair of the Vermont Long-Term Recovery Disaster Group, agrees with Powell's self-assessment. "I don't think she's political," he says. "With Mary, what you see is what you get."
Lawmakers who've watched Powell for years in the Statehouse echo that impression.
"She's a straight shooter," says Rep. Tony Klein (D-Montpelier) who chairs the House Natural Resources and Energy Committee. "I may not always agree with what she does ... but she tells it like it is, and I have a great deal of respect for that."
Indeed, Klein had harsh words for GMP last spring, after it announced its deal with Seabrook. At the time, he called it "hypocrisy" that GMP would counterbalance the serious environmental issues associated with nuclear waste by celebrating nuclear's relatively low carbon footprint.
Still, the Seabrook deal was a brilliant stroke. By securing a 23-year power purchase agreement, Powell appeased both sides of the nuclear debate: She secured for the forseeable future an energy source that's safer, cheaper and more reliable than Vermont Yankee — and Not in Our Backyard. And, because the agreement calls for gradually reducing GMP's reliance on Seabrook from 60 to 40 megawatts over the life of the contract, Powell also fulfilled her 2008 promise to reduce GMP's dependence on nuclear.
Finally, by securing a purchase price that is several cents lower per kilowatt-hour than power from Vermont Yankee, Powell effectively made VY relicensing a nonissue for major GMP customers, including IBM, the state's largest energy user.
Barbara Grimes, general manager of the Burlington Electric Department, says that even before the legislature voted against relicensing VY, Powell was already traveling around Vermont talking about how GMP would "ramp down" nuclear as it "ramps up" renewables.
"That's something many Vermonters wanted to hear," Grimes says. "Notice, she didn't say 'shut' or 'close down.' She said 'ramp down.'
"While Mary certainly understands her corporate responsibilities," Grimes adds, "she also understands what it means to do business in Vermont and wants to do it in a way that works for Vermonters."
Powell grew up on the Upper West Side of New York City, the youngest of three children. Her connection to Vermont was a seasonal one; the Powell family spent summers on Malletts Bay.
Powell attended what was then Fiorello H. LaGuardia High School of Music & Art and Performing Arts, and long assumed she'd follow in her actor father's footsteps. But even as a child, she seemed more inclined to direct others and admits her siblings and friends described her as "bossy."
After earning a degree in arts and music at New Hampshire's Keene State College, Powell returned to New York City, where she got a job as a technical writer at the Reserve fund. Seven years later, at age 28, she was promoted to associate director of operations. Despite her lack of a business education, the money-market fund grew from $200 million to $3.5 billion during her tenure. That kind of performance has become Powell's pattern.
In 1989, Powell and her husband, Mark Brooks, moved to Vermont, where they started four different companies. Among them is Spot the Dog, which sells reflective outerwear for pets. Brooks still runs it out of the South Hero home the couple shares with their 15-year-old daughter, Alexandra. Powell and Brooks are also landlords; they own the building that houses Blue Paddle Bistro.
Powell came to GMP from a VP position at the Bank of Vermont in early 1998, a critical moment in the utility's history. The company had recently spun off an unregulated subsidiary called Green Mountain Energy and in the process lost some key managers.
Worse, GMP had just gotten hit with an "adverse order" from the PSB, which essentially prevented the utility from recouping $22 million from ratepayers to comply with its energy contract with Hydro-Québec. Simply put, GMP was in dire financial straits.
Although Powell was hired as vice president of human resources and organizational development, "It was the 'organizational development' piece that I drove a truck through," she says.
Steve Terry, a former GMP vice president who worked there from 1985 to 2006, has a "long history" of watching Powell in action; as a partner at Worth Mountain Consulting in Middlebury, he still does consulting work for the utility. Terry says that neither he nor then-CEO Chris Dutton ever doubted Powell's instincts.
"It became very clear to Chris, and certainly to me, that Mary's skill was in how to create and run an effective operation," Terry says. Within six months, she completed a top-to-bottom efficiency review of the company. She also relocated GMP out of its lavish South Burlington headquarters, derisively called the "glass palace," with its marble staircases and executive washrooms.
"To me, the glass palace spoke to disconnection with customers," Powell explains. "It spoke of disconnection from reality."
Powell also seized on the idea that GMP could boost its customer service by employing new technologies. She issued laptops and cellphones to line workers to reduce their paperwork and so they could respond faster to customers.
Most importantly, Powell changed GMP's stuffy and bureaucratic culture and made it, as she puts it, "fast, fun and friendly." She recognized that GMP had many talented and creative people but also needed to position itself to attract the next generation of employees.
First, there was the problem of cutting staff from 345 employees down to 210. But Powell, who'd just come from a major downsizing at Bank of Vermont, made it clear to CEO Dutton that she wasn't interested in overseeing massive layoffs. Instead, older GMP workers were offered early retirements with generous separation packages. As she puts it, "It was done in the most humane way possible."
"There were some senior leaders who did not think she could succeed, and at least two of them took an early buyout because they were convinced she wouldn't," Terry notes. In fact, others in Vermont's utility industry fully expected Powell to "crash and burn," Terry says.
She didn't, he asserts, because she approached GMP's business less like a regulated utility and more like what it is: a customer-service industry. In 2002, Dutton appointed Powell chief operating officer. By 2006, he says, it was clear to everyone that one day Powell would run the company.
When Gaz Métro first expressed an interest in buying GMP in 2005, Powell admits that, like most Vermonters, she had never even heard of Québec's largest natural gas company. This, despite the fact that Gaz Métro had owned Vermont Gas Systems since 1986. But Powell's interest was piqued by "how incredibly different their culture was from the classic American corporate utility culture." Gaz Métro, Powell says, "felt different. And they are different."
In some respects, the $187 million deal, which closed in June 2006, has made Powell's job easier. Rather than answering to thousands of shareholders, she now had just one. That means fewer board meetings. And, as Powell predicted, Gaz Métro allowed GMP management to run it as a "Vermont company."
"It's deep in their DNA," she says. "They have an incredible respect for local governance and local decision making."
Terry says Powell's business savvy in negotiating the Gaz Métro purchase of GMP later proved invaluable in convincing Sophie Brochu, Gaz Métro's current president and CEO, that the GMP/CVPS merger would be good for both companies. After all, without Gaz Métro's financial resources, the merger would not be possible.
Powell was hardly the first person to think of combining Vermont's largest electric utilities under one roof. When she first suggested the idea — after a week on the job in 1998 — she says, "I was humbled to find out that people had been saying that for 40 years." Nevertheless, Powell was the one to make it happen.
"The theme of my whole career has been all about ... how you set a vision, how you set a strategy and then how you execute," Powell says. "Good ideas are a dime a dozen. Implementation is rare."
Terry insists it wasn't Powell's political connections but her business savvy that allowed her to succeed where others had not. With a potential savings to Vermont ratepayers of $144 million in the first 10 years, and almost $500 million over 20 years, Terry says the GMP/CVPS merger is "a no-brainer."
"No question that Shumlin liked the savings potential," he adds. "But it wasn't because of politics. It was because of the numbers."
From his perspective, Rep. Klein sees the GMP/CVPS merger as a "lost opportunity" for Vermonters to own a public utility.
"Having said that," he adds, "out of all the companies in Vermont, the one that I would want buying the other ones and running the show today is led by Mary Powell."
Clearly, Powell has her work cut out for her as she merges two vastly different corporate cultures. From Klein's perspective, CVPS is "stuck in the dark ages" and "very stodgy and resistant to change."
Understandably, Powell speaks more diplomatically about the 540 CVPS employees who will soon join her team. Compared with GMP's more "entrepreneurial" culture, she describes the Rutland-based utility as more "formal," "risk averse" and "attached to process."
GMP and Gaz Métro have promised there will be no major layoffs or relocations. But Powell sees opportunities to streamline the new company. Within five years, she notes, 40 percent of GMP/CVPS employees will have hit age 63 and have at least 20 years of service under their belts.
"We have a once-in-a-lifetime opportunity to make a transition to a more cost-effective future without causing any harm to people or existing jobs," Powell explains. Already, her hard-wired efficiency switch is "on."
Jeffrey Wimette is business manager at the International Brotherhood of Electrical Workers Local 300, which represents 107 workers at GMP and 230 workers at CVPS. He says that, despite GMP's assurances, there's "still a lot of anxiety there" about what the takeover will mean for CVPS jobs. Nevertheless, for a union leader he has surprisingly positive things to say about Powell's management style.
"I think Mary requires a lot out of her employees and, in turn, they do a lot for her," Wimette says. "She runs a tight ship, and she's very business savvy. But she's fairly easy to get along with and is always looking for the best possible route and how to get there."
Following her path, though, Powell has stepped on some toes. Annette Smith is executive director of the environmental group Vermonters for a Clean Environment, which represents a small but vocal minority of people who live near and oppose the Lowell wind project, including residents of Albany, Eden and Craftsbury. In recent weeks, activists have been camped out on private land near the construction zone to protest what they say are miles of excessive road building, habitat fragmentation and wetlands damage.
"I am amazed by the power and influence she has over the Shumlin administration," Smith says of Powell. "I have watched her and Green Mountain Power make the public process at the Public Service Board into a joke, and made the scientists at the Agency of Natural Resources no longer necessary."
Smith points out that the PSB decision to approve the Lowell project, without a full investigation into the possible environmental damage, passed on a 2-to-1 vote. In his dissenting opinion, PSB member John Burke highlighted some of the problems created by that decision. Arguing for additional technical hearings prior to deciding the adequacy of GMP's remediation plan, Burke wrote, "I understand that time constraints exist in this matter … but that does not legitimize the abrogation of the parties' constitutional rights."
Sen. Ginny Lyons (D-Chittenden), who chairs the Senate Natural Resources and Energy Committee, says she would have preferred to see a better statewide plan for siting projects. "I was never thrilled with the idea of that ridgeline being given over to industrial wind," she notes.
But while it's "not a perfect project," Lyons nevertheless contends that GMP and Powell "bent over backward to ensure that all the towns were included in the decision-making process ... whether they're for or against the project."
Asked about the Lowell controversy, Powell smiles and sighs. She insists that the project actually reflects the desire of Vermonters, including those who live in and around Lowell, to see more wind projects built in state. She notes a Department of Public Service poll finding that 90 percent of Vermonters support wind, "even if they can see it." Moreover, 75 percent of Lowell voters approved of the project in a town vote.
"My hope is that Vermonters will look on this with great pride one day," Powell adds. "Would I like a perfect world where Steve Wright and Annette Smith love this project? Who wouldn't? But when you have the overwhelming majority of society saying they want something, you'll still have some people saying, 'Not here.'"