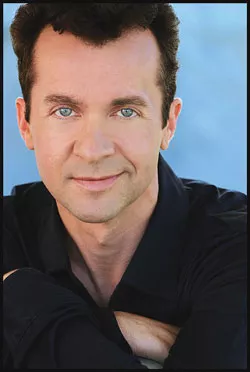 GMOF Artistic Director Bruce Stasyna
It's a cliché in Vermont to say the hills are alive with the sound of music. But this week, that is literally true — just not with Rodgers and Hammerstein.
The Green Mountain Opera Festival, which sponsors the state's only young-artists program for opera singers, launched its eighth season this week with an event geared toward the 12 young singers in its Emerging Artists Program: a master class with Metropolitan Opera assistant chorus master Joseph Lawson. The singers' master-class performances are free and open to the public. Later in the three-week festival, vocal-technique buffs can also watch for free as two other opera eminences hone the young singers' skills: Steven Blier, who cofounded the New York Festival of Song and Antony Walker, the artistic director and conductor of Washington (D.C.) Concert Opera and music director of Pittsburgh Opera.
Though the GMOF features multiple events, including culminating performances of Britten's Albert Herring by the emerging artists and Mozart's Don Giovanni by professionals, new artistic director Bruce Stasyna is particularly excited about the master-class series. And that makes sense: He directed the festival's Emerging Artists Program for the past six years under former artistic director Taras Kulish.
"[Blier] is my coup for the festival," Stasyna enthuses during a phone call from New York City. "I was really afraid to put the pitch out there, but I thought, if I'm going to do this, I'm going to go for my big gun."
Stasyna first worked with Blier when the former was the Wolf Trap Opera Company chorus master on a series of recitals that Blier conducted. Also a piano accompanist, Blier has given recitals with renowned opera stars including Renée Fleming and Samuel Ramey.
Stasyna has worked extensively with Australia-born conductor Antony Walker at Minnesota Opera, where the former was music director for six years; and at Washington Concert Opera, where Stasyna took up his current post as chorus master and assistant conductor at Walker's invitation. Walker will also conduct Giovanni. Stasyna says he chose him because "I wanted someone really strong who gets Mozart's style" — particularly his Baroque style.
Happily, Stasyna recently discovered, his percussionist will come with his own Baroque timpani, which tends to have smaller, calfskin drum heads and mallets with heads wrapped in leather, creating a bright, focused sound.
"These are tiny little things," Stasyna admits. "Some people won't even know the difference, but the musicians will go, 'Wow.'"
The new director has had to reconcile his zeal for high quality with GMOF's recently straitened circumstances: Its customary National Endowment for the Arts grant was one of two $10,000 grants the festival did not receive this year. This summer's operas will be semi-staged rather than fully, though Stasyna promises they will be "highly theatrical presentations that really put an emphasis on telling the story." There will also be one production of the Emerging Artists' opera rather than two, and no Broadway picnic as in the past.
However, a new event has been added to the roster that promises to have wide appeal. This Friday, the public can hear a handful of the emerging artists sing in the intimate space of the West Branch Gallery in Stowe. Co-sponsored by Stowe Area Opera Lovers, "Opera at the Gallery" will offer cocktails, hors d'oeuvres, art viewing and arias from the season's two operas.
The idea behind the Stowe event is to reach new audiences, says Doreen Simko, former board president of the Green Mountain Cultural Center in Waitsfield — GMOF's parent nonprofit. Says Simko, "If you're actually hearing these singers, that can be a great inspiration to go see the operas."
This year's gala concert and champagne reception at the UVM Recital Hall (June 14), titled "Don Giovanni Behind Closed Doors," promises both fun and intrigue. Stasyna explains, "There's a lot of rumor around the character and motives of Don Giovanni. What really happened to Donna Anna and Donna Elvira? We don't know" — other than that they are two of the Don's victims of seduction. The program will "explore the inner life of the young Giovanni" using the American Songbook, Gershwin and others. "There's at least one 'do' and one 'wop' in the evening," Stasyna promises.
The director chose the season's operas as a nod to the festival's past and future. Giovanni is one of three operas on which Mozart collaborated with the great librettist Lorenzo Da Ponte. The GMOF has already produced the others, Le Nozze di Figaro and Così fan tutte; Stasyna considers finishing the trilogy an "homage" to past achievement. Britten's comic 1947 opera, by contrast, looks forward. "Britten really influenced the landscape of contemporary opera," Stasyna says, and this year is the centenary of the composer's birth.
Baritone David Castillo, 25, a returning Emerging Artist — and one of 475 singers who auditioned for the program this year — will sing Sid in Albert Herring. Speaking from Los Angeles, Castillo calls GMOF's opera choices "smart," and the Britten work "one of the best operas for young singers to do. Britten writes really well for the voice, and Albert is challenging musically," but not heavy, he opines. The story involves staid Albert, crowned May King for his confirmed virginity, going off the deep end as a result of Sid's mischievous prodding.
At his first GMOF season last year, Castillo was still earning his master's in vocal arts at the University of Southern California and was among the youngest participants. "That's what I loved about the program: Most had been doing the young-artist thing for a while," he recalls. "They had maturity in their voices. That really pushed me to do better. It was a really fantastic growth experience for me." And, he adds, "I didn't know how beautiful Vermont was."
Wendy Brauer, as the new GMCC board president, has been working hard on finding housing in the Mad River Valley for Castillo and the other singers, emerging and professional — her job's biggest challenge, she estimates. While she's placed the non-locals among the 31 musicians of the Giovanni orchestra (Albert will have 11) with families for their short stays, for the singers she has needed to secure donated condominiums that are privately owned.
The effort is entirely worthwhile, Brauer says. "It's a huge thing to be able to support the next generation of opera singers. And they love it here."
"Opera at the Gallery," Friday, May 31, 5:30-7:30 p.m., at West Branch Gallery in Stowe. $25. The full schedule of Green Mountain Opera Festival events is at greenmountainoperafestival.com.
Other Opera This Summer: The Opera Company of Middlebury opens its five-performance run of Tchaikovsky's Eugene Onegin this Friday, May 31. ocmvermont.org
The Oriana Singers of Vermont perform a concert version of Gilbert and Sullivan's operetta Pirates of Penzance on Monday, July 15, as part of the Vermont Summer Music Festival. vermontsummermusicfestival.com
Opera North, in Lebanon, N.H., begins a four-performance run of Donizetti's Lucia di Lammermoor on Tuesday, August 6. operanorth.org