The box office for Montpelier's Green Mountain Film Festival opened for business on March 7. By midafternoon on March 8, when executive director Rachelle Murphy and programming coordinator Eric Reynolds spoke by phone with Seven Days, their screening of Alfred Hitchcock's 1938 classic The Lady Vanishes was nearly sold out — more than a week before the start of the festival.
OK, a sellout in the cozy 40-seat downstairs screening room at the Savoy Theater is less impressive than a sellout at Radio City Music Hall. But it ain't bad for a 78-year-old film playing at 10 a.m. on a Sunday. Favorable omens like this one suggest that Murphy and Reynolds' confidence in 2016's film fest is not misplaced. They also suggest that it's not too soon to pick up tickets for the event, which runs March 18 to 27.
This year's GMFF lineup includes 55 features and 48 shorts of various genres. Movies from more than 30 countries will soon appear on the Savoy's two screens and on a third at the Pavilion Auditorium. Also on the program are a 48-hour filmmaking sla" and in-person and Skype conversations with several filmmakers.
Along with the expected documentaries, dramas, comedies and animation, the fest brings a slate of the social-justice films that have long played well with Vermont audiences. A five-film series of movies about movies honors the recently deceased Bill Morancy, a longtime friend and supporter of the festival who is best known to Vermonters as the cohost, along with Rick Winston, of Onion River Community Access Media's long-running show "Talking About Movies."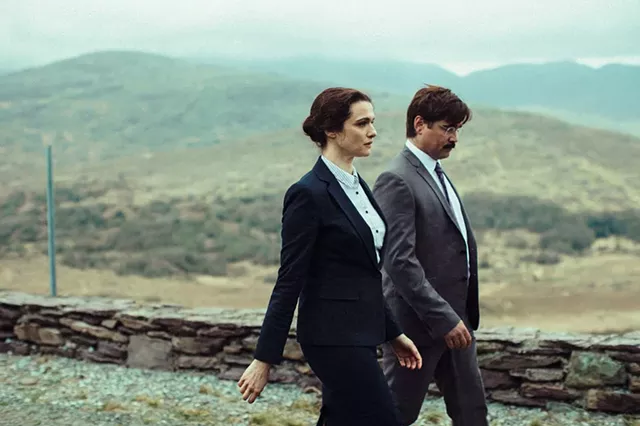 This is the GMFF's 19th year, and Murphy's second as its director. Though she and Reynolds had not shared programming duties before last year, they quickly developed a rapport. It seems to have worked. Ticket sales for last year's event exceeded projections by about $6,000 — no mean sum for a small festival that derives half of its income from ticket buyers.
The organizers' excitement is infectious. Murphy pointed to an increase in the number of sponsors, numerous phone inquiries and a general local buzz about the fest. She attributes it in part to the traffic, and revenue, the GMFF brings to America's smallest state capital.
"We're the longest-running arts event in Montpelier, so I think a lot of people get excited that, when [the fest comes] to town, everyone comes to town," Murphy said. She backed that up with numbers: Last year, festival patrons came from 140 of Vermont's 251 towns.
Reynolds is happy that the GMFF is able to show Vermonters a few acclaimed titles before those films go into general release. Two of them are High-Rise, directed by fest favorite and buzzworthy director Ben Wheatley; and The Lobster, a dark comedy about shape-shifting that stars Colin Farrell.
As far as the organizers know, another 34 of GMFF's feature films have not yet been shown in Vermont. That's to say nothing of the numerous shorts, some of them made by local filmmakers. One film might hold special interest for local moviegoers. A Vermont Romance, a recently restored 100-year-old melodrama shot in the Green Mountain State, receives its public debut at this year's fest.
"When it comes down to it," said Murphy, "what we're trying to do is bring the best movies from all over the world to Vermont." She and Reynolds are enthused about Krisha, an intense family drama featuring a highly praised performance by namesake Krisha Fairchild; Office, a parti-colored Hong Kong musical about the 2008 financial crisis, directed by maestro Johnnie To and starring screen icon Chow Yun-Fat; and Palio, a documentary about Italy's semiannual Palio di Siena horse race. Reynolds particularly praised the doc's cinematography.
The organizers are just as jazzed about the festival's prospects. "It's been a really great working atmosphere this year," said Murphy. "We just have more confidence, and it's nice to continue on that journey."