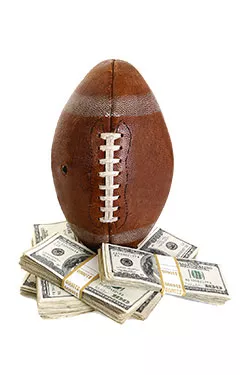 Charlotte-based documentary filmmaker Fritz Mitchell says in the intro to his latest work, "Like fishermen, gamblers are known for stretching the truth." That's a provocative statement, especially considering that the film's subject matter — and narrator of sorts — is the late gambling icon Jimmy "the Greek" Snyder. But, as The Legend of Jimmy the Greek ultimately reveals, exaggeration is unnecessary to anyone relating the classic tragedy that was the Greek's life.
Snyder is best remembered as an "analyst" on the groundbreaking CBS pre-game show "The NFL Today" in the late 1970s and '80s, but he was more about pari-mutuel than punditry. Born to humble beginnings in an Ohio mill town, he parlayed a savant-like understanding of gambling and a sleazy, ruffian's charm into fame and, occasionally, fortune. For more than a decade, the Greek was one of America's most recognizable faces and he legitimized gambling on a national scale.
But, as Mitchell gracefully demonstrates, Snyder's fall was as precipitous as his ascent was dramatic. In 1988, at the prodding of a television reporter, the Greek opined on the supposed superiority of black athletes over their white counterparts, infamously crediting slavery and selective breeding. He was immediately dismissed from CBS and essentially exiled from public life. Jimmy the Greek died in 1996, broken — and broke.
Mitchell's film is part of an ambitious project recently undertaken by ESPN called "30 for 30," a series of original documentary films made in celebration of the sports entertainment network's 30th anniversary. The brainchild of ESPN columnist Bill Simmons, "30 for 30" presents 30 films from as many filmmakers, focusing on underreported sports stories from the past three decades — stories with which the filmmakers often have a personal connection. Mitchell, a Peabody Award-winning documentarian and frequent ESPN collaborator, broke into television as an intern on "The NFL Today" during the Greek's tenure.
This Monday, ESPN Films presents a screening of Mitchell's doc, along with Muhammad and Larry by Albert Maysles (click here for a review), at the FlynnSpace. Both were edited by Paul Carruthers of Burlington. The Legend of Jimmy the Greek debuts on ESPN on Tuesday, November 10.