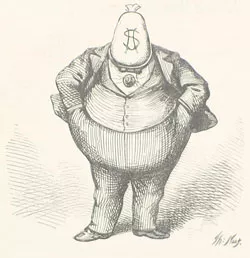 "Irresponsible," spat President Obama of the banking executives awarding themselves humongous bonuses just after the Treasury FedExed a trillion dollars to Wall Street. "Shameful."
When did we stop adulating the wealthy? Was it when Merrill Lynch CEO John Thain chose the moment his company received its $20 billion handout to dial his decorator and discuss that $1.22-million office renovation? Was it the $35,115 toilet, the $1405 trash can? The total of those executive bonuses, $18 billion?
As a nation, we'd been indulgent. We didn't begrudge the recipients of Reagan's and Bush's greenback-stuffed tax policy billets doux. If we noticed the corporate suites getting spiffier while the streets outside grew shabbier, we defended the executives: They deserved it! They created wealth! We didn't mind those $35,000 commodes flushing directly onto our faces.
Now, as we trace the line from the mahogany-paneled offices, through the warehouses of toxic paper, and out the other end to the cinderblock unemployment offices . . . well, let's just say the word lynch takes on new associations.
It's not the first time our ardor has cooled. In an elegant little book called Wall Street: America's Dream Palace, historian Steve Fraser shows how popular affections for capitalism's high-end gamblers have waxed and waned. In the years following the Civil War, the financiers who had been regarded a decade earlier as slimy "confidence men" came to be viewed as "Napoleonic." They remained heroes until the excesses of the Gilded Age — and the resultant crash of 1929 and Great Depression — again brought them condemnation as "immoralists." Fraser credits early-20th-century labor and socialist movements for turning widespread resentment into politicized resistance, and forcing policy change. He thinks it could happen again, and I hope he is right.
But how? Anger at outsized greed, Fraser notes, is "a righteous emotion," which can "arouse people to do battle with institutions." But focusing on individuals can also draw our gaze away from the "systematic reorganization" of capitalism that has concentrated power and wealth in a few hands.
In other words, we need class consciousness. We need to name greed, if not as a characteristic of owning-class people, then as a confederate of their interests. Is it too late?
To retrace the recent history of greed, I rented Oliver Stone's Wall Street, released in 1987, the year the stock market crashed and the galloping second Gilded Age took a breather. I'd remembered the film delivering a deft yet firm guilty verdict on the era's values. Instead, it quivers with our perennial ambivalence toward Wall Street — and our reluctance to acknowledge the crimes of a class, rather than condemning individual sin.
The movie tells the story of an ambitious young stock trader, Bud Fox (Charlie Sheen), who buys the attention of his idol, working-class Jew turned billionaire arbitrageur Gordon Gekko (Michael Douglas), with an inside tip about the airline where his father, Carl Fox, is the union rep. Gekko takes Bud under his wing; Bud gets rich. But when Gekko's dirty dealings threaten to sink Carl's company — and with it, the workers' jobs — Bud must choose. Rejecting the wicked stepfather, he returns to the arms of his real, good father.
Stone drives the message home with the subtlety of a rivet gun to the skull. "Stop going for the easy buck and start producing something with your life," Carl admonishes Bud. "Create, instead of living off the buying and selling of others!" Gekko, boasting of his power and wealth, delivers an equal and opposite rejoinder: "I create nothing. I own." Gekko's famous words, "Greed is good," of course imply "greed is bad."
But at 22 years' remove, the message isn't so clear. In the last scene, Bud is climbing the steps to the courthouse where he will be convicted of insider trading — nabbed on a tip-off from none other than his tutor in crime, Gekko. But while the apprentice goes to prison, the master goes back to the office to continue gleefully merging and acquiring, slashing and burning jobs and lives, and hauling in the dough.
Hardly an indictment of capitalist morality. Indeed, the prodigal son's return is only incidentally, and not necessarily, an endorsement of his father's blue-collar values.
Wall Street is a Rorschach of unresolved class loyalties. Stone made the film as a tribute to his father, a wealthy stockbroker; one of its most sympathetic characters, Lou Mannheim, is based on Lou Stone. Mannheim is always taking Bud aside and advising him to watch the fundamentals; none of this go-go stuff — slow and steady wins the race. The director imagines a kinder, gentler Wall Street — and a kinder, gentler Wall Street broker, suavely negotiating the border between dubious ethics and illegality. The intrusion of the brash arrivistes Gekko and Bud into these patrician precincts reads as an offense of style rather than of substance.
Like Bud, Stone can neither embrace nor renounce his family's class. So he turns the story into a fable of fathers and sons. Stone loved his father, and if Dad was a successful capitalist, then capitalism can't be that bad. Carl Fox, meanwhile, is an honest man but also a rigid one, a Marxist dinosaur. In the end, you sense Bud can't go home again, because that home is an illusion. He can't return to Wall Street, either, but not because Wall Street itself is corrupt; because he was.
Wall Street reflected a then-growing popular sentiment. Crime may not pay. But greed does. Soon after the film's release, magazine articles began musing on the question "Is greed good?" Most of the writers, bullish financial advisers and free- market boosters, answered, You bet.
Is Mammon worship over? In 1931, British economist John Maynard Keynes (of all people) predicted it would someday be. "When the accumulation of wealth is no longer of high social importance, there will be great changes in the code of morals. We shall be able to rid ourselves of many of the pseudo-moral principles which have hag-ridden us for two hundred years, by which we have exalted some of the most distasteful of human qualities into the position of the highest virtues," he wrote. "The love of money as a possession . . . will be recognized for what it is — a somewhat disgusting morbidity, one of those semi-criminal, semi-pathological propensities which one hands over with a shudder to the specialists in mental disease."
While polishing this prose, Keynes was also promoting consumer spending as the road to capitalism's recovery. So he qualified his definition of that social pathology: "the love of money as a possession — as distinguished from the love of money as a means to the enjoyments and realities of life."
It was a tough distinction to make then, and it still is. President Obama denounced the bankers' gluttony, but he wasn't ready to rule out overeating. "This is America," he said, announcing a $500,000 cap on the salaries of bailout-receiving bank executives. "We don't disparage wealth. We don't begrudge anybody for achieving success, and we certainly believe that success should be rewarded. But what gets people upset, and rightfully so," he went on, "are executives being rewarded for failure — especially when those rewards are subsidized by U.S. taxpayers, many of whom are having a tough time themselves."
We don't want to reward failure, but we're happy to reward overweening success. We don't want to reward exorbitant greed, but we'll rekindle an appropriate amount of consumer desire. A $35,000 taxpayer-funded toilet demonstrates shamefully bad taste. But might we interest you, as a spur to increasing tax revenues, in this $3800 Philippe Starck X European toilet, which, as any shelter magazine will assure you, is in excellent taste?
Greed is a matter of degree, and degrees change with history. In Wall Street, the shareholders gasp when Gekko reveals the salaries of their company's vice presidents — $200,000. The week Obama proposed that salary cap, the New York Times laid out the annual expenses of a typical Manhattan financier's family — mortgage payments, $96,000; private school tuition, $32,000 — under the half-ironic headline "You Try to Live on 500K in This Town." The article induced a kind of moral vertigo. On the one hand, you despised these people. On the other, you almost felt sorry for them — or for yourself, now that such a lifestyle had been declared illegal by executive order.
Yes, many of us, stockholders all, were waiting to become John Thain. Like Joe the Plumber, we imagined passing on a death-tax-free million to our children. It wasn't greed that motivated us. We just wanted the good life.
Keynes thought that once we achieved that life, greed would become an anachronism that we would "be free, at last, to discard." But he struggled with the question of when good would feel good enough. How evil does evil have to get before we change the system to reward something else?
We'd better get our politics moving — and our policies changed — while greed is in the slammer. Because Gekko is still at the office, and once capitalism is back on the street, he will rise again.