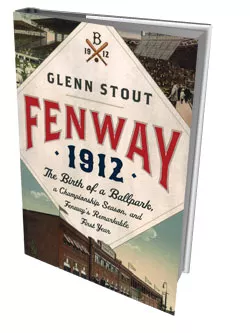 Vermont is not exactly a major sports hub. Aside from occasional national tournament appearances by our college teams, a Minor League Baseball team and, of course, the winter sports industry, athletics tends to be a secondary pursuit in the Green Mountains. But that doesn't mean writers from Vermont, or with ties to the state, can't publish sports books — four of 'em, in fact, have come out since late 2010.
Here's a quick look back at each of those tomes — three of which were previously noted in Seven Days.
Welcome to Fenway Park
In 2012, Boston's Fenway Park will celebrate its 100th anniversary. Over that century of baseball, some of the most memorable, and infamous, moments in American sports history have taken place within the friendly confines of the Red Sox's beloved bandbox: Carlton Fisk waving a game-winning home run fair in Game 5 of the 1975 World Series; Bucky (bleepin') Dent breaking the hearts of the Fenway faithful in a season-ending tiebreaker game in 1978; David Ortiz's late-inning heroics in the 2004 American League Championship Series. The list goes on. But it all started a hundred years ago, with one of the great seasons in Boston Red Sox history.
In his new book, Fenway 1912: The Birth of a Ballpark, a Championship Season, and Fenway's Remarkable First Year, Vermont author Glenn Stout (Red Sox Century; Yankees Century; editor, The Best American Sportswriting of the Century) digs into that remarkable season and the story behind Major League Baseball's oldest ballpark. Covering everything from the blueprint responsible for the park's bizarre field dimensions to the unlikely team that would bring home the Sox's second World Series championship — the first of four in six years — Stout brings a golden era of Red Sox baseball to life and sheds a new light on its iconic home, Fenway Park.
Fenway 1912: The Birth of a Ballpark, a Championship Season, and Fenway's Remarkable First Year by Glenn Stout. HMH Books, 416 pages. $28.
*****
The Wonder of It All
The University of Vermont was once a baseball powerhouse. That might be tough to believe, given that the school cut its hardball program in 2009. And, admittedly, you have to go back a few years. But from 1890 to 1893, the UVM nine were among the greatest college baseball teams to take the field, posting a record of 129-57-4 and nearly winning the very first Intercollegiate Base Ball Tournament in Chicago — we call it the College World Series today.
Vermont author and baseball scholar Tom Simon writes about that team in his latest book, The Wonder Team in the White City: U.VM. at the Intercollegiate Base Ball Tournament of 1893, published earlier this year ("The Wonder Years," Seven Days, April 13, 2011). Using old news clippings and documents from the UVM archives, Simon details the often unseemly behind-the-scenes maneuvering that elevated UVM from baseball also-ran to diamond juggernaut — let's just say the current crop of NCAA recruiting violations seems almost precious by comparison. Simon then transports us to the tourney in Chicago, where the team had its brush with greatness and, ultimately, embodied a great irony.
The Wonder Team in the White City by Tom Simon. Gardner-Waterman Press, 131 pages. $15.
*****
Card Tricks
Josh Wilker was a weird kid. Born in 1960s New Jersey into a nuclear family but raised in rural Vermont in the 1970s by his free-spirited mother and her lover, Wilker had an upbringing that was anything but conventional. In an attempt to make sense of his unusual childhood, Wilker wrote a memoir, Cardboard Gods: An American Tale, released in paperback in March, that chronicles his formative years in East Randolph ("House of Cards?" Seven Days, May 18, 2011).
As a child, Wilker was an avid baseball-card collector who sought emotional refuge in his stacks of Topps. A misfit and the frequent target of bullying by schoolmates, he found an escape in baseball cards, the way others might lose themselves in books or movies. In his book, Wilker recounts his childhood through the prism of his glossy heroes, identifying and examining defining moments of his life by associating them with specific cards and players. They range from icons such as Reggie Jackson, Jim Palmer and Tom Seaver to long-forgotten players, a motley collection of has-beens and never-weres such as Rudy Meoli and Mike Kekich.
Wilker's critically acclaimed memoir is alternately hilarious and heartbreaking. Through his so-called cardboard gods, he presents a moving, insightful, and, at times uncomfortably honest examination of both his early life and the 1970s generally, in a way that is equal parts Proust, "This Week in Baseball" and "The Wonder Years."
Carboard Gods by Josh Wilker. Algonquin Books, 243 pages. $15.95.
*****
Luck of the Draw
Buster Olney is among the country's preeminent baseball writers. Olney, who grew up in East Randolph, Vt., is a senior writer at ESPN the Magazine and a regular contributor to ESPN.com, ESPN Radio and a number of the sports network's TV programs. He's been a beat reporter for the New York Yankees and several other major league clubs. He's penned a best-selling baseball book, The Last Night of the Yankee Dynasty. But Olney's most recent book, published in late 2010 and covered in Seven Days at the beginning of this year ("Building Character," January 19, 2011), isn't about baseball. How Lucky You Can Be: The Story of Coach Don Meyer centers on a little-known college basketball coach, but it has less to do with roundball than with personal triumph and the impact one man can make, even in his darkest hour.
In September 2008, Meyer, of Lipscomb University in Nashville, was nearly killed in an automobile accident. The crash claimed his left leg. During surgery intended to save his life, doctors discovered that Meyer had terminal cancer.
When he retired, Meyer was college basketball's all-time winningest coach. But, as Olney's book reveals through gripping stories shared by former players, Meyer's legacy is defined as much by his actions off the court as by his legendary presence on it. As he does so often in his columns, Olney proves that great sports stories are less about sports than about human drama.
How Lucky You Can Be: The Story of Coach Don Meyer by Buster Olney. Ballantine Books, 240 pages. $25.