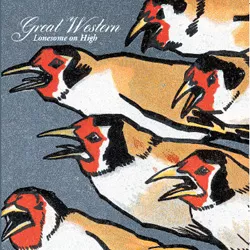 (Self-released, CD, digital download)
One of the great revelations of alt-country was the idea that the principles of classic country songwriting could be stripped down to their creaky bones and then reimagined, often in a darker framework. We're admittedly painting in broad strokes here, but being clever became less a prerequisite than the ability to bluntly express more visceral and introspective emotions. In that sense, much of what we now consider alt-country shares more in common with confessional folk songwriters than Hank, Johnny or Waylon. Alt-country also ushered in a change in musical philosophy in which a ragged, almost punk ethos was applied to twang that eschewed glittery, rhinestone-studded licks in favor of an unpolished approach.
On their latest album, Lonesome on High, Burlington's Great Western mine those now somewhat traditional tenets of alt-country and its predecessor, country-rock, to great effect. A follow-up to the band's 2012 self-titled debut EP, the record presents eight weary, rough-hewn songs that succeed less on flawless technical performances than sly emotive punch. That's not to say Great Western are sloppy or suffer some lack of ability. They certainly don't. Rather, the band delivers a collection whose real appeal lies in sleepy vocals, deceptively complex arrangements and sturdy songwriting.
At the center of that aesthetic is front man and primary songwriter Ryan Osswald, whose gritty voice at times recalls Cary Hudson of the overlooked 1990s alt-country rockers Blue Mountain. On opener "Wake the Ghost," he offers a typically shrugged-shoulder sentiment, singing, "It's not all good, but that's all right," flanked by a chorus of bright vocal harmony and ringing guitar.
On "Pocono Pines," GW employ a rowdier tack that hints at more than a few nights spent with the Band's Music From Big Pink. "Stay a Little Longer" features violinist Rachel Keyser, whose swooning tones help characterize the band's overall sound. "Big Slowdown" is a driving, mid-tempo cut highlighted by pretty group harmonies that frame Osswald's searching prose.
The band switches gears on the ballad "Such a Long Time." Songwriter Christopher McManus' round-toned keys provide an ethereal bed on which his dreamy lyrics rest. Meanwhile, Keyser's fiddle dances around a sparse electric guitar lead, building to a dramatic bridge in which Ryan Hayes' drums are unleashed in a torrent of spastic hits.
"Into the Light," which follows, is easily the record's most ambitious composition. A bright march of drums, piano, plucked violin and acoustic guitars crash headlong into a wave of distortion, which recedes to a wash of harmony, the calm before one last storm. It's a song that wouldn't seem out of place on a Delta Spirit record.
On "Song to Sing," Great Western return to their twangy roots with a woozy, fiddle-led acoustic number that is as singsong-y as its title suggests.
Lonesome on High closes on "Think I'll Stay," which features Osswald's most affecting writing. "And it's a wonder the world can tell / This everyday magic is losing its spell," he sings in close harmony with Keyser. Decidedly western — not to mention lonesome — it's classically styled alt-country, and one of the record's finest cuts.
Lonesome on High by Great Western is available at greatwesternvt.bandcamp.com.