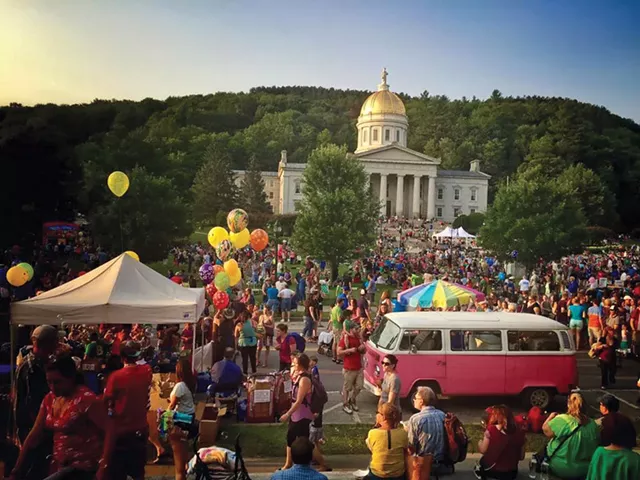 Courtesy Of Daryl Burtnett
Statehouse
Burlington punches above its weight in arts, culture, food and nightlife. But it's also small, as cities go. So sometimes it's nice to get away, even for a night. Fortunately, there are 250 other towns in Vermont, many of which make for enjoyable little outings. Here are seven of our favorite destinations.
Montpelier
The smallest of all state capitals is just a 45-minute drive down Interstate 89. In the glow of the golden-domed Statehouse, "Montpeculiar" is where the political elite harmoniously coexist with resident hippies.
Go on a Saturday to hang with the locals at the Capital City Farmers Market — its cider doughnuts and live music will fuel you for the morning. For lunch, chow down at the Mad Taco, one of the best Mexican spots in Vermont. (Beware the hot sauces.) Then mosey over to Buch Spieler Records to browse some vintage vinyl.
After dining on old-school Italian fare at Sarducci's, pop into hipster-friendly Three Penny Taproom for a Vermont beer or six. Bunk down for the night at the Inn at Montpelier. When you see the sun rise over the mountains in the morning, you'll wonder why you don't live here. Ponder that over an omelette at the classic Coffee Corner diner.
Brattleboro
Courtesy Of New England Center For Circus Arts
New England Center for Circus Arts
Three hours from Burlington, Brattleboro is on the far end of day-trippable. But unusual attractions like the New England Center for Circus Arts — where you can swing from a trapeze in affordable workshops — made it ideal for an overnight.
Hungry after a long day on the high wire? Check out the fusion fare at Elliot Street Fish, Chips & More, serving up falafels and spicy fries alongside battered haddock.
For a one-of-a-kind musical experience, visit the Estey Organ Museum, which commemorates the history of a bygone Brattleboro instrument manufacturer.
One of the best places to stay in town has your evening's entertainment built in. At the art-deco Latchis Hotel and Theatre, you can catch an indie film downstairs and hit the sack upstairs.
Stowe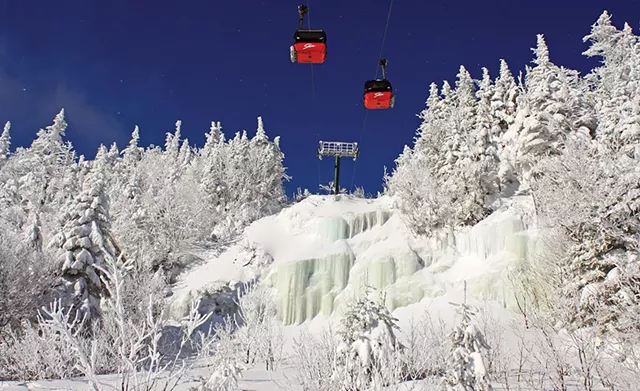 Courtesy Of Stowe Mountain Resort
Stowe Mountain Resort
Vermont's "Aspen of the East" is the ultimate ski town. If you want to schuss, Stowe Mountain Resort has you covered. Not interested in skiing down Mount Mansfield? You can hike up it the rest of the year for breathtaking views. Or drive the Mountain Road, which snakes through boulders and gorges, offering postcard-worthy vistas at every bend.
After a day on the mountain, you're sure to be hungry. Which works out just fine, because Stowe is rife with restaurants. Choose from Italian at Piecasso Pizzeria & Lounge, Mexican at Bender's Burritos or new American at Doc Ponds.
Time to crash? The sprawling Trapp Family Lodge (yep, that Trapp family) has all kinds of lodging options. In the morning, grab a breakfast sandwich from Black Cap Coffee & Beer before hittin' the road home.
White River Junction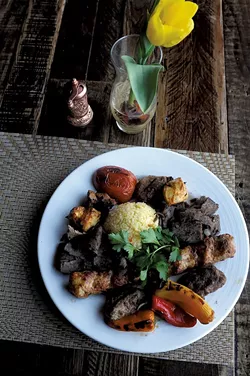 File: Sarah Priestap
Tuckerbox
White River Junction — unofficial tagline: "It's not so bad!" — may be tiny, but surprises await around every corner.
The Tuckerbox will prepare your morning coffee and pastry, plus fix you a lunch of the best Turkish food in the state. Take a left out the door to visit Revolution for the coolest vintage and new clothes, many locally made. Take a right to visit the Center for Cartoon Studies, the only such school in the country. Call ahead in order to visit its Schulz Library, named after "Peanuts" creator Charles M. Schulz, which holds contemporary graphic novels and classic cartoons alike.
And then there's Main Street Museum, a modern-day cabinet of curiosities that exhibits such things as the Connecticut River Sea Monster and a jar of lint. It also hosts films, fashion shows and more, so check the online calendar.
Dine on fried ricotta dumplings or hanger steak at Tip Top Café, then catch a show at Northern Stage, one of Vermont's best venues for live theater. The historic Hotel Coolidge is right around the corner.
Middlebury
File: Jeb Wallace-brodeur
Otter Creek Falls
An hour's drive from Burlington puts you right in the heart of Middlebury, perhaps the quintessential New England college town. Middlebury College is a center for local arts and culture, with frequent free film screenings and a terrific art museum.
But one cannot live on art and scholarship alone! Sometimes, one needs cheeseburgers. The seasonal A&W Drive-In will have you eating like it's 1959.
After lunch, walk through downtown, browsing titles at the Vermont Book Shop, handcrafted tchotchkes at Sweet Cecily and unique art at Edgewater Gallery.
You're hungry again, right? Middlebury Chocolates will pep you up for a walk along the Otter Creek Falls. For accommodations, B&Bs are where it's at. Try the Swift House Inn for a very Vermont-y night.
Champlain Islands
Courtesy Of Al Abrams
Sand Bar State Park
The Champlain Islands — five towns extending into Lake Champlain — boast some of the state's best beaches. Sand Bar State Park is the first one you'll hit as you drive in from Burlington, and it's a winner: great for swimming, kayaking and canoeing. After a hard day of paddling, visit Seb's Snack Bar for greasy deliciousness.
In South Hero, you can wander through grapevines — and sip the goods — at Snow Farm Vineyard. Go on Thursday evenings in summer for outdoor concerts and alcohol-friendly picnicking.
On the opposite end of the spectrum, Grand Isle appeals to enthusiasts of recent or ancient history. There, Theodore Roosevelt received news of President McKinley's assassination. And the land itself is part of the Chazy Reef, a unique 450-million-year-old geologic formation. Ancient fossil imprints dot the boulders.
The North Hero House is the place for fine food and lodging — and outstanding views of the lake. Or try to score one of the coveted waterfront lean-tos at Grand Isle State Park.
Northeast Kingdom
courtesy of Bread and Puppet Theater
Bread and Puppet Theater
The sprawling Northeast Kingdom, spanning roughly the northeastern third of the state, has many draws. One is Glover's Bread and Puppet Theater, which has staged left-wing puppet shows — you read that right — for half a century. The free, unlocked museum is filled to the rafters with crazy, creepy puppets.
Also unlocked is the Museum of Everyday Life, another gotta-see-it-to-believe-it attraction. An exhibit about dust? Yeah, that's a thing.
If all the weirdness makes you hungry, stop by the headquarters of Cabot Creamery, where they're generous with the free samples. Miss Lyndonville Diner has pies to die for, and beer geeks should make the pilgrimage to Hill Farmstead Brewery in Greensboro.
For lodging, Jay Peak Resort — another of Vermont's primo ski destinations — offers comfy rooms as well as a colossal indoor water park. So when you're done sliding down the mountain, splash into the lazy river.