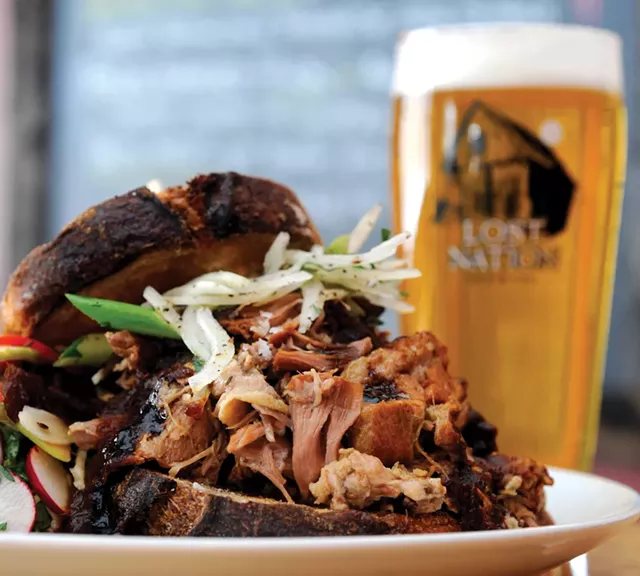 jeb wallace-brodeur
Lost Nation Brewing
Most breweries aren't known for their victuals. If they serve food at all, it's usually burgers, nachos or wings — all stuff to soak up the main attraction.

87 Old Creamery Rd.
Stowe/Smuggs
Morrisville, VT
802-851-8041
Brewery and Pub Food
The owners of Morrisville's Lost Nation Brewing take a different approach. Those who manage to locate the brewery, in a hard-to-find industrial park, are richly rewarded with food and drink. While brewers Allen Van Anda and Jamie Griffith produce scrumptious beers in the back, their chef creates crush-worthy pressed sandwiches, pâtés and soups in the tasting room out front.
jeb wallace-brodeur
Lost Nation Brewing
Van Anda and Griffith ship their crisp, balanced beers to more than 200 spots around Vermont, but the freshest stuff is poured inside this beamed, blood-red room, with its long pine bar, blaring music and posse of regulars. You can discern smoked malt in the Pitch Black Ale and sea salt in the gose; coriander laces the petit Ardennes ale.
jeb wallace-brodeur
Lost Nation Brewing
Patrons who crane their necks toward the tiny kitchen may spy the chef mincing chicken livers into pâté and beer-braising pork until it's fall-apart tender. That pâté — or sometimes even luscious pork rillettes — ends up on a charcuterie board that evokes a still life from the Dutch golden age with its buttered bread squares, cucumbers, peppers, pickled eggs and cauliflower. The beer-braised pork gets tumbled together with sliced apples, caramelized onions and mustard, all of which is piled onto crusty Elmore Mountain Bread and grilled. Fresh gnocchi spiked with snails and chorizo melts on the tongue.
Vegetarians aren't left out; a smoked-tofu-and-arugula sandwich is both sculpturally gorgeous and deeply flavorful.
It's almost enough to make you forget the beer — until you follow up a bite of braised pork belly with a swig of Rustic Ale.
Great beer deserves great food, and vice versa. Lost Nation nails the combo.