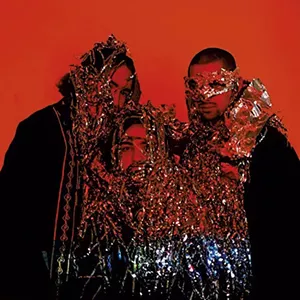 Greaseface, You Fucked Up My Car
(Self-released, digital)
Greaseface have a reputation. Most folks familiar with the Burlington punk rockers will expound some variation of "Dude, they're sick"; or "They rock"; or "They're fucking crazy, man." And it's true. The college-age crew of Champlain Valley Union High School grads — guitarist Liam Thomas, bassist/vocalist Jackson Glover and drummer Brenden Provost — put on a fierce show. But the nuance of the trio's songwriting can sometimes get lost in the fury of its live performance.
Greaseface's third album, You Fucked Up My Car, captures their onstage passion without obfuscating the fine details that make their work so interesting. From their desperately barked lyrics to the ways they fill space with both noise and silence, the band's members show that they are crafty operators with plenty of bite.
Onomatopoeic opener "Clack!" brings roiling surges of bass under a clickety-clack percussive gallop. Glover's short lyrical bursts switch to drawn-out wailing as a flood of power chords annihilates the spacious opening section.
A 46-second distorted dirge ("Pony") introduces "Car," a sullen yet forceful elegy for a fallen ride. "You fucked up my car / Aw my baby's been made / She's rusting at the seams / There's nothing left to save," Glover squeezes out. Subsequent lyrics ("These damn things / Will eat you / One bite at a time") suggest the underlying, almost dystopian reality of the auto industry's stranglehold on America.
Taking stock of the targets of the #MeToo movement, "Dads" is a slacker-rock quagmire of revolving riffs and twitching cymbals. The group holds no quarter for the accused, though they also see no end in sight: "One by one they all go down / The ones who don't are worse somehow."
With tunes that mostly come in under the three-minute marker, the majority of the record zips by. Tracks such as "Whole Lotta," which dabbles in surf language, and "With You," an effusive jangle-rock exploit, are fleeting.
The final three cuts are much more measured. "Newie" drags a bit, but the album's energy recalibrates on the slaphappy rocker "Pocket." A sudden burst of piano at the song's conclusion is a welcome addition.
Closer "Pistachios" is a visceral, almost perverse slow jam. Sour chords envelop Glover's final, sensual offer: "Pistachios / On a summer night ... You lick the salt / Off your lips / You miss some / I'll get the rest." A percussive battle of kick drum and toms descends into a false fadeout, only to blast off into a world-ending patchwork of distortion.
Greaseface harness elemental forces on You Fucked Up My Car, their strongest effort to date. But behind the madness, they have their wits about them.
You Fucked Up My Car is available on Spotify.