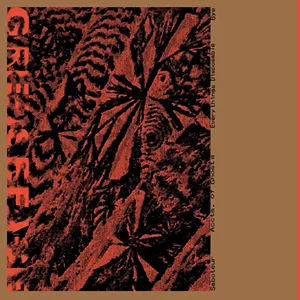 (Self-released, digital)
You can't go wrong with Urian Hackney producing your album. In fact, it's a privilege to employ his talents. The Rough Francis drummer has proven to be one of Vermont's top authorities on how to make music sound good. And he made the new Greaseface EP, Disposable, sound really, really good.
It's clear that the band, composed of bassist/vocalist Jackson Glover, drummer Brenden Provost and guitarist Liam Thomas, ably communicated their vision to Hackney. A follow-up to 2019's excellent and confrontational You Fucked Up My Car, which Provost engineered, mixed and mastered, Disposable could have been something akin to what its title suggests. The four-track effort was recorded in quarantine, the new normal in 2020 for indie bands the world over.
Though the Provost-produced LP also sounded really, really good, Greaseface didn't have a Champlain College recording studio to use this time around, opting instead for "moms attic," as they briefly explain on Bandcamp. But the band's clobbering, no-wave punk, eyebrow-cocking lyrics and general fuck-everything sensibilities always seem to come together, no matter the resources available.
Bringing Hackney in to mix and master ties everything together in what I want to say is a nice, clean package with a pretty bow on top, but that's not really Greaseface's style. The EP is more like a wrinkled brown paper bag scrawled with black Sharpie.
Raw and graphic right on the first track, "Saboteur" is a self-flagellating, Ritalin-addled anthem of angst. Its sour riff repeats over and over while Glover bleats out bitter phrases: "This time's not much different / A formula for sinking / I wish I'd stop reliving / I wish I'd stop."
A seamless transition introduces "Accts. of Ghosts." Hot snares and a wiry riff roil under Glover's vocals, which sound even more agitated than on the first track. The stinging techno-horror song is about the legacy we leave online, a specter of zeros and ones that tells advertisers what we like to consume, even after we're dead.
Barbed and blaring, "Everything's Disposable" smashes the listener with grinding distortion. At times, the sounds of drums, bass and guitar are occasionally crumpled together, separated by brazen licks and acidic lyrics.
The EP concludes with a marginally softer edge, though the tersely titled "Bye" still kicks up considerable dust with its rolling toms and imposing guitar chords.
Once again, Greaseface prove to be both self-effacing and brash, as well as messy and calculated. These contradictions are what make them such standouts in local rock.
Disposable is available at greaseface.bandcamp.com.