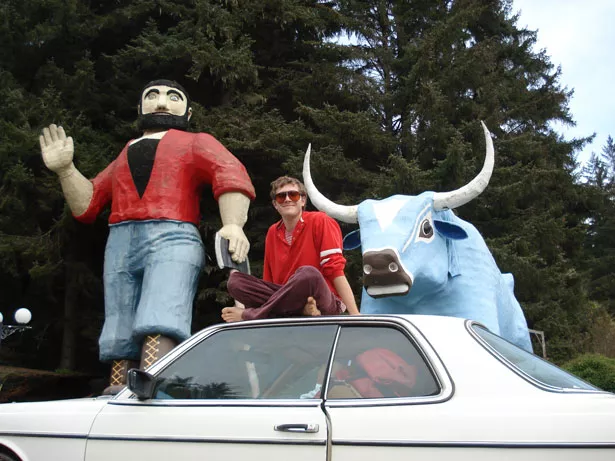 Mike Rimoin On A Cross-Country Trip
BURLINGTON - With gas prices, global temperatures and pump-and-run shoplifting on the rise, two local business owners have a plan to lower fuel costs, curb global warming and assist environmentally conscious, cash-strapped drivers.
"All we are saying is give grease a chance," say Mike Rimoin and Benjy Adler, both Burlington residents and part owners of The Skinny Pancake restaurant on Lake Street.
The two men are spearheading an effort to open the city's first veggie oil collective. Known as the Old North End Vegetable Oil Collective, the facility will be able to filter hundreds of gallons of waste vegetable oil a day, making for a cleaner, cheaper and more efficient way for veggie car drivers to obtain the fuel they need.
Typically, veggie car drivers clean waste oil in small hand filters usually stored in trunks, says Rimoin. The process is dirty and time-consuming. "At some point, you're sort of bathing in grease," says Rimoin. What's worse, he adds, is that it creates more filter waste than necessary and ends up costing about the same as gasoline.
"We'll be able to handle a lot more grease at a time before having to change filters," says Rimoin.
The collective, which is made up of a partnership of local businesses and nonprofits that use waste vegetable oil to run work vehicles, will sell shares ranging from $5 to $25 a month. Members will be expected to bring their own oil and will be taught how to filter it themselves.
If the project works, Rimoin hopes larger corporate entities will notice and get involved, which would help raise awareness and understanding of the issue. Rimoin is considering a site at 274 North Winooski Avenue and expects to have the filtration system installed in a couple weeks. Members will be issued keys to the facility. For more information, email him at mike.rimoin@gmail.com.