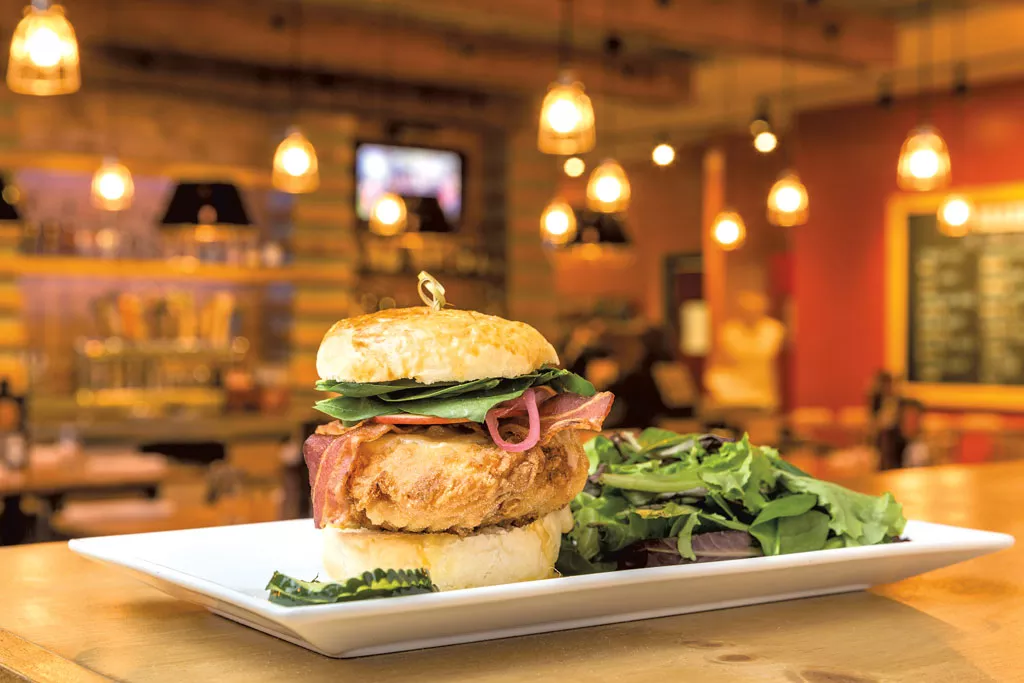 File: Oliver Parini
Grazers in Williston
After just nine months in business, the owners of Grazers in Williston are bringing their burger-shake-martini concept to Stowe. According to co-owner Sam Handy Jr., the new restaurant will open on July 7 on the ground floor of the historic Butler House, where Mi Casa Kitchen & Bar (formerly Frida's Taqueria & Grill) shuttered in February.
Handy — who owns Grazers with Don Johnson and Patrick Stewart, says the Stowe menu will mimic the bill of fare in Williston. Pub-style apps and salads will shore up a menu anchored by burgers made with local ground beef, salmon, lamb, pork, beans or veggies and topped with Vermont cheeses and other accoutrements. Drinks will include milkshakes and martinis mixed with local vodka.
Handy says he'd like to mix in site-specific specials and is still sorting out staffing. The restaurateur hadn't planned to expand right away. "Just having a newborn baby, I said, 'I don't think [opening a new location] is a good idea,'" he recalls.
But then he got an opportunity he couldn't pass up. Prior to signing on the Williston location, Handy says he had planned to open Grazers in Stowe, where he'd been seeking a location for the past two years. He checked out the Butler House space and fell in love with it, but it slipped through his fingers.
So when Handy's real estate agent told him the Main Street spot was again available, he went for another look and "just fell in love with the space again," he says. "So we're ready to go; it's a great space, being a historic building."
He's also excited to move into Lamoille County. "It's an exciting time up there," Handy says. "The Bench has been really successful; Hen of the Wood is going in there; and you have all these older places that have a great start to build on."
Editor's Note: A previous version of this story incorrectly stated that Sam Handy Jr. co-owns Grazers with his father Sam Handy Sr. and uncles Peter and Paul Handy. It has since been updated to reflect that both Grazers restaurants are jointly owned by Sam Handy, Jr., Don Johnson and Patrick Stewart.