The sun is shining in New Haven's Evergreen Cemetery. The fall air is sweet. And six feet below Scott Baer's feet lies Dr. Timothy Clark Smith, a man who was so afraid of being buried alive that his grave has a window.
After shuffling off this mortal coil in 1893, Smith was laid to rest in a special crypt with a glass square positioned above his face, presumably so visitors could witness any anguished reawakening and rescue him. Standing on the grassy, uneven mound above the coffin, Baer shines a flashlight down into the window. But the glass is thick, bubbled and hazy with condensation — hopefully not from the good doctor's final gasps.
Even without a view of the deceased, the tomb is just the sort of unusual resting place Baer and his Montpelier neighbor Daniel Barlow hope to find through their joint photography project, Green Mountain Graveyards. Their mission? To photograph every burial ground in Vermont. That's no small task, as Barlow estimates that Chittenden County alone is home to 1000 cemeteries. The two self-described "legend trippers" use urban legends and reports of paranormal activity to guide their travels — Barlow calls himself a "believer"; Baer, jokingly, an "agnostic." But their real interest lies in documenting the region's early cemetery art.
"All the old gravestone art in New England used to be about how people died," says Barlow, who has seen cautionary inscriptions reading, bluntly, "Kicked to death by a horse" and "Drowned." Similarly, winged skull carvings called death's heads — dating from the 16th to 18th centuries — epitomize a time when humankind's biggest fear was mortality. Whether depicting a biblical figure, a historical quirk or even the pun-tastic epitaphs at the Ben & Jerry's Flavor Graveyard, each of Green Mountain Graveyards' highly stylized — sometimes Instagrammed — photos bridges the gap between realism and the supernatural.
In the spirit of Halloween — coincidentally, the anniversary of Smith's death — Baer and Barlow let Seven Days in on their favorite historic haunts and spooky stomping grounds.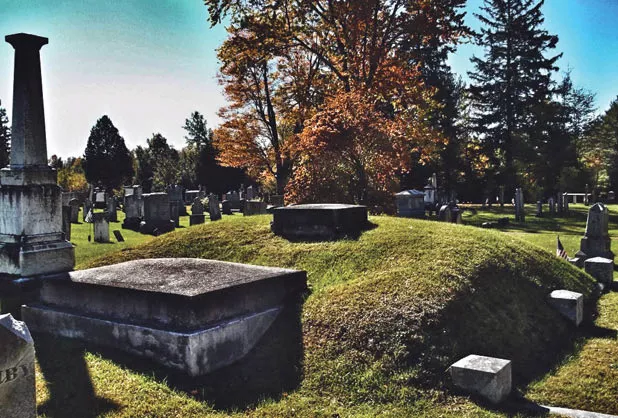 EVERGREEN CEMETERY Photos by Daniel Barlow. Deathly afraid of being buried alive, Dr. Timothy Clark Smith rests in a grave with a window in New Haven's Evergreen Cemetery.
---
PROSPECT HILL CEMETERY Photo by Daniel Barlow. Col. James Fisk [1835-72] was a robber baron attributed to causing a financial crisis known as the Black Friday of 1869. Says Barlow, "He was murdered by a business partner, and his Brattleboro grave [at Prospect Hill Cemetery] is surrounded by the statues of four women — all topless."
---
ROCKINGHAM MEETING HOUSE CEMETERY Photo by Daniel Barlow. According to Barlow, Rockingham's Meeting House Cemetery "features some of the state's best examples of classic, early-American cemetery art," including fingers pointing to heaven and winged soul etchings, a more spiritual update of the grim death's heads.
---
ST. JOHN'S ROMAN CATHOLIC CEMETERY Photo by Scott Baer. An eerie sky looms over a cross at St. John's Roman Catholic Cemetery in Northfield, home to the Phantom Gravedigger. Local legend has it that the ghost roams the graveyard at night holding a shovel and lantern.
---
GREENMOUNT CEMETERY Photo by Daniel Barlow. Ethan Allen's grave, located in Burlington's Greenmount Cemetery, "is an over-the-top celebration of Vermont's most famous son," says Barlow. "His 8-foot-tall statue sits at the top of a 42-foot-tall pillar, and is surrounded by an elaborate rifle fence."
---
LOOMIS HILL CEMETERY Photo by Scott Baer. Waterbury's Loomis Hill Cemetery "is one of the hundreds of nearly forgotten family grave plots located off the beaten path in our state," Baer says. "Overgrown and neglected, some of these places date back to the 1700s and early 1800s."
---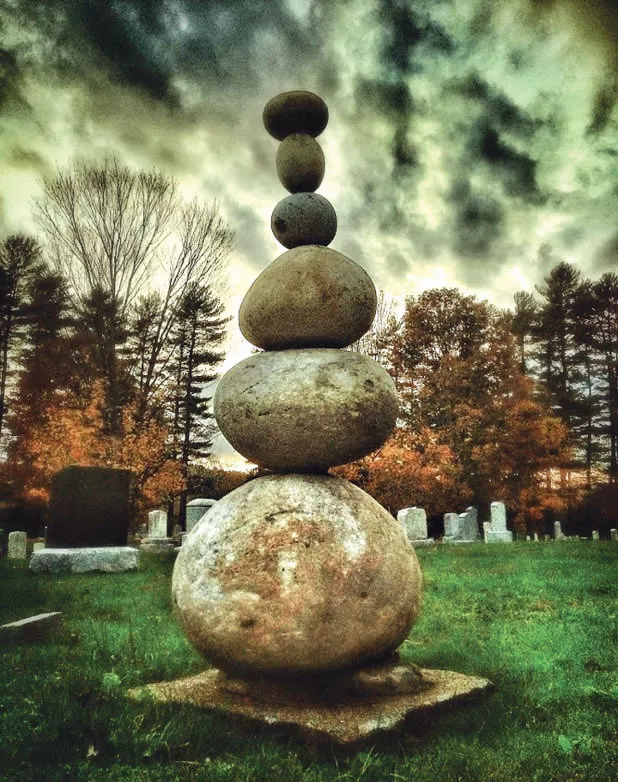 RIVERBANK CEMETERY Photo by Scott Baer. Unmarked and possibly yet to be used, this grave in Stowe's Riverbank Cemetery "is a great example of the thought and creativity people put into how they choose to be remembered in their passing," says Baer.
---
MAPLE STREET CEMETERY Photo by Scott Baer. A weathered sculpture's grave expression lends a somber mood to Waterbury's Maple Street Cemetery.
---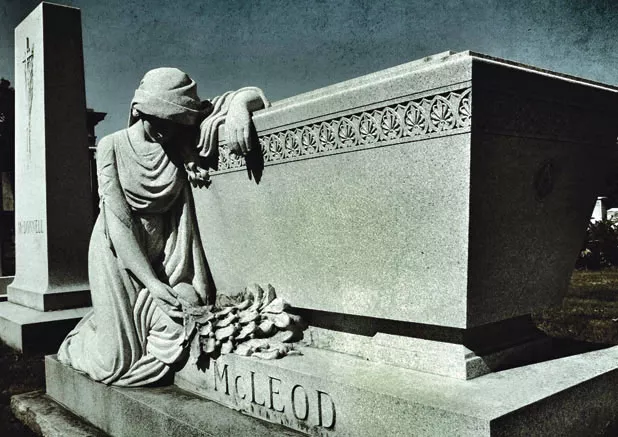 ELMWOOD CEMETERY Photo by Daniel Barlow. Though it's not as big a tourist destination as nearby Hope Cemetery, Barre's Elmwood Cemetery "is still home to an impressive amount of statues and monuments," says Barlow, who attributes their high quality to the influence of Vermont's granite industry.
See select work from Baer and Barlow on display at Main Street Museum in White River Junction through December 31, or follow their photo blog at greenmountaingraveyards.tumblr.com.