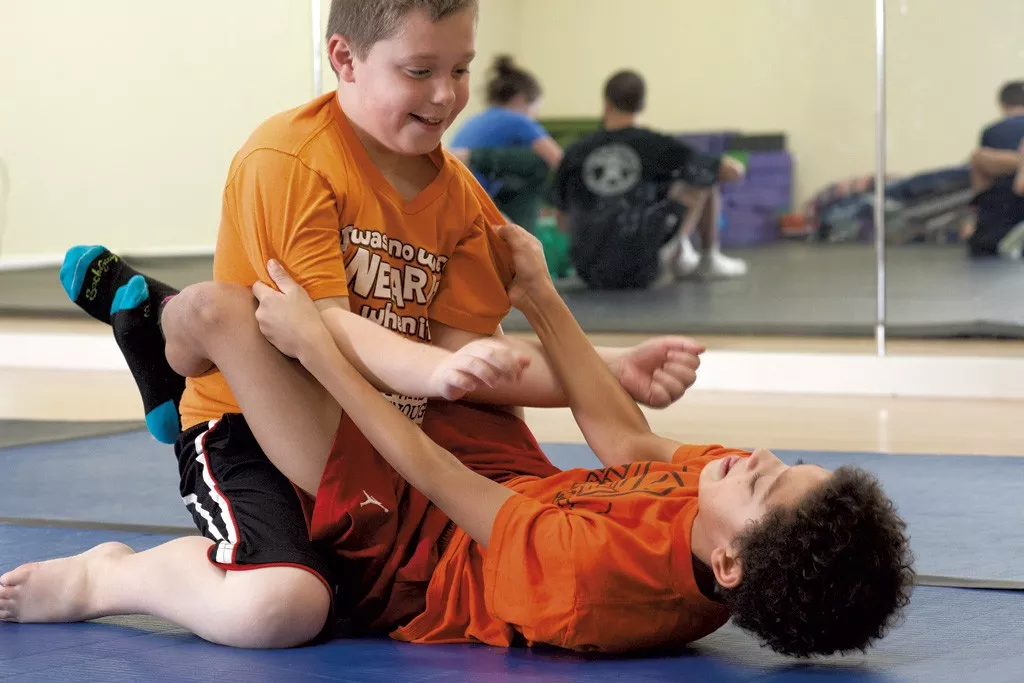 Grappling looks rough. If you were to judge the sport by the photo that accompanies this story — a kid holding another other kid in a leg lock — you might think, Uh-uh, I'm not signing my kid up for this. Too violent.
"Give it a chance," urges Noah Weisman. The 35-year-old father of two is an ex-pro mixed martial artist. In 2010, he won a nationally televised event called "King of the Cage: No Mercy." This month, he's teaching a weekly grappling class at the Robert Miller Community & Recreation Center in Burlington for kids in grades four through eight. Grappling, he argues, is "actually anti-violent."
The martial arts combat style teaches practitioners to take opponents to the ground. It's used in wrestling, sumo, Russian sambo, luta livre, jujutsu and Brazilian jiu-jitsu, in which Weisman has a brown belt. "Jiu-jitsu," Weisman says, literally means "gentle art" in Japanese. And grappling cred, he says, can help get kids out of fights, not into them.
"You need to know that you can handle yourself," he says. "That way, you can walk away from a situation if you need to."
Weisman was 22 when he started practicing martial arts. "It's given me direction, and it's given me something to love," he says.
Four years ago, at the height of his martial-arts career, Weisman worked out for 18 hours a week. Now he sells real estate and spends his former training time driving his sons to sporting events. He's excited about this class and the opportunity to use the sport to teach life skills: teamwork, respect and planning eight moves ahead. He's offering this six-week session for free because he believes kids need to explore to find their passion.
Ten students — seven boys and three girls — showed up for the inaugural class in January. Mats covered the floor.
After introductions and warm-ups, Weisman taught lesson one: how to fall. "When you fall, you slap the mat," he said. Demonstrating with his right hand, palm down, fingers splayed, he whacked the mat. Thwack! The kids followed, landing practically in unison. Thwack!
Next up: a throw. This got everyone's attention. Weisman demonstrated on his 13-year-old son, Zachariah. He put his right arm under Zach's left armpit. His right hand, he said, could point up or rest on Zach's back. His left hand went on Zach's right tricep.
The key, Weisman stressed, is bending your knees and getting your hips under your opponent's. "He could be a 250-pound person right now and I'd have the same luck sending him over," Weisman said. He stepped in and flipped the boy to the mat. Giggles ensued.
Nine-year-old Cooper Bevins wanted to be next. Cooper's body slapped the mat and a smile cut across his face. "Awesome!" he said.
Afterward, Kate Wheeler said she likes the fact that the class gets her 10-year-old daughter, McKenna, moving and that it instills confidence. The kids like it for different reasons. Said 9-year-old Evan Eleck of Burlington: "It's fun to throw people around, and it's fun to learn about it."
Kids Grappling Club: Kids in grades four through eight can drop in for free on Tuesdays, 3:30-4:30 p.m., through February 17 at the Robert Miller Community & Recreation Center, 130 Gosse court, Burlington. info, 846-0123.