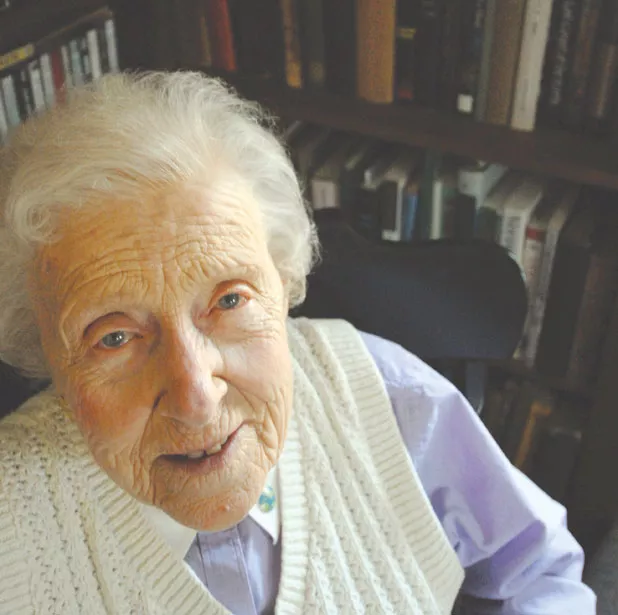 Larry Holden is an anomaly in Hollywood circles: The actor and moviemaker doesn't sell his award-winning indie films to Netflix and, for the past two years, he's been shooting and producing in teensy Granville, Vermont.
These days, Holden is busy with several projects, including All Sun and Little White Flowers, a feature shot in the Mad River Valley. But he and his wife, fashion designer Hanne Kristiansen, are also honing their documentary talents: Their latest flick, Under the Leakingest Roof, profiles the 99-year-old Rochester activist Marion Leonard; Seven Days wrote about Leonard in the May 2007 story "Aging Audaciously."
According to Holden, the documentary shows Leonard voting on Election Day 2008 and "stirring up a commotion" at a recent convention of the secessionist group Second Vermont Republic. Holden, who has acted in such notable films as Memento and Batman Begins, adds that Leakingest Roof could be the first in a series of six or seven documentaries about area personalities. The film isn't showing in theaters, but it is available for $18 at Holden's website.
Holden explains that he met Leonard at the Park House, a stately elder-residence center on Route 100 in Rochester. "I usually deal with actors who are insane," he says. "For once, it was nice to spend some time with a real person."
Leonard, a petite woman who will turn 100 in May, moved to Vermont in 1939 to teach at the Putney School. She doesn't garden anymore, but she still keeps in touch with local environmentalists, and her quaint bedroom at the Park House is still global headquarters for Save Our World, an antinuclear nonprofit she founded in the early 1980s.
On a recent Saturday in her bedroom, Leonard tells a reporter she doesn't get why anyone would want to make a movie about her. That said, she notes, "I was perfectly all right about it if they wanted to do it." A current issue of The Nation rests on her desk under a 2009 Sierra Club calendar. A sticker on Leonard's mini fridge reads, SUN AND WIND POWER NOW!
What does Leonard, who remembers listening to Franklin Roosevelt's Depression-era fireside chats, think of President Barack Obama? "I'll be interested to see what he does," she says dryly. "Certainly, whatever he does will be a lot better than anything we've had for a long time."
* The online version of this article has been corrected.