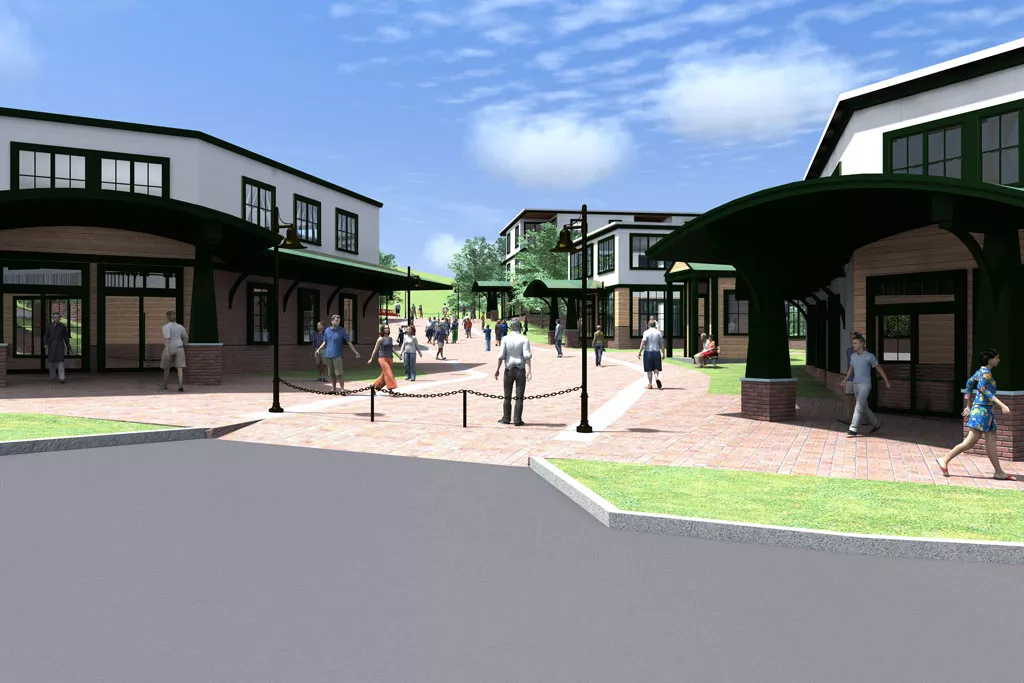 Is Scott Milne running for governor of Vermont or New Hampshire?
To hear the Pomfret Republican discuss his decade-long quest to build a $30 million development in the border town of Hartford, one could be forgiven for assuming the latter.
Since 2004, when Milne and business partner David Boies III purchased a 135-acre farm just off Exit 1 of I-89, the pair has sunk more than $4 million into a proposal to build 130,000 square feet of retail and residential space. But thanks to what Milne calls an "all powerful" regional planning commission, their Quechee Highlands project is on life support.
"This experience gives me a very good insight into the challenges of starting a business in Vermont," he says. "And why Vermont has a reputation — and I would argue, there's a reality — that it's not a business-friendly state."
When it comes to the Two Rivers-Ottauquechee Regional Commission, which provides land use and development guidance to 30 Upper Valley towns, Milne doesn't hold back.
He refers to its executive director, Peter Gregory, as a "Shumlin administration apparatchik." And he alleges that Two Rivers "ambushed" him on the eve of a February 2013 Act 250 permit hearing by "coming up with a cockamamie story" that his Quechee Highlands proposal ran afoul of its regional plan.
After the District 3 Environmental Commission denied that permit last July, Milne wrote an op-ed that ran in both the Valley News and Herald of Randolph castigating Two Rivers for engaging in "a still hunt" and "plotting to squash" his development. Noting that neighboring Lebanon, N.H., had recently approved 2 million square feet of new commercial space, he argued that the episode would "highlight Vermont's anti-business reputation."
"In New Hampshire, the regional planning authorities can't push towns around — the way Two Rivers is bullying Hartford," he wrote, after appealing the verdict to the state superior court's environmental division.
Two months ago, Milne really lost it.
As the Hartford selectboard prepared to vote on a new master plan, Milne threatened that the new plan would "kill" his project, according to the Valley News' Jordan Cuddemi.
"As a town and as a community, [you are] going back on your word to private citizens and changing the deal," he told board members at a May public meeting covered by Cuddemi. "I'm going to figure out if I'm going to do anything, and if I do, it's probably going to involve more lawyers, and it's just going to continue to brand Vermont as a bad place to do business."
Pro tip: If you're running for governor, don't threaten to lawyer up and tarnish your own state's reputation.
In an interview with Seven Days last week, Milne took his rhetorical bomb-throwing one step further.
"I think [the Hartford selectboard] basically buckled to — sort of like on a global level, you don't negotiate with terrorists," he said. "The Two Rivers-Ottauquechee regional commission basically bullied them into changing their plans."
Pro tip: If you're running for governor, don't compare regional planning officials to terrorists.
As notable as Milne's contempt for Two Rivers is his love for New Hampshire. Since he purchased the Lebanon office of his parents' travel agency in 1987, Milne has commuted to the Granite State nearly every day of the workweek. Years ago, he and Boies bought several condos in New Hampshire and came close to buying and developing a major parcel in Lebanon.
"If you want to start making money or you want to start a business, if you're going to stay in the Northeast, you're smarter to move it 10 miles onto the New Hampshire side of the river," he told Vermont Business Magazine last April.
Milne evidently missed the memo that West Leb is a wasteland of sprawl, traffic and miserable chain restaurants.
Boies, Milne's business partner, appears to share his view of Vermont.
"In my personal opinion, it's a very challenging place to do business. I've never experienced this kind of thing," the Virginia attorney says.
Milne is hardly the first Vermont politician to bash the state's business friendliness. Former governor Jim Douglas made a career of it, and the Republicans who have vied to succeed him, Brian Dubie and Randy Brock, tried their darnedest to revive the talking point.
Even Democratic Gov. Peter Shumlin points to competition from New Hampshire as a rationale to kill any tax hike he doesn't like. (Long after he moved from Putney to East Montpelier, the Palin-esque gov continued to claim he could see New Hampshire from his house.)
The argument clearly resonates — particularly with those outside the Chittenden County bubble and in Vermont's myriad border towns. And if the 4,000-plus jobs at IBM's Essex Junction plant migrate to New York in the coming months, it could really resonate this November.
Perhaps that makes Milne just the guy to take on Shumlin.
After all, if you believe his version of events, Milne has spent a decade trying to create 300 jobs with a Vermont-scale project that could make Hartford competitive again. He bent over backwards to accommodate the town's planning commission and eventually won its unanimous approval.
"Scott and his consultants walked through the process in an appropriate way," says Bruce Riddle, chairman of the Hartford Planning Commission. "They did everything in the process we would expect."
But Gregory, whose regional commission covers a far broader swath of land, sees it differently.
He says he met with Milne three times during the planning process — including shortly after Milne bought the property — and each time reminded him that the regional plan does not permit retail outside Hartford's downtown and villages, which include Quechee and White River Junction. The plan Milne submitted, plain and simple, represented "sprawl," Gregory says.
"No one — the town or the applicant — should be caught unaware about where we stood on this," he says. "We've been consistent. We've been transparent. So any claims to the contrary are not based on facts."
What does that say about Milne's business savvy?
Boies, who met Milne when the two attended the University of Redlands in California, says the pair spent years looking for the right property to develop, with the goal of replicating the results elsewhere.
"If that was successful, we'd try to do it other places in Vermont," Boies says.
At one point, not long after the 2008 financial crisis, they even tried to pull together enough cash to buy Stowe Mountain Resort, both men say. In each of the deals they've consummated, Boies has fronted most of the money.
"Although we're not comparing tax returns, Mr. Boies has a lot more money than I do, and I'm doing a lot more work than he is," Milne says.
Now that Milne has turned his attention from real estate to politics, Boies continues to invest in his old friend's career. Two weeks ago, Boies and his family — including his father, super-attorney David Boies II — donated $10,000 to Milne's campaign. Another $4,000 of the candidate's $20,420 haul came from mutual friends whom Boies persuaded to ante up, Milne says. (Green Mountain Daily's Bill Peberdy first noted the Quechee Highlands connection in a blog post last week.)
"The minute he told me he was running, I said, 'What can I do to help you?'" Boies says. "He's a very, very close family friend. It would be inconceivable that I wouldn't help him."
It remains to be seen whether this investment will turn out better than the last.
Senate Six Pack
It's been decades since an incumbent in Vermont's largest state senate district has lost a race for reelection. But that never keeps Chittenden County's political hopefuls from trying.
This fall, eight challengers are lining up against six incumbents: Sens. Tim Ashe (D/P), Phil Baruth (D), Ginny Lyons (D), Michael Sirotkin (D), Diane Snelling (R) and David Zuckerman (P/D).
In a district that includes one-fifth of the state's population and allows voters to select as many as six candidates, name recognition really matters. That's why Sirotkin, whom Shumlin appointed to the Senate in January, has as much in common with the challengers as with his fellow incumbents.
"I'm clearly a hybrid," the former lobbyist says. "I have a very strong name recognition among those people who are connected to the legislature or government and in communities like Essex or South Burlington, where I've served on local boards. But there's a large percentage of the population who do not know my name."
During his three months in the Senate, Sirotkin kept a low profile, offering up occasional amendments on the floor, but mostly trying to hew to the priorities of his late wife, Sen. Sally Fox, who he replaced in the Senate after she died in January.
"I felt a certain obligation to fulfill Sally's issues, as the people of Chittenden County had elected Sally," he says. "I'm definitely running as my own person now, but it is quite remarkable how Sally's and my own politics are very, very similar."
After Fox's death, six Democrats — including two House members, a former party chairman and a major liberal donor — vied to fill her seat. But only one of them, Burlington consultant Dawn Ellis, filed papers to run this fall.
"I decided [to run] right at the period where 30 school budgets went down and communities were in deliberations about how do we fund education? Where are we going to get the money? And what about property taxes?" she says.
A self-described researcher and facilitator, Ellis characterizes herself as an inclusive leader prepared to tackle "design discussions" surrounding education reform and single-payer health care.
"I bring a different perspective to the work," she says. "It's grounded in years of working with those who are often left out of policy discussions."
Since only six Democrats are running this year, Ellis is nearly guaranteed to win a position on the party's slate during the August primary. But to secure a seat in the Senate, she'll have to knock off a fellow D — or Snelling, the delegation's sole Republican.
Though Chittenden County has grown increasingly liberal, Snelling had little trouble winning a sixth term in 2012. She came in fifth place, with 30,865 votes — only 457 more than Baruth, but a full 8,146 more than the next closest challenger: Democrat Debbie Ingram.
One other Republican is running this time around: Williston real estate attorney Joy Karnes Limoge. Calling herself "fiscally conservative and socially moderate," she says she's running to bring "balance" to the Senate.
"I feel that we're so polarized in this state that we're having trouble getting things done," she says.
Limoge is probably best known to political junkies for her work representing Jerry Dodge, an East Montpelier neighbor of Shumlin's who publicly tangled with the governor last year over a real estate deal. Limoge says her decision to help Dodge was not politically motivated.
"No one was really willing to step up," she says. "We got it done pretty quickly and quietly."
Also running are six members of the Vermont Libertarian Party: John Cisar, Glyn Wilkinson, Ben Mayer, Paul Washburn, Christopher Coolidge and Travis Spencer. According to party chairman Jeremy Ryan, that's more candidates than the libertarians have ever fielded in the district.
"Right now, it seems like we're a good choice for people who are disillusioned by the current major parties," he says. "I know it's going to be hard and I know some of them expect they'll have to run multiple times."
Disclosure: Tim Ashe is the domestic partner of Seven Days coeditor and publisher Paula Routly.
The original print version of this article was headlined "Granite State of Mind"