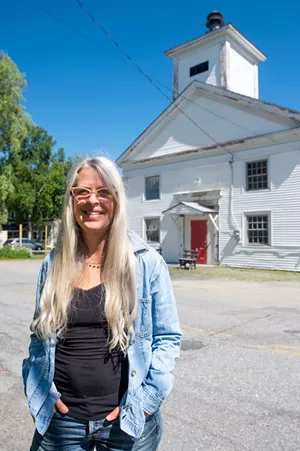 Jeb Wallace-brodeur
Monica Callan
When it comes to theater, sometimes it's best to go it alone. Through August 15, performing artists can apply for a slot in the 2021 One & Only Series, the fifth annual succession of solo shows presented by Waterbury Center's Grange Hall Cultural Center and MOXIE Productions.
"As a performer, you are so often dependent upon other people in order to do your work," copresenter Monica Callan told Seven Days, regarding the series' focus on one-person performances. "With a solo show, really it comes down to you getting it done, so it puts the power in the performer's hands."
Callan, who is cofounder and artistic director of Grange Hall Cultural Center and artistic producing director of MOXIE Productions, has copresented the One & Only Series with her husband and center cofounder, Peter Holm, since 2016.
Since its inaugural year, the series has featured works such as the autobiographical Who Made Me? by Burlington theater artist Dennis McSorley; the wordless A Show With Cookies by Rochester, N.Y., performer Katherine Marino; and HEDY! The Life and Inventions of Hedy Lamarr by New York City actor and writer Heather Massie.
For the 2020 series, which ran from January until the center closed its doors due to the coronavirus pandemic in mid-March, the presenters opened the submission process to a wider range of performance styles. They're doing the same for the upcoming series, seeking dance, burlesque, performance art, music and more in addition to theater.
Callan encourages BIPOC, LGBTQ and differently abled individuals to apply, as well as all Vermont artists. "I can pull people from other parts of the country, but I want to make sure that Vermonters have access to getting an audience for their work," she said.
As she selects shows, Callan looks for works with intention. "I like to see a driving force behind [a piece], like there's a passionate reason why this needs to be the story this person tells," she said.
Shows should be 45 to 90 minutes long (or a group can apply collectively with separate solo shows of 15 minutes or more, totaling up to 90 minutes) and complete in dramatic form, with a solid story structure. While a show may still be in development, "It has to have gone through some process," Callan said. She welcomes emails from artists who wish to discuss whether their work is suitable for the series.
In years past, the One & Only Series kicked off in January, with weekend shows running into spring. Shows for 2021 have yet to be scheduled, but Callan estimates they'll start early in the year.
What she knows for sure is that she wants to stage them before live audiences. "Theater is, at its core, an experience — an in-person experience — so my goal is absolutely to have it in person and have all the precautions that we need to have in place," she remarked. "I'm not going to ask any actor to put themselves at risk."
As Vermonters grapple with a public health crisis, and protests mount against racial- and gender-based inequality, Callan believes the performing arts are vital. In her words, they "have the power to change minds, to see new points of view, to [help people] find commonality, even for a moment."