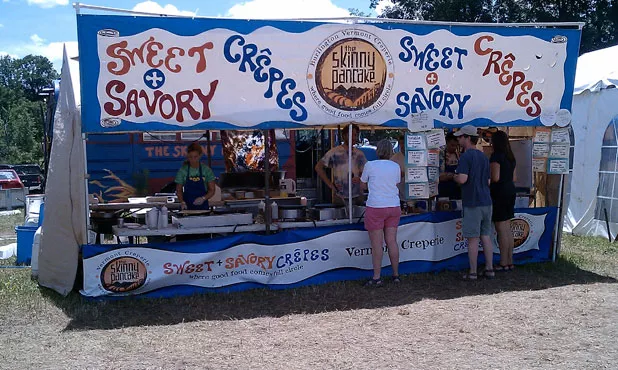 Benjy Adler of the Skinny Pancake says he and Higher Ground co-owner Alex Crothers have long dreamed of collaborating. Their dream will come true at food fair Grand Point Local, a supplement to this year's Grand Point North music festival that takes place at Burlington's Waterfront Park on September 14 and 15.
Adler says that when Crothers floated the idea of the Skinny Pancake curating food for the event, he gave the Vermont music mogul one stipulation: "We said we'd only be interested if it was a local-food-oriented event," Adler recalls.
While fans enjoy tunes from the likes of nationally recognized Vermont natives Grace Potter & the Nocturnals and Gregory Douglass, they'll have plenty of choices in the realm of home-crafted food, too.
Several businesses will provide $3 minisamples of their products, including Whistlepig Straight Rye Whiskey, Wholey Cacao chocolate and Guild & Company charcuterie.
A food court will be decorated with signs sharing fun Vermont food facts, contributed by City Market. There, vendors organized by Adler and Jeremy Silansky, general manager of the Montpelier Skinny Pancake and the company's local food systems coordinator, will sell their specialties. Adler says all the participants have vowed to use only local meat; while they're free to select any veggies or cheese, he is confident that most will pick local on their own. That's a given with most of the vendors, which include Bluebird Barbecue, ¡Duino! (Duende), WoodBelly Pizza, Wooden Spoon Bistro's Front Yard food cart, the Mad Taco and Vermont Meat Company. The Skinny Pancake will be serving its own creative crêpes, as well as dumplings from Pirogi Union.
Adler is especially enthusiastic about the presence of healthy treats from the Burlington School Food Project. The team that helps bring farm-fresh fare to schools will have a farm stand featuring local raspberries, apples and corn on the cob for concertgoers to chomp on the go.
Making such unprocessed eats accessible is exactly the point for the organizers of Grand Point Local. "We're on a mission to make local food part of everyday consumption," Adler says. "To bring it places where it's not haute couture — it's standard fare."